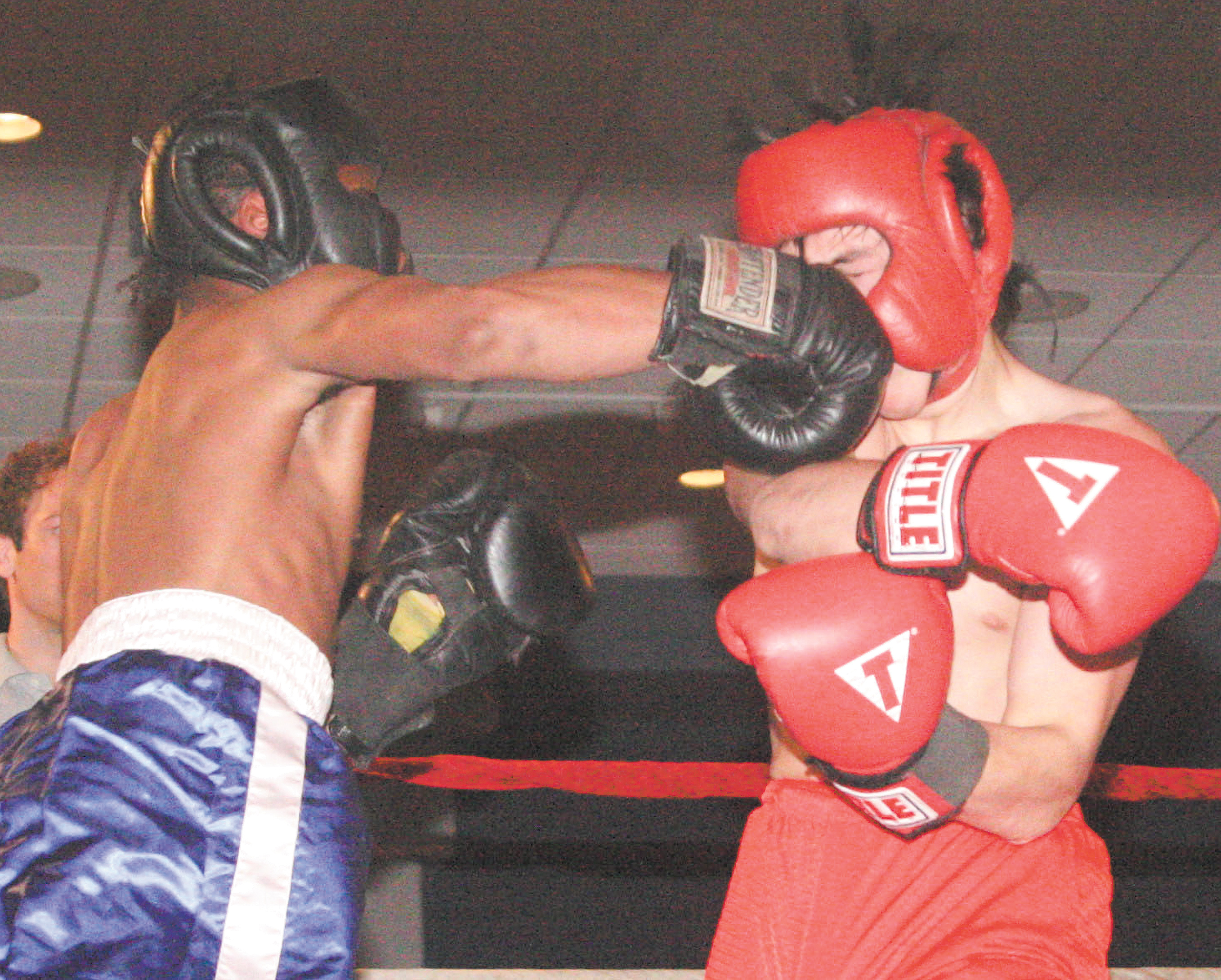 Photo
Chris Mitchell of Cardinal Mooney, in the blue trunks, lands a punch to the face of his opponent Jordan Radich of Howland on Monday during their super middleweight bout in the underclass division on the opening night of the 25th annual K.O. Drugs High School Boxing Tournament at the St. Lucy Palermo Banquet Center in Campbell. Radich won by retirement in the second round.
Lots of punch at first night of KO Drugs event
By greg gulas
CAMPBELL
Champion's John Prebonick has never been involved in a boxing match.
So when referee Billy Lyell had to stop Prebonick's underclass super lightweight fight with Cardinal Mooney's Marc Cooper twice in the first round, his reaction was an off-the-wall "what am I doing wrong?"
After earning a second-round TKO over Cooper on the opening night of the 25th annual K.O. Drugs H.S. Boxing Tourney at St. Lucy's Palermo Banquet Center, Prebonick finally realized it was in fact something he was doing right.
"Flyers were hung all over Champion promoting the K.O. Drugs boxing tournament, so my good friend dared me to sign-up. I expected him to join me in signing up, but he backed out," Prebonick said.
"I'm glad that I didn't because tonight was everything that I thought it would be. I prepared by lifting weights and just getting into the best shape that I could for the first week.
"His [Cooper's] left side was wide open all night so I used my right hook to my advantage. I feel really good right now," he said.
Also in underclass action, LaBrae's Christian Mathews had to leave his high school baseball game with Newton Falls while in extra innings in order to make it on time for his welterweight fight with Tyler Marsh, a student at Newton Falls.
Marsh, however, now wishes that Mathews would have stayed at the baseball game, as Mathews scored a unanimous decision.
"I fought in the tournament last year, losing in the first round but having to later withdraw after spending a week in the hospital with viral meningitis," Mathews said.
"Once I got in the ring tonight, I told my coach that I just wanted to win because this year I want the belt," he stated.
In upperclass action, Boardman's Troy Sigurani, the son of K.O. Drugs Hall of Fame boxer Ken Sigurani, scored a unanimous decision over Lowellville's Evan Amos in a super middleweight pairing.
It was his first step back as he tries to erase the sting of last year's title loss.
"My dad is my trainer and he just told me to keep my jab working and continue to attack. He said 'don't back up' and that is exactly what worked for me tonight," Sigurani said.
"After losing in the championship last year, I'm just focused on the belt," he added.
In other underclass action, Davonte Gist of Beaver Local scored a second-round TKO over Campbell's Gus Kust while Demitryus Martinez of Struthers won the rivalry battle when he scored a unanimous decision over Campbell's Angel Sau-Rojas.
"I wanted to knock him [Kust] out, but I thought that it would be a tougher battle," Gist said.
Neshannock's Chris Pagley scored a first round TKO over Lakeview's Aaron Barnhart in an upperclass welterweight scrap.
"I can get myself ready for most anything and I have to admit that I didn't feel totally prepared tonight. I was able to go after him, however, sticking with my right and not getting too wild with my punches," said Pagley.
Chuck Nelson, founder, was pleased with the opening night action.
"It was bell-to-bell punches and the best first night of action in recent memory. There was so much heart shown and the kids found out exactly what physical shape they were in up to now," Nelson said.
The double-elimination tournament continues next Monday with approximately 30 bouts on tap. Doors will open at 6 p.m. with the first bout at 7.