Phantoms heal as pressure eases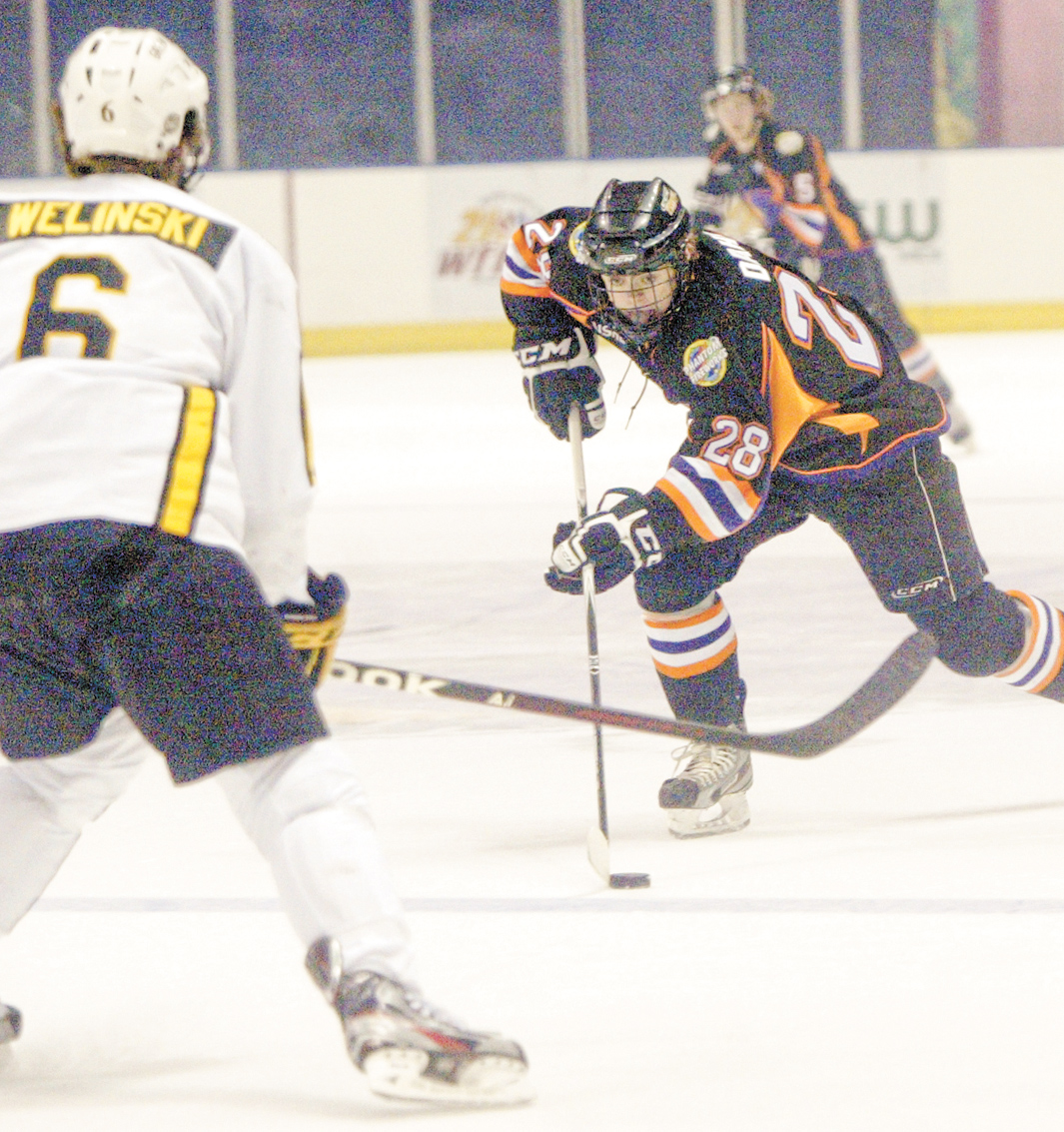 Photo
Phantoms forward Alexander Dahl shoots past Green Bay's Andrew Welinski during a recent game at the Covelli Centre.
By Tom Williams
YOUNGSTOWN
Over the course of a 60-game hockey season, one point in the standings shouldn't make much of a difference.
But the point the Youngstown Phantoms earned on Saturday night at the Covelli Centre when they forced overtime against the Indiana Ice has eased tremendous pressure on a team struggling to shake a late-season slump.
The Phantoms and Ice were tied 1-1 after 60 minutes, giving each team a point. That enabled the Phantoms to clinch fourth place in the USHL's Eastern Conference standings and home-ice advantage in their first-round playoff series against fifth-place Cedar Rapids.
Thirteen seconds later, defenseman Chris Bradley blistered a shot from the point past Ice goaltender Jon Gillies for the 2-1 overtime victory.
Had the Phantoms (31-20-7, 69 points) lost to the second-place Ice (34-15-9, 77 points) in regulation, home playoff games were anything but certain.
Instead, the Phantoms can spend the final week of the regular season tuning up for the franchise's first postseason experience.
The Phantoms will host the RoughRiders (26-20-12, 64 points) in a best-of-three series at the Covelli Centre. The first two games will be played on April 16-17. If necessary, Game 3 will be played on April 18. Because of distance, all three games will be played here.
"For me and probably for our staff, I don't think it was so much [home-ice advantage] as just getting out of this losing streak," said Phantoms head coach Anthony Noreen of the five-game skid that was snapped. "That was the bigger thing.
"You don't win 30 games in this league unless there is something right about your team, unless you've done something right along the way," Noreen said. "And that's what I always remind our guys. We've never been through a skid like this.
You find out a lot about your leadership, you find out a lot about your character," Noreen said. "I don't think our guys quit. I don't think they've quit during any point in our last five games."
Bradley, who wisely held the puck behind his own goal for about half of the final 30 seconds of regulation, was looking ahead.
"For the first round of the playoffs it's going to be such an advantage for us," Bradley said. "Cedar Rapids at our barn — it should be a great series."
Late in the third period, Noreen used his timeout to remind the Phantoms what was at stake.
"We said 'by no means sit back — if you have the chance to score in the offensive end, score. But be smart,' " Noreen said. "And I think that was Chris being smart, realizing the situation, realizing how important the point was."
Sean Romeo, the backup goaltender to Matt O'Connor, earned the victory by stopping 38 shots by the high-powered Ice offense.
"There's not a better teammate in that locker room or someone who pulls more for the guy he's competing with than Sean does," said Noreen of Romeo who has played in 11 of the Phantoms' 58 games.
"He's not sitting there hoping OC has a bad game so he can get in," Noreen said. "He's pulling for him, he works as hard as anyone, he's going to be the guy here for the next year or two years."
Romeo said going against Gillies, one of the league's top goaltenders, "makes you want to steal the show a little bit. It also takes the pressure off a little bit knowing you have a player who's going to go second-round in the NHL Draft.
"It makes you want to work hard and compete against him," Romeo said.
The Phantoms' win set the Eastern Conference playoff bracket. Green Bay (46-9-3, 95 points), the Phantoms' opponent this weekend, has the overall seed. The Gamblers and Ice have first-round byes.
The other opening series has Team USA traveling to Dubuque, Iowa, to play the defending champion Fighting Saints.