Gas industry spurs new product sales for Pa. uniform store
The Fracking Frontier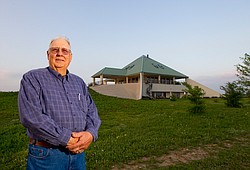 Gallery
A collection of photos by student journalists from Youngstown who comprise TheNewsOutlet.org, and Vindy Shale reporter, Karl Henkel, as they look at life in Texas as a result of the natural gas boom, and offer traces of what this life might hold for Ohio and its citizens.
By Katelyn Freil
TheNewsOutlet.org
WILLIAMSPORT, PA.
For more than 20 years, Rogers Uniforms stocked maroon and sky blue scrubs for health care workers, hats and aprons for restaurants employees and even items for law enforcement officials.
But about a year ago, Jody Rogers made some changes to what he and his mother, Margie Rogers, carry in their family business.

Rogers was approached by a company working in the Williamsport gas industry that sought special, fire-retardant gloves. Rogers ordered one of each size, ranging from small to XXL. The company bought all of the gloves ordered.
"OK, I get the hint here," said Rogers as he looks back on the experience. The next time, Rogers ordered two pairs of each size. Again, the compnay's official bought all of the gloves.
He began to purchase 20 of each size.
"How do I stock my store? That's how," Rogers said.
Rogers is now stocking a wide range of fire-retardant items — hats, shoes, shirts, pants, coveralls, raincoats — for the people working in the booming gas and oil industry in the Williamsport area. He also is stocking reflective vests, safety hats, safety glasses, ear protection and work boots.
Rogers said he experienced a 25-percent increase in sales so far this year. About 90 percent to 95 percent of that increase was from the gas industry, he said.
"Every time you turn around, they wanted something different. And it just grew and grew … and continues to grow," he said.
Rogers said that before last year, the store never sold fire-resistant gear.
Rogers said he and his mother started their business in 1999, primarily serving those in the public-safety field, but now has branched to numerous other industries, including businesses that are serving the oil and gas industry.
"I've had barbershops come in here because they're hiring more barbers to cut people's hair," Rogers said. "I've had restaurants coming in because they're business is so far up, they need to get more aprons and towels."
Vincent Matteo, director of the Williamsport Chamber of Commerce, said Rogers Uniforms is a local success story. "They're an example of a company that has been around awhile and has adapted or brought on new product lines to tap into this new market and have done very well with it," he said.
Rogers Uniforms had three employees before last year. Rogers said that number has now doubled to six, but all employees are in the family. He said they were hired because of the increase in business as well as to help with embroidery and screen printing and other work with the uniforms. Some of the gas and oil companies want their logos on uniforms.
His seventh employee will be his son, who graduates from college this year. "He'll be able to bring some aspects to the business that I hope can further propel the business in the future," Rogers said.
"I think the entire area is blessed for this," Rogers said, referring to the gas industry.
The NewsOutlet.org is a collaboration among the Youngstown State University journalism program, Kent State University, the University of Akron and professional media, including WYSU-FM Radio, The Vindicator, the Beacon Journal and Rubber City Radio of Akron.