Published: Mon, April 9, 2012 @ 12:00 a.m.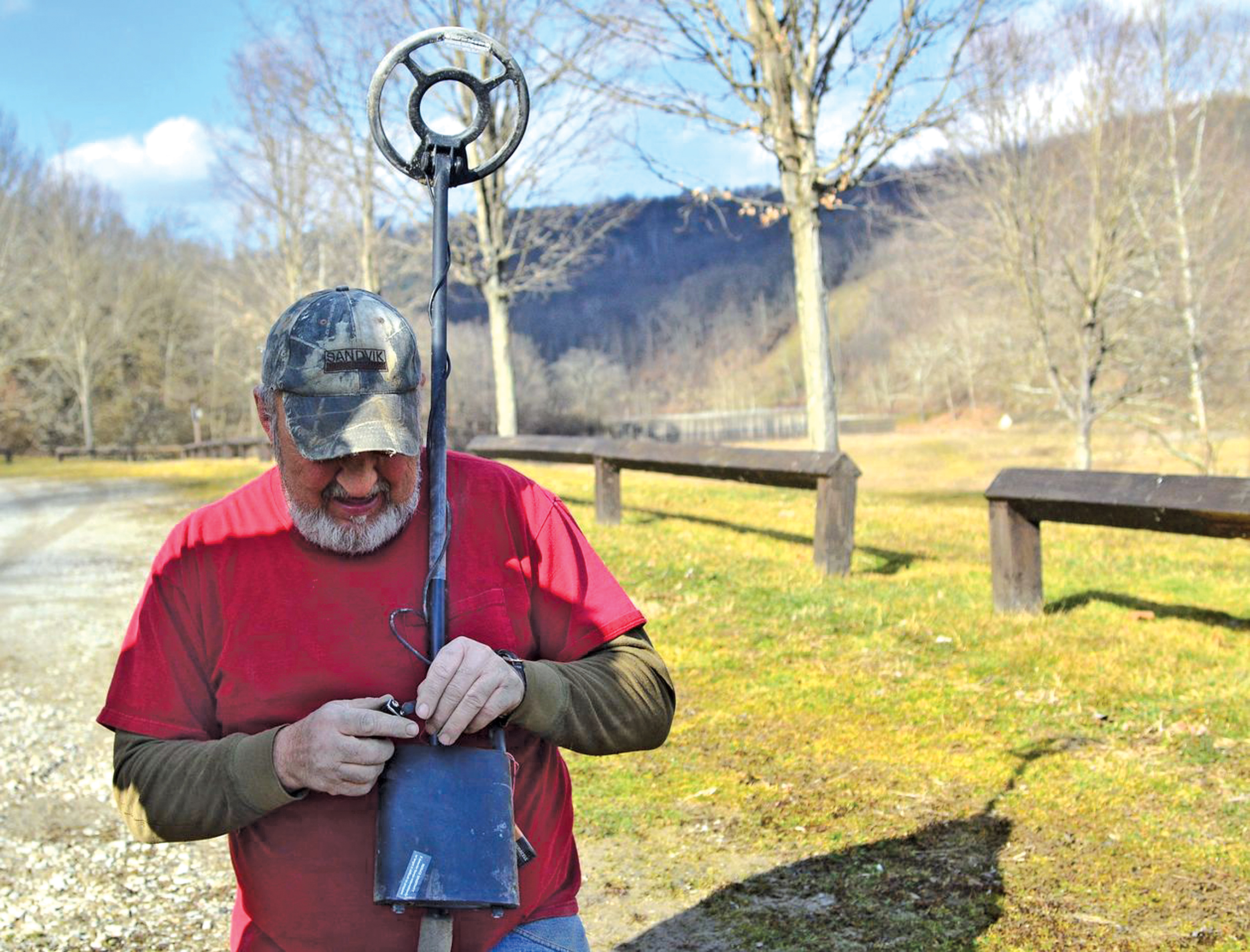 Photo
Al Penska is a resident of Greene County, Pa., and is among many who worry how the land will be left when this latest gas surge is complete in a generation or so. The lands have been home to coal mining for almost a century, and they know the environmental impact of energizing the country. Now it's home to Marcellus Shale. Others in the county see the boom as a source of riches in a county with an 18 percent poverty rate.
The Fracking Frontier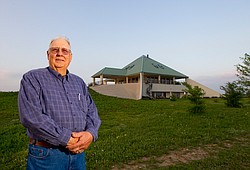 Gallery
A collection of photos by student journalists from Youngstown who comprise TheNewsOutlet.org, and Vindy Shale reporter, Karl Henkel, as they look at life in Texas as a result of the natural gas boom, and offer traces of what this life might hold for Ohio and its citizens.
By DANIEL MOORE
The NewsOutlet.org
GREENE COUNTY, Pa.
An 18-wheeler barrels down state Route 21, carrying pipe that will become a pipeline connecting gas wells in the rolling countryside of Greene County — a rural region about 30 minutes south of Pittsburgh that has known the benefits of fueling the world.
And its consequences.
The ground beneath Greene County's 575 square miles is hollowed by still-expanding coal mines — the nation's largest — owned by Consol Energy Inc., the largest U.S. producer of coal from underground mines.
Beneath those coal mines lies the Marcellus Shale, a reservoir of natural gas that has local residents reliving the coal boom. Greene County's first Marcellus Shale well was permitted in 2005, the only one that year. In 2011, 217 Marcellus permits were issued.
The roads and rural towns bustle with activity and business from the natural gas industry. Residents sell their mineral rights. Workers lay pipeline. Retired coal miners are employed on drilling rigs. Local bars and general stores cash in on drillers.
But like the coal industry, residents know that the times are not all good.
Though the county — home to about 38,000 people — has the third-lowest unemployment rate in the state at 6.4 percent, it conversely has the eighth-highest poverty level at 18 percent.
Many locals remain unemployed — either not having the credentials or the desire to work in the industry, which still brings in many workers from out of state.
Though many make the most of it, others fear for their environment, still marred by decades of coal mining.
Retired coal miner Al Penska stands in the quiet parking lot of Ryerson State Park overlooking a grassy field that used to be a 62-acre Duke Lake. The dam that once held the water cracked in 2005.
Local officials drained the lake later that year because of safety concerns, blaming the nation's longest underground coal mine for the structural problems.
Lynn Seay, director of media relations for Consol, said the company maintains communication with the local community about fixing it.
"Consol Energy remains committed to maintaining a constructive dialogue with the DCNR [Department of Conservation and Natural Resources] to restore this important recreational amenity in southwestern Pennsylvania as quickly as possible," she wrote in a statement.
Consol has been a familiar force in the region since 1864, digging coal and, more recently, drilling natural gas. As of 2010, it employs nearly 9,000 nationally, more than a quarter of whom live in Pennsylvania.
When the company released its capital budget in January, it announced the expansion of coal operations in the county. When the expansion reaches full production in 2014, the mine will produce 5 million tons of coal a year and employ 375 more workers.
"They're hurting for (coal) miners. You want a job in a mine? They'll hire you tomorrow," said Penska.
Though coal mines are commonplace, Penska said natural gas is the new county fixation.
Along with job offers, Penska and his neighbors started receiving letters from Consol about buying mineral rights. It was news to Penska — who thought they wanted the coal under his land. He was surprised when he learned it was gas.
Penska worries about how the land will be left. He's not satisfied with cracked dams and busted foundations left from underground coal mines. He suspects that gas drilling will be just as rough on the land.
Pipeliners John Hendrickson and Shane Guerney, good friends from Wisconsin who are the "new locals," recognize the environmental hazards of their line of work. They defend the regulations in place to address those hazards.
"(The land) has to be left the way we found it," Guerney says.
The Army Corps of Engineers inspects "every stick and stone of the land" they touch, he says, and will enforce fines if it's not restored to its original state.
"For us," Hendrickson adds, "I've been in places where they've yelled if all the rocks were not in the right spots in a creek. They want everything back the way it was."
Before they're done, Guerney says, there's going to be a well every square mile throughout the county. The revenue generated will flow through the companies and trickle down to the communities.
"The only bad thing is," Hendrickson says, "like everything, there's always the chance of a bad piece of pipe, or there could be a fracture."
Ray Rutan will be there if the pipes leak or the water is tainted.
The laminated card inside his wallet certifies the retired construction worker as a Citizen Watershed Protector, making him one of 40 volunteers who test creek water for contamination from natural gas exploration.
The water-monitoring program is part of the local Greene County chapter of the Izaak Walton League of America, an advocacy group formed in 1922. Since Rutan joined the chapter three years ago, its membership has grown from about 20 to 140, a measure of the local environmental interest as drilling takes hold.
"We have the technology to do this right," he says. "Surely, if we can send man to the moon, ... we surely can go down south three or four thousand feet in God's earth right and safe without the contamination of our water."
Chapter President Ken Duffala insists his group is not against natural-gas development but for more accurate research.
And he has the evidence.
Duffala pulls charts and graphs from a thick binder and waves around the certified research Rutan helped collect. The data reports electrical conductivity, total dissolved solids and pH levels in local water supplies.
All the hot spots are documented, and he can show anyone exactly where they are.
"We do have the data. What we need is good response from the (state Department of Environmental Protection)," says Greene County Commissioner Archie Trader of the group's findings. "I think we all have to be concerned about it."
The county pays for water- testing equipment because it wants clear records of the contents of its streams.
Duffala recognizes there could be benefits for the area. But he's thinking about the long term. He is worried about his land, his family's house, his children.
"Look, this is gonna be a boom just like any other boom," Duffala says. "When it's over with, we still have to live here. Is it going to be environmentally safe for our kids to live here?"
Penska laughs at the idea of government regulatory agencies doing anything to slow the industry's local development.
CRAZY MONEY
"People's crazy over the money," he says, "If you own a nice chunk of property, you're not worried about what they're gonna do to that creek or lake. You know what I mean? You're gonna make a ton of money off it."
Greene County's 2010 sales tax revenue climbed 27 percent from 2006 to 2010. Personal income rose more than 20 percent with the average taxable income jumping from about $36,500 to $44,000 during that same period, according to tax filings with the Pennsylvania Department of Revenue.
The money is being spent just about anywhere with a parking lot.
Linda McGowan, the owner of Creekside Diner in Graysville, says she can see both sides. "As a businessperson, I care about my wallet. We've seen a significant increase in business, and they're all nice people, the pipeliners. They're guys just making a living, that's all."
Two years ago, a 64-room Microtel Inn and Suites was carved into a hillside just off I-79 in Waynesburg. It's now packed with men in company-issued coats and work boots.
For Lisa Burns, owner of the Exxon gas station in Wind Ridge, the prospects of the natural-gas industry couldn't look finer for her area.
"If you want a job, you can have a job here," Burns says. "Pipelining, anything. You can have a job here." Burns says she's making minor changes to her store for the new workers in the area.
"They've made it known, that they would like to have fresh sandwiches because they pack their lunches and stuff," she says, pointing to the area the chips used to be. "It's single guys or even married guys, but their wives aren't here with them."
A couple miles down the road from the Exxon, the pipeline construction intersects Route 21. By summer, Dominion Transmission hopes to have a full supply of workers on the 110-mile Appalachian Gateway Project pipeline, which runs from northern West Virginia to Oakford, Pa. By September, it hopes to have gas flowing through the pipes to be put on the market in the Mid-Atlantic and Northeastern states.
McGowan lives right across from the pipeline. She had to travel a 16-mile detour to work to Graysville every day when they closed Route 21 for a year to run the pipeline across it, and it hasn't gotten much better since.
"Everywhere you go, they've got somebody stopping you because they need to move a rig, so you're perpetually stuck behind a rig, waiting to get somewhere," she says.
To find the pipeline, she says, follow the mud.
The mud trail is thin on the road by her diner, but thickens as Route 21 winds west up the hill to Wind Ridge.
There, Ian Snyder works his shift at Stokes General Merchandise — a hybrid gas station, grocery store, computer repair and tie-dye T-shirt shop owned by his brother-in-law.
"The truck drivers, they like to eat," Snyder says. "They buy a lot of lunches, so that's good. They love a little store like this because you look around — we have a lot of stuff. We do all kinds of stuff."
Truckers, pipeliners, drillers — they're the "new locals."
"Every (company is) coming with their own people," Penska said. "Go up there in them trailer parks (in the hills). Texas, Mississippi, Kansas, Louisiana — that's all your license plates. Where's your Pennsylvania people?"
Cold, windy dusk falls on the Burns RV Campground, which consumes the area around Jacktown Fairgrounds. Rush Henri is outside her fianc 's trailer grilling potatoes for him. As the assistant superintendent for a drilling crew, he's been here since May.
Henri says her fianc leaves around 5 a.m. for a daily meeting before heading out in the field, where he oversees foremen and equipment. She tries to make the two-and-a-half hour drive every weekend from Elkins, W. Va., where she is a middle-school guidance counselor.
Hendrickson and Guerney, good friends from Wisconsin, live across the road from Henri. Guerney has been all over the country, he says, but his wife and kids don't travel with him.
"People that run the pipelines go from state to state," Hendrickson says, emerging from the trailer. "You go where the money is, that's why we do it. It's good money."
The NewsOutlet.org is a collaboration between the Youngstown State University journalism program, Kent State University, the University of Akron and professional media, including WYSU-FM Radio and The Vindicator (Youngstown), the Beacon Journal and Rubber City Radio (Akron).