In Texas, gas wells everywhere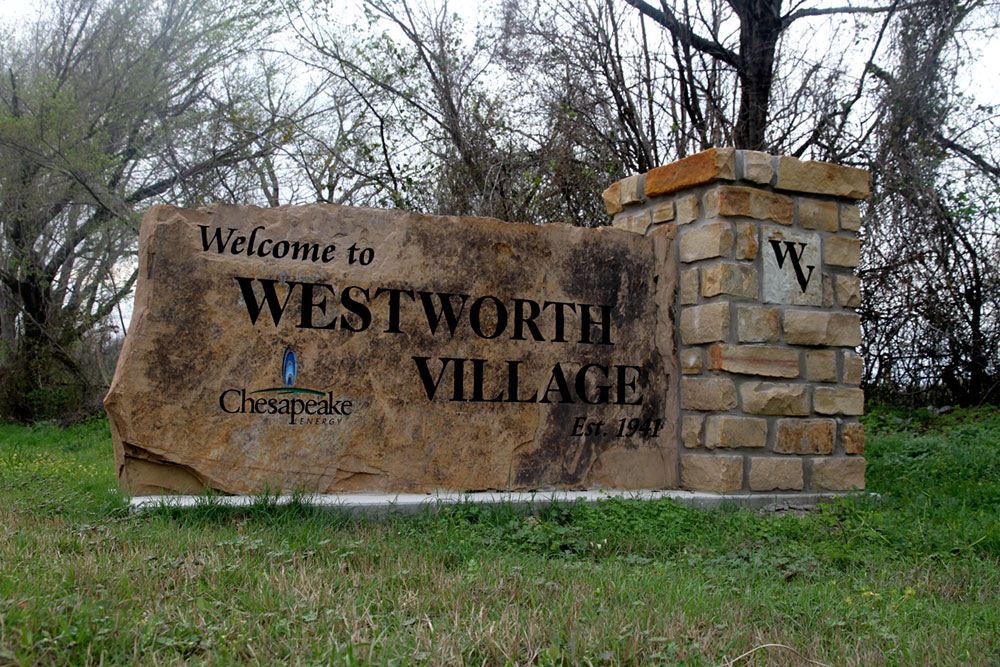 ---
The Fracking Frontier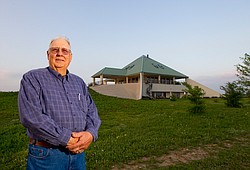 Gallery
A collection of photos by student journalists from Youngstown who comprise TheNewsOutlet.org, and Vindy Shale reporter, Karl Henkel, as they look at life in Texas as a result of the natural gas boom, and offer traces of what this life might hold for Ohio and its citizens.
RELATED: • Oil, Gas industry boosted Fort Worth economy before moving on
• Hissing well gives residents in Arlington[, Texas, a wake-up call
• Industry creates demand for supplies
• Texas company finds niche in fracking materials, equipment
• Public backlash to Texas drilling leads to limits, moratoriums
• Arlington foundation proves to be an asset
By Karl Henkel
khenkel@vindy.com
FORT WORTH, TEXAS
Along the wide, winding Interstate 35 in North Central Texas is richly colored green grass, billboards touting local businesses and restaurants and the cityscape of the greater Fort Worth area.
The landscape is much like other major metropolitan areas.
But there are a few landmarks that stand out: gas wells.
Thousands pepper the Metroplex — a triangular region with vertices of Dallas, Denton and Fort Worth, a slightly compacted version of Youngstown-Akron-Canton — the heart and center of the Barnett Shale, a large natural-gas resource.
The well sites are literally everywhere.
Rigs appear along freeways about as often as speed-limit signs. Wells are tucked away in subdivisions. There is even a new well location about a mile from Cowboys Stadium in downtown Arlington.
The decade-old drilling delirium has consumed much of the Metroplex, from the
rural farmland of nearby Krum, a city of about 3,000 that looks as if it could be used as a 1970s-style movie set, to Fort Worth, a city that grew by nearly 200,000 — a 39 percent gain — during the past decade.
The thousands of wells brought tens of thousands of jobs, hundreds of millions of dollars in royalties to landowners and municipalities and billions of dollars in economic impact.
It also brought out a bevy of new local regulations, warranted environmental concerns and studies and some of the most outspoken voices both for and against oil and gas exploration.
The Barnett Shale exploration has hit a lull, thanks to record-low natural-gas prices, an unfamiliar caveat to the liquids-rich Utica Shale, deemed the savior to Ohio's economy.
Though there are many differences in comparing Barnett to the potential of Utica, in many ways those in Ohio can use Texas as a blueprint of the next decade of drilling.
FORT WORTH
Throughout history, Fort Worth generally has drawn the short stick when compared to its easterly neighbor city, Dallas.
Whether it's the NFL cheerleaders or J.R. Ewing, Dallas nearly always has overshadowed Fort Worth.
But finally, Forth Worth is getting its due: the city's 39 percent population growth during the past decade trumped Dallas' 1 percent tick.
The population boon has resulted in myriad new jobs, many in the oil and gas industry. One recent study estimated more than 100,000 jobs related to the Barnett Shale. But growth has spawned off to almost every other field.
"If I wanted to go back to work, I could have a job in two weeks," said Susan DeVault, a 59-year-old retired employee of Mercedes Benz Financial Services,
enjoying dinner among friends at Cattlemen's Steakhouse in Fort Worth's Historic Stockyards District. "And it'd be a good job."
DeVault, at a weekly gathering of a group that sometimes tops 30, discussed the changes in the city during the past 10 years with her husband, Jack Edmondson.
If there's anyone who would know about North Central Texas, it's Edmonson, a local historian and chairman, dressed in a brown cowboy hat and a jean button-down that featured the logo of his employer, the Tarrant County Historical Commission.
"We're growing faster than we can build our highways," said the 62-year-old in between bites of "Eat 'Em Up Shrimp," a local seafood favorite that comes with a tangy orange sauce. "We can grow more, and we are. We're growing too damn fast."
NOT EASY
In Ohio, the energy exploration is simple: a driller, if it owns or leases mineral rights, applies for a permit, receives a permit and starts the exploration process.
The Ohio Department of Natural Resources is the sole governor of oil and gas operations.
In Texas, individual municipalities can create their own regulation, at least more so than in Ohio.
Fort Worth is one of those cities that had the option to limit drilling.
Instead, local control led to a drilling bonanza.
Nearly everywhere — downtown, the outskirts — wells began popping up.
No Fort Worth suburb knows this better than Westworth Village.
The small, 3,100-resident Westworth has a nickname: Chesapeake Country.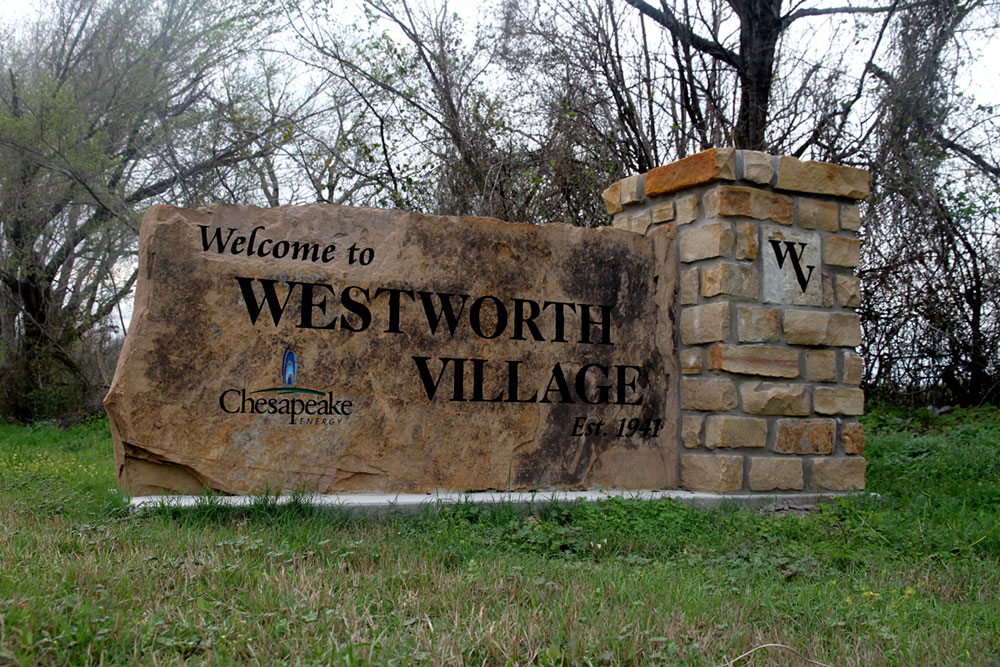 Photo
The sign for Westworth Village in North Central Texas bears the logo of Oklahoma City-based Chesapeake Energy Corp., the second-largest producer of natural gas in America.
Just look at the village's welcome sign; it includes the logo for Chesapeake Energy Corp., the second-largest natural-gas producer in the country.
When resident Deborah Rogers, a 49-year-old goat farmer who lives on a 20-acre property buried off a busy state boulevard, first saw the refurbished sign, it irked her, to say the least.
"Why not call it Chesapeakeville?" Rogers said, somewhat facetiously, while sitting in her earthy-pink Mediterranean-style home. "Municipalities in North Texas have sold out."
Rogers, who has nearly 100 goats — she has made artisan goat cheese since 2003 — has gained great notoriety since 2009 for speaking out against the oil and gas industry. It was after a series of Chesapeake wells popped up in her neighborhood.
Rogers is well known for talking about the economic impact of shale booms across America and the economic "bubble" that seems to be forming.
It was no surprise that after a recent Rolling Stone article, which labeled Chesapeake as running a "Ponzi scheme," reporters and colleagues inundated Rogers with phone calls.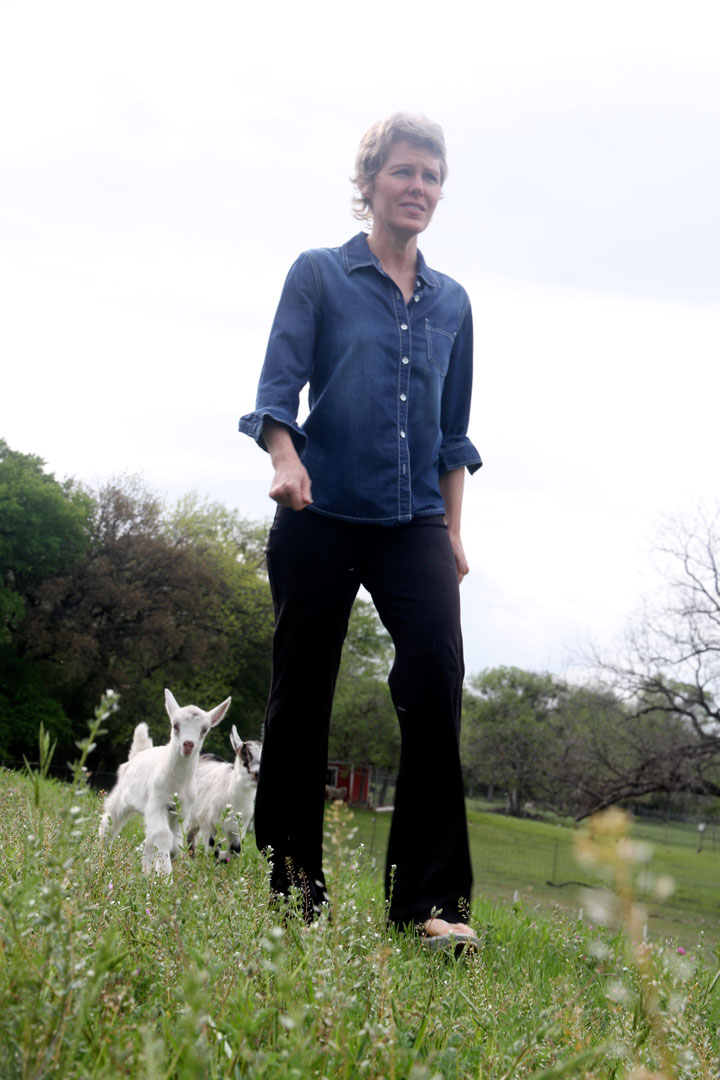 Photo
Deborah Rogers, a Westworth Village resident, walks toward a nearby gas well with two of her baby goats, George, left, and Blossom.
Rogers, a former investment banker, discounted that notion but said oil and gas companies are on a troubling track.
That track, as she calls it, is like a treadmill.
In this case, the treadmill keeps going faster and faster; eventually, Rogers believes, oil and gas companies will fall off.
That's because these companies, in their quest for natural-resource dominance, leverage massive amounts of money through sky-high lease bonus payments and bank on years of peak resource production.
They keep afloat by selling those assets or interests in those assets, and by finding the next big oil or gas resource, such as the Utica Shale.
"Don't just focus on the fracking," Rogers said, warning those in Northeast Ohio. "There are other issues to this that are equally problematic."
DRILLING BACKLASH
Rogers is one of many in North Central Texas who have gained notoriety by speaking out against the natural-gas exploration boom.
The area is home to a couple of stars of the Academy-Award nominated documentary "Gasland," a movie that attempts to show the dark side of fracking, narrowing in on environmental disasters.
One of the biggest voices has been that of Don Young.
Young lives across the street from Tandy Hills Natural Area, a 160-acre publicly owned nature preserve on the city's east side.
On his green but unkempt front yard is a red-and-white sign bearing the phrase, "Say No to Urban Gas Drilling."
Young, who admits he was gung-ho on the anti-fracking front a half-dozen years ago, admits he has changed his philosophy a bit.
"I used to be against all fracking," he said, sitting on his concrete, one-step front porch on a blistering hot March afternoon. "But realistically, I'm now against urban drilling."
The wells are simply too close for comfort, he said.
The reason?
Potential negative health impacts, though that feat was somewhat quashed after a recent Fort Worth health study conducted by Eastern Research Group Inc. in 2010-11.
ERG looked at 375 well pads, eight compressor stations, one gas-processing plant, a saltwater treatment facility, a drilling operation, a fracking operation, and a completion operation, according to the report released last summer.
Pollutants with relatively low toxicities such as methane, ethane, propane, and butane "accounted for the overwhelming majority — approximately 98 percent — of the citywide emissions, which totaled an estimated 20,818 annual tons."
The report says "several pollutants with relatively high toxicities" such as benzene were also emitted from these sites, though in "considerably lower quantities."
AFTER THE BOOM
Chesapeake is one distinct similarity between the Barnett and Utica shales.
Chesapeake has about 2,670 wells in the Barnett Shale, on land owned by such entities as the Fort Worth Star-Telegram, General Motors, Texas Christian University and the city of Fort Worth.
Royalty payments have topped $1 billion in the shale play, including
$29 million alone in bonuses and royalties to Fort Worth from Chesapeake alone.
The Barnett in November reached new heights in natural-gas production last November, according to Powell Shale Digest, a local publication dedicated to the industry.
But with natural-gas prices simmering around $2.25 per 1,000 cubic feet, local entities such as Fort Worth are slashing projections for future monetary gains.
Projected revenue is likely to fall by one-third during the next quarter-century.
Chesapeake itself has dropped the number of rigs in the Barnett from 43 in 2008 to just six this year.
It has also curtailed previous drilling plans in North Central Texas because of low natural-gas prices.
From the city's perspective, Chesapeake plays a large role in income-tax revenue; the company ranks fifth among all companies in Fort Worth.
"There's just no way that you can prepare," said Bill Thornton, president and CEO of the Fort Worth Chamber of Commerce. "Texas knows the boom-bust aspect of it better than anybody."
More like this from vindy.com