Published: Sun, April 8, 2012 @ 12:00 a.m.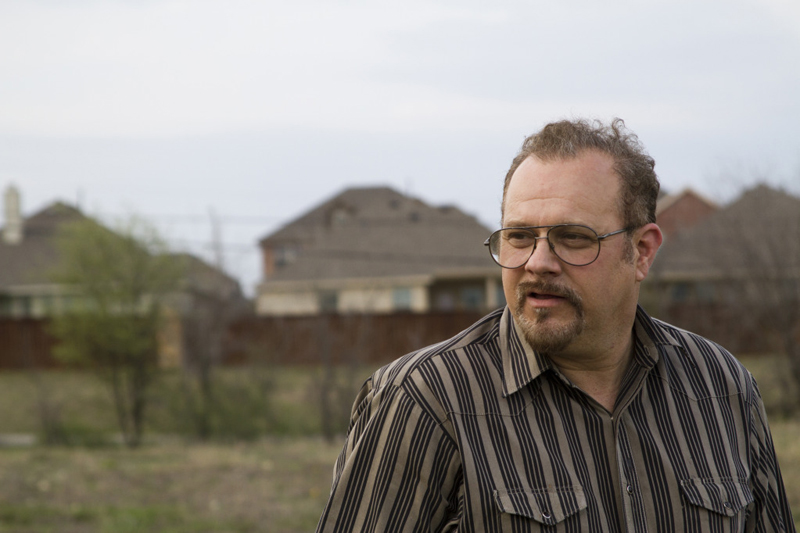 Photo
Gary Hogan stands in his Fort Worth neighborhood where fracking was introduced with no warning — just clanking steel and screeching brakes on the property behind his home. Work continued that first day until 3 a.m. Hogan and his councilman vowed it would not happen again to others, and the nation's first city ordinance on fracking were born. The Fort Worth laws have been a template for other cities.
The Fracking Frontier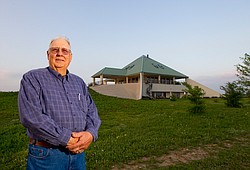 Gallery
A collection of photos by student journalists from Youngstown who comprise TheNewsOutlet.org, and Vindy Shale reporter, Karl Henkel, as they look at life in Texas as a result of the natural gas boom, and offer traces of what this life might hold for Ohio and its citizens.
TheNewsOutlet.org
FORT WORTH, TEXAS
Gary Hogan heard the trucks before he saw them. Standing in his backyard, he phoned his Fort Worth councilman, the late Chuck Silcox.
The sounds of clanking steel and screeching brakes rolled through the Texas sky, into Hogan's backyard, through his cellphone and landed in Silcox's ear.
The councilman showed up moments later.
The two ventured through a wooden fence in Hogan's backyard and watched the first "frack job" in the neighborhood — about 300 feet from Hogan's one-story stucco home.
"We watched gas drilling at its worst in the city of Fort Worth," Hogan said.
The drilling lasted until 3 a.m.
"'This can't play,'" Hogan recalls Silcox saying.
Silcox told Hogan people could not live with the noise.
Conversations and complaints such as this have led to the adoption of city ordinances that limit drilling. As drilling encroached on the city limits of Fort Worth, public backlash set the stage for reform, which continues today.
Hogan still lives atop the Barnett Shale, a rock formation that has produced nine trillion cubic feet of natural gas over the past decade. The noise he heard that night was drilling and, some days later, hydraulic fracturing, or fracking — a process of blasting water, sand and chemicals into rock to extract natural gas.
Hogan wasn't the first to hear drilling permeate the densely populated areas of Fort Worth, but his is among the loudest voices talking about it.
"He's the one that got everything started," said Sarah Fullenwider, Fort Worth city attorney and author of the nation's first city drilling ordinance to address fracking.
Fort Worth officials admit the first step was a knee-jerk reaction to the drilling.
A moratorium in 2001 put a stop to drilling after the first three city wells were permitted. Council and city officials scrambled to draft drilling regulations.
Through public concerns and industry input, a city drilling ordinance passed through council six months later and the moratorium was lifted.
In 2006, the ordinance was amended to address noise complaints and proximity issues as drilling moved closer to residential areas.
"I would say 90 percent of our revisions to the ordinance came from the gas company not taking a proactive step to minimize the impact to surrounding areas," Fullenwider said. "If they had, we wouldn't have to change the ordinance."
Now representing his district on the city's drilling task force, Hogan approved measures that prohibited wells within 600 feet of schools, homes, parks and other protected land.
The task force also designated certain routes trucks had to use that haul millions of gallons of water needed to frack wells. Landscaping and fencing were required for each well site.
In Denton City, some 40 miles north of Fort Worth, a 120-day drilling moratorium is providing time for the city's drilling task force and council to update regulations.
"Rigs were pouring in from around the country," Denton City Mayor Mark Burroughs said of a drilling surge in the late 2000s. "And we discovered, to our chagrin here in Denton, that we had lapsed behind the times."
Denton passed its first ordinance in 2002. The first revision came with the passage of regulations in 2010, which addressed similar nuisance issues experienced in Fort Worth.
Denton officials amended the 8-year-old ordinance to keep drilling away from schools, churches, public parks, libraries, homes, hospitals and reservoirs. Originally set at 250 to 500 feet, the 2010 provision doubled the space between wells and protected use lands.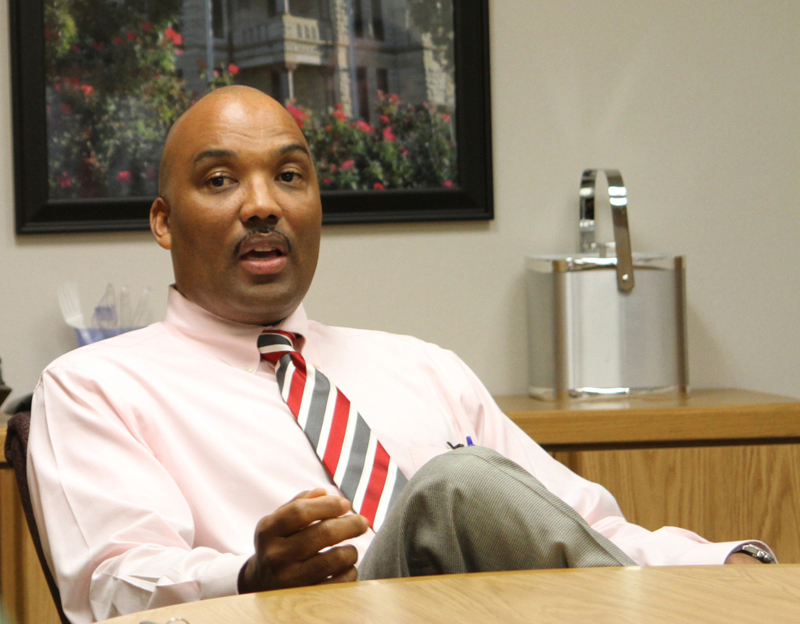 Photo
Mark Cunningham, director of planning and development for Denton, Texas, explaining regulations placed on the oil and gas industry for local drilling operations.
Mark Cunningham, director of planning and development for Denton, explained why the setback provision is important.
"The greater the setback, the less of the chance of someone being affected by the potential pollution," he said.
Denton officials also reduced the life of a drilling permit from one year to six months, imposed time constraints on drilling operations, adopted limits on noise, and established a gas-wells division under the city's planning and development department.
But city officials in Texas have little power to police pollution.
The Texas Commission on Environmental Quality, much like the Ohio Environmental Protection agency, sets the limits for air and water pollutants.
Though cities can regulate nuisance issues, they have no control on what happens once the drill bit enters the ground and passes through water aquifers.
Setbacks, however, can place a burden on business and infringe on people's rights to access their mineral resources.
"What I've learned along the way is that gas well drilling and production is a very polarizing issue," Cunningham said. "The industry is always going to be in favor of less regulations, and then the communities are always going to be in favor of more regulations."
Ed Ireland is president of the Barnett Shale Education Energy Council, which works closely with the Fort Worth Chamber of Commerce. He also sits on Denton's drilling task force.
Ireland said if ordinances are too strict or moratoriums are implemented, then business will suffer. He cites New York's current moratorium as a model example.
"If they can't operate there, they won't locate there," Ireland said.
The NewsOutlet.org is a collaboration among the Youngstown State University journalism program, Kent State University, the University of Akron and professional media including WYSU-FM Radio, The Vindicator, the Beacon Journal and Rubber City Radio of Akron.