Published: Sun, April 8, 2012 @ 12:00 a.m.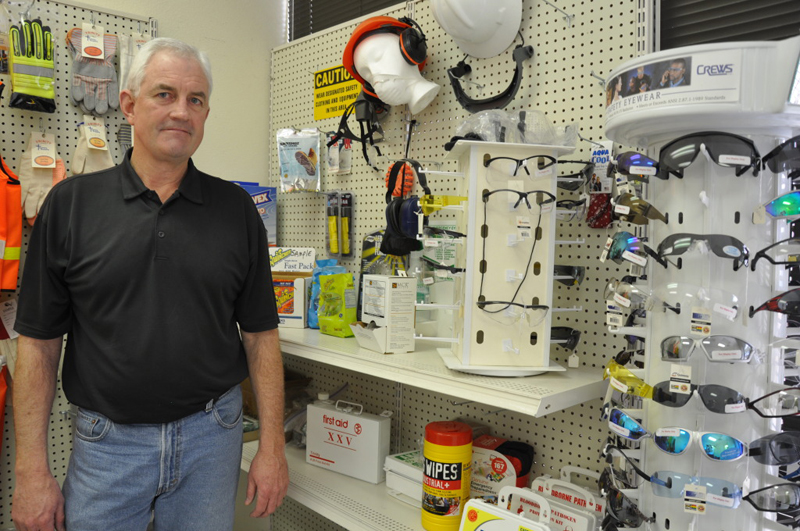 Photo
Steve Hebbler, owner of Trinity Safety Supply, discussing the increased demand that he has seen over the years as a result of the oil and gas industry.
The Fracking Frontier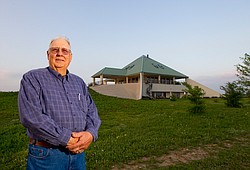 Gallery
A collection of photos by student journalists from Youngstown who comprise TheNewsOutlet.org, and Vindy Shale reporter, Karl Henkel, as they look at life in Texas as a result of the natural gas boom, and offer traces of what this life might hold for Ohio and its citizens.
By Nicole Stempak
The NewsOutlet.org
FORT WORTH, Texas
There's a good chance that the small flag or windsock flapping in the breeze near a gas or oil well was imprinted and sold by a company based in Fort Worth, Texas.
"We've just had a tremendous number of these that we've sold, probably because companies are pulling up and putting their operations up in a particular area," said Steve Hebbler, owner of Trinity Safety Supply.
In 1982, Neva and Jerry Cotton founded Trinity Safety Supply in their kitchen — selling gloves, hard hats and other safety supplies for workers. The company has since expanded its products and now distributes to approximately 700 wholesale stores throughout the country, along with 11 warehouses in high-producing shale areas.
"We've seen a pickup in [Occupational Safety and Health Administration] requirements and people wanting to buy equipment to meet those specifications," Hebbler said. "But more so than anything else, I think our niche is the oil patch, and that's what we've been servicing over the years."
Standing in the company's small display area, Hebbler said oil and gas companies need everything including windsocks, gloves, hard hats, gas clips, flame retardant clothing, safety goggles, fire extinguishers and first-aid kits for employees' trucks.
"The need for safety-supply clothing has ramped up in these areas of activity," Hebbler said. "People are looking for just-in-time inventory, and that's where we feel we have a niche."
Hebbler walks down the stockroom aisles with mostly unopened boxes that will be shipped out in the coming days. The company receives inventory daily and can ship out as many as 40 shipments a day.
"It's all about quick turnarounds," he said.
Hebbler stops and points to the array of textures and colors for gloves that companies working in different states require. Workers in Louisiana prefer gloves with plastic dots, and workers in Colorado and Kansas prefer gloves with elastic knit covering the wrist. The differences are subtle and practical, though Hebbler admits he never imagined he would ever need to know them.
Trinity Saftey Supply imprints companies' logos on many items such as the 60 dozen white and red gloves stacked next to a small machine that will transfer the logo. That's just one order of gloves, Hebbler confirms with an employee, and oil workers can go through as many as five or six pairs a day.
Hebbler declined to disclose the number of employees at Trinity Safety Supply but said the company is a lean operation. Most of the employees have been with the company for years, and Hebbler credits them with the company's success.
"We have a knowledgeable staff," he said. "They know the market; it's really about them."
At the end of the day, it's all about supplying the customer and keeping them stocked, Hebbler said.
"We only sell what we stock, though we do sell other products and have started stocking some based on what oil and gas companies need."