Published: Sun, April 8, 2012 @ 12:00 a.m.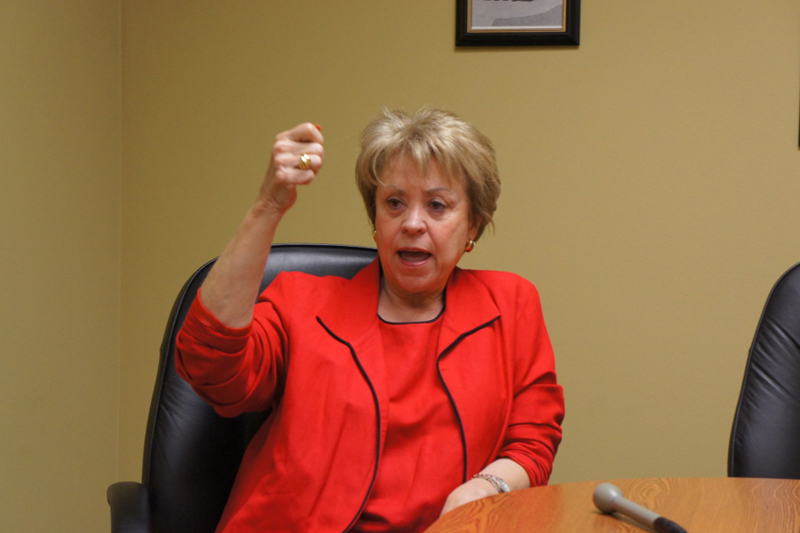 Photo
Arlington City Councilwoman Lana Wolff said her city was not prepared to handle emergencies at natural gas well pads. A well explosion that could not get capped for more than an hour was the change agent. The city now taxes each of the city's 300 gas wells $2,400 annually to fund special emergency teams and equipment.
The Fracking Frontier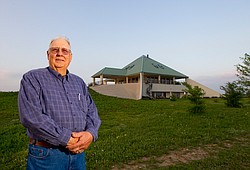 Gallery
A collection of photos by student journalists from Youngstown who comprise TheNewsOutlet.org, and Vindy Shale reporter, Karl Henkel, as they look at life in Texas as a result of the natural gas boom, and offer traces of what this life might hold for Ohio and its citizens.
By Caitlin Cook
The NewsOutlet.org
ARLINGTON, Texas
Last April, residents of an Arlington neighborhood awoke to hissing sounds from a nearby gas well. As neighbors called 911 and wondered if they were safe, firefighters struggled to locate and gain access to the well site that was emitting the vapors.
It was that event that convinced some Arlington city officials that something had to change. Funded by a $2,400 tax on each of the city's 300 operating gas wells, the city launched a special team to respond to any gas- or oil-well accident or emergency.
For Lana Wolff, a member of Arlington City Council, that was a turning point.
"That was our first wake-up call. Wow! Boy we've got a hole, and we were just in the middle of revising our gas and drilling ordinances," she said.
Wolff said the incident, which ended with firefighters finally getting in to shut off the well before there was a fire or explosion, pointed out how poorly prepared the city was for the types of accidents that can happen with gas and oil wells.
From not knowing whom to contact about various wells to not having the expertise of how to shut off a well or even the ability to gain access to them, Arlington officials were ill-prepared, Wolff said.
"Now, we're saying [to companies] you make sure we've identified that our 911 knows who the operator is. We want the real 24-hour phone number, and when we call, we expect your representative to be there," she said.
To this day, residents of the neighborhood who had the hissing well still don't feel safe, but the city has taken steps that they say should provide comfort to all residents.
In addition to its active wells, the city has issued permits for 1,500 others that could be drilled in the future.
The $2,400 yearly tax will help train and equip first responders to emergencies at oil- and gas-well sites. Arlington will form a separate response team trained for these specific emergencies under their fire code.
"I don't have a problem if it's an industrial site that is not in a neighborhood overlay, but man it's a whole different ball game when you start encroaching into that neighborhood," Wolff said.
Don Crowson, Arlington fire chief, said there is a significant time gap between his team receiving a 911 call and an industry response. He said it can take industry officials 30 to 60 minutes to respond. In that time, emergency responders are making real-time ground decisions.
"To put a gas-well fire down takes about seven days, and that can significantly disrupt a local neighborhood or community or business," Crowson said.
The response team is not there to replace a company's well site emergency crews, but to assist them in a faster cleanup.
Firefighters will work with industry well control companies and learn how they combat well site emergencies. Crowson said there is no such thing as a typical well site; operators go about business differently between engineering techniques and safety measures.
"A gas well in an urban environment is significantly different in impact to a community than a gas well in a rural environment," Crowson said. "We're going to be dealing with the outfall of the citizens immediately around that well. The more efficiently and effectively we can deal with these emergencies, the better off the citizens are going to be."
Embracing energy development, especially in urban settings, is a balancing act, said Wolff, especially with what she calls lax state oversight.
"We said we need to take advantage of that — here is a resource underground, jobs, a new fuel source, there's nothing wrong with that," Wolff said. "But guys, there is no regulation in the state of Texas for urban drilling. So guess what? We're going to take it on for safety of this community."
The NewsOutlet.org is a collaboration among the Youngstown State University journalism program, Kent State University, the University of Akron and professional media including WYSU-FM Radio, The Vindicator, the Beacon Journal and Rubber City Radio of Akron.