HAPPY 100TH BIRTHDAY Joseph Walter Litwin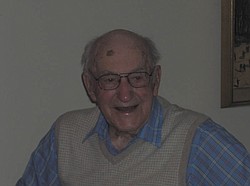 Photo
Address: Magnolia Manor, Smithfield, Va.; resided in the family home on Water Street in Poland until 2004.
Date of birth: April 7, 1912, in Campbell.
FAMILY
Parents: Alexander and Mary Pograniczny Litwin.
Siblings: Anna Litwin Skeebo, deceased; John Litwin, deceased; Mary Litwin Barnes of Berlin Center; Katherine Litwin Zents, deceased; Helen Litwin Scott, deceased; Josephine Litwin Scott of Union City, Calif; and William Litwin of Youngstown.
Spouse: Married Mary Jane Bogdan in May, 1939. She died March 21, 2007 at age 94.
Children's names: Dorothy Litwin Dalton of Suffolk, Va.; Joyce Litwin Sheppard of Philadelphia; Judith Litwin Burton (James Burton) of Savannah, Ga.; Nancy Litwin Fowler (Edward Fowler) of New Braunfels, Texas; and Robert Litwin (Debra Litwin) of Cincinnati.
Number of grandchildren: 10 grandchildren and step-grandchildren.
Number of great-grandchildren: Eight great-grandchildren and step-great-grandchildren.
BACKGROUND
Education: Graduate of North Jackson High School. In 1930, he was named the most outstanding scholar of Mahoning County. Seventy-seven students, representing every high school in the county, took the qualifying examination at Central Junior High School, and Litwin took first place.
Employment: Retired in 1978 as manager of tool engineering after working 36 years for GF Business Equipment Co.
Church membership: Charter member of New Life Assemblies of God in Poland. Before that, he was a founding member of Highway Tabernacle at both Hillman Avenue and Canfield Road locations. He served in numerous capacities on the church board, as Sunday School superintendant and many other roles for more than 40 years. He also was instrumental in the founding of Youngstown Christian School in 1975 and administered the scholarship program.
Additional information: Mr. Litwin was the subject of an article in the local Virginia newspaper about his life at Magnolia Manor. His vigor and energy — and his love of gardening — were noted, as were the many friendships that he enjoys there.
Celebration: Formal invitations for a birthday party, which took place April 7 at Magnolia Manor, were issued by his family, who hosted the celebration.