Published: Sun, April 8, 2012 @ 12:00 a.m.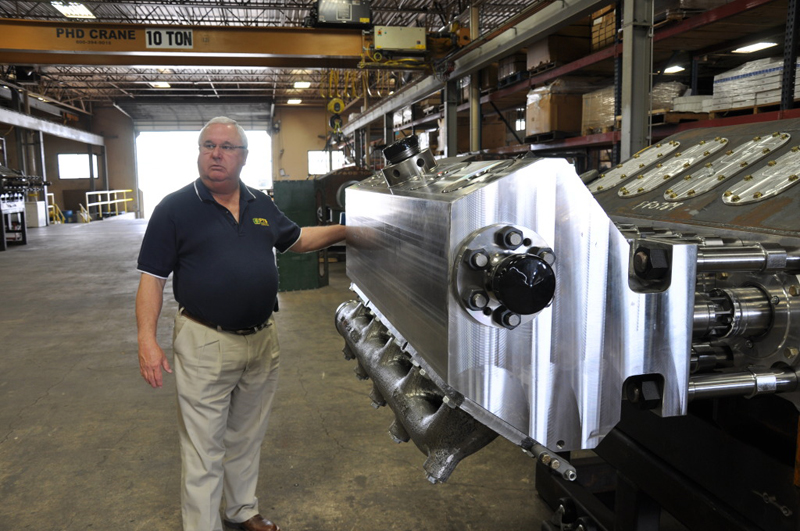 Photo
David Capps, operations manager at FTS, stands in front of a pump manufactured by the Fort Worth based company.
The Fracking Frontier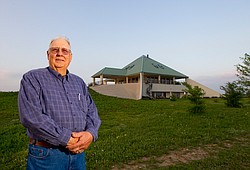 Gallery
A collection of photos by student journalists from Youngstown who comprise TheNewsOutlet.org, and Vindy Shale reporter, Karl Henkel, as they look at life in Texas as a result of the natural gas boom, and offer traces of what this life might hold for Ohio and its citizens.
By NICOLE STEMPAK
The NewsOutlet.org
To Pam Percival, the gas-and-oil-well industry is far more than men out in a field with some machinery and a teeter-totter piece of metal that pivots up and down.
Percival works in corporate communications for Texas-based FTS International, and that's where the company found its niche over the past 10 years.
"You tend to think of [the industry] as someone working out in the oil field, but it's all the support people who stand behind him," Percival said.
Two brothers who saw the need for well-stimulation services in the oil and gas industry founded FTS, a company that has grown into a nationwide independent-services provider with vertical integration.
FTS manufactures the high-pressure pumps and mobile pumping units and replacement parts. It owns sand mines and resin-coating facilities and maintains an extensive supply chain to move materials and equipment to wherever a new well has been drilled.
"We try to supply the parts and resources and pieces that we need to accomplish our jobs," Percival said.
FTS has a staff of about 1,000 at its Fort Worth headquarters and manufacturing plant. The company employs about 4,400 employees across its 12 district offices in areas of major shale formations, including the Marcellus Shale with Pennsylvania operations in Williamsport and Washington.
Percival said the company is hiring and employs, among others, equipment operators, engineers, information technologists, lawyers, safety-equipment managers and finance experts.
David Capps, operations manager at FTS, said his company is one of many that has been able to capitalize on the growing needs of the oil and gas industry. He said there are countless others who are benefiting from the gas and oil exploration and drilling.
"Everything that you can think of in our industry in the U.S. — there's some place in the oil and gas industry that those people fit into it," Capps said.
He said the oil and gas industry is driving innovations in other industries, including steel because there has been a need for steel with high-impact properties. Capp said steel companies have been challenged to redesign their products to be more competitive and effective in the marketplace.
That new steel isn't just being sold to oil and gas companies — it's being sold to the railroad and automotive industries, thereby improving the overall quality of steel.
"We have a need for steel and a need for the parts and all the things to do our business, so the fingers of the energy industry, as you will, are reaching out into all kinds of different areas to bring in the supplies and resources and workers that drive the industry as a whole," Percival said.
"It affects everything," Capps added. "The trickle-down effect is tremendous."
The trickle continues to spread throughout FTS, which plans to expand its customer base globally while maintaining its American operations and manufacturing roots.
"We are continuing to grow and evolve as we see opportunities," Percival said. "I think a lot of this growth will be technology and research and development, finding new and better ways to do things more efficiently and with more care for the environment."
She acknowledges people might not necessarily think of manufacturing companies such as FTS when they see the oil and gas wells in their backyard or workers hauling equipment.
"There's all these different companies that have different roles to play, and we're just part of that," Percival said.
The NewsOutlet.org is a collaboration among the Youngstown State University journalism program, Kent State University, the University of Akron and professional media, including WYSU-FM Radio and The Vindicator, the Beacon Journal and Rubber City Radio of Akron.