Published: Sat, April 7, 2012 @ 12:00 a.m.
The Fracking Frontier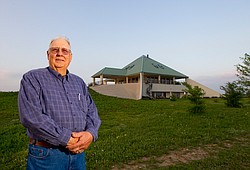 Gallery
A collection of photos by student journalists from Youngstown who comprise TheNewsOutlet.org, and Vindy Shale reporter, Karl Henkel, as they look at life in Texas as a result of the natural gas boom, and offer traces of what this life might hold for Ohio and its citizens.
By NICOLE STEMPAK
The NewsOutlet.org
KRUM, Texas
In a farming neighborhood with dirt roads, cattle and dozens of gas wells stands an 80-foot wind turbine.
It's the next chapter in Texas' history of being an energy leader, said Joe Marrs, owner of gleanPower, a solar electric and wind power supplier.
Marrs installed his first turbine on his parents' Krum ranch, just a few hundred feet from three of his family's operating gas wells.
Glancing up at the turbine that rotated furiously in a swift March wind, Marrs explained why he – the son of people who have had producing gas wells for more than 10 years – was inspired to launch his company.
Marrs started gleanPower in 2008 after quitting his job as an engineer at a truck company and going on a yearlong family trip in an RV. He began researching and reading books such as "The Solar Revolution" before opening his consulting and product development company.
"It's not alternative ener-gy," Marrs said. "I refer to solar and wind as an exhaustible energy source, this being the original kind."
The wind turbine on Fred and Jane Marrs' property started spinning in January and has so far reduced the power that they have to buy to 800 kilowatts per month from about 2,000 kilowatts.
"It didn't make us rich, but it helped us with our budget," Fred Marrs said.
That's the appealing part for the couple. Jane Marrs said she is far more interested in saving money than being green.
"Being green happened inadvertently," Fred Marrs said, adding he's not a fan of the energy debate with science, activists, politics and government regulation. "Don't get me wrong. I like clean air and water like everyone else. But my son's in the windmill business, he needed a demo unit in the area, and I had an ideal space."
Kilowatts produced vary on wind speed, and savings depend on how much electricity the house is using. Ultimately, the wind turbine reduces how much electricity the house uses from the electric company. If the turbine generates more electricity than the house is using, those extra kilowatts are sold to the power company and put on the power grid to provide power to someone else.
The 10-kilowatt wind turbine is expected to generate 18,000-22,000 kilowatts per year with an average wind speed of 12 miles per hour, though Marrs noted wind is a less predictable energy source than the sun. If energy was sold at a price of $.12 per kilowatt, Marrs estimated that could save his parents around $2,000 to $2,500 a year.
Fred Marrs said he's already saved that much money and recently had to turn the wind turbine off for a day because it was max-ing out with winds of 40 to 60 miles per hour. Fred Marrs said they expect the turbine will pay for itself in seven years, but that estimate could change if electricity prices increase.
Fred and Jane Marrs receive monthly royalty checks from their gas wells. They have two vertical wells on their site and the majority ownership in a third. Fred Marrs said he doesn't know offhand how much the wells are producing, just that production has tapered compared to the first few years.
For Joe Marrs, energy from wind and sun should not be considered "alternative" energy.
"Sun and wind is the earliest form of energy," he said. "You had to have sun to have life to die and make fossil fuel, so fossil fuel is stored solar energy. That we refer to solar and wind as alternative energy seems funny because we've used it for thousands of years."