Natural gas drives TCU efforts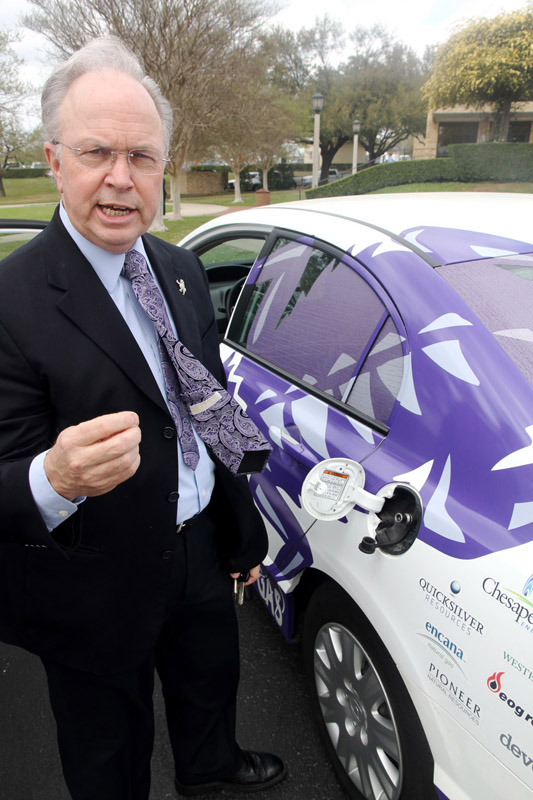 ---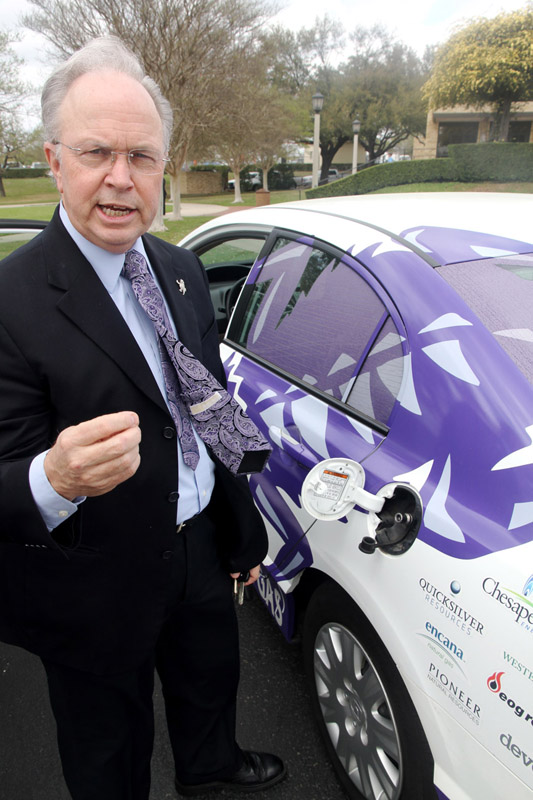 Photo
Ken Morgan, director of the Energy Institute at TCU, shows off his natural gas-powered Honda Civic as he explains the benefits.
The Fracking Frontier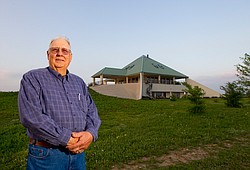 Gallery
A collection of photos by student journalists from Youngstown who comprise TheNewsOutlet.org, and Vindy Shale reporter, Karl Henkel, as they look at life in Texas as a result of the natural gas boom, and offer traces of what this life might hold for Ohio and its citizens.
RELATED: Texas wind energizes gleanPower owner
By Karl Henkel
FORT WORTH, TEXAS
Unbelievably, the most-unique aspect of Ken Morgan's Honda Civic is not the large, purple horned frog draped across the vehicle's bright white exterior.
Though the frog — the logo of Texas Christian University, Morgan's employer — stands out, it is the inside — specifically inside the fuel tank — that is unique.
Compressed natural gas or CNG.
Morgan, director of the Energy Institute at TCU, a sprouting program with about 400 students working toward a minor in energy technology and management, gets about 400 miles a tank, just like any other Honda Civic owner.
He pays just half the cost for fuel.
Prices for natural gas currently hover around $2 per gallon equivalent to regular-grade gasoline, which in North Central Texas is about $3.90 per gallon.
Morgan is one of the biggest champions of CNG.
On fall Saturdays — before taking in TCU football games — Morgan hosts Frog Alley, where fans can test out CNG vehicles.
Each month, he hosts a natural-gas vehicle consortium, which boasts more than 100 members.
Representatives from major energy players such as Chesapeake Energy Corp. attend the meetings. Smaller, local businesses, such as Natural Gas Vehicles Texas Inc., which retrofits vehicles with CNG tanks, also attend. NGV Texas recently retrofitted the first Environmental Protection Agency-approved CNG Dodge Caravan.
Those vehicles, however, remain rare finds.
"If there are 3,000 different kinds of cars, vans and trucks with 300 to 400 kinds of engines, maybe less than 10 percent of them are approved by EPA at this time," said Fury Zaidi, president of NGV Texas.
The cheapest CNG vehicle, Zaidi said, is a Ford Focus, which comes at a cost of about $8,000 more than its standard gasoline version. At this point, the tanks, which cost about $5,000 for a 24-gallon capacity, are the most-expensive part of the CNG equation.
But in Texas, the government has taken steps to promote and advance CNG.
Gov. Rick Perry last June signed the Texas Clean Transportation Triangle bill, which directs $8 million a year to convert trucks to natural gas and $2 million annually — of revenue generated from the state's gasoline tax — for building natural-gas stations on Texas interstates.
That has sparked business opportunities for those such as Zaidi, who now has 12 employees and can retrofit three vehicles for CNG consumption daily, demand withstanding.
"When the fuel is at $3.25 a gallon, our phone doesn't ring," he said. "At $3.50 a gallon, it starts ringing a lot. At $3.75, all of my [phone] lines are red. At $4, I have to add additional lines."
Morgan says today natural gas would cost about one-fifth the price of an equivalent barrel of oil, which Wednesday was about $105.
"We're nuts," Morgan said. "If I were in charge of transportation in America or was the freaking energy czar ... we're going in the natural-gas direction."
Morgan said there are a dozen or so CNG stations in the Fort Worth area, and the number should double in the next year.
That dozen, however, represents three times the public CNG stations available in Ohio, though Chesapeake says it plans to build about 20 in the Northeast Ohio and western Pennsylvania area.
Texas needs about 400 stations throughout the state to drive demand for CNG vehicles, Morgan predicts.