Published: Fri, April 6, 2012 @ 12:01 a.m.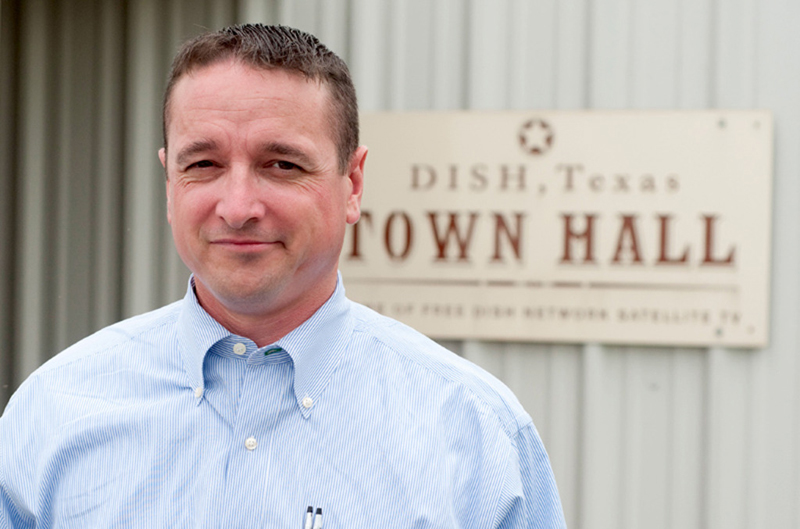 Photo
Calvin Tillman, former mayor of Dish, Texas, who stands in front of the town hall.
The Fracking Frontier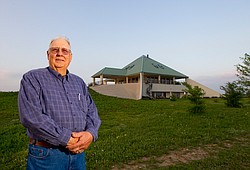 Gallery
A collection of photos by student journalists from Youngstown who comprise TheNewsOutlet.org, and Vindy Shale reporter, Karl Henkel, as they look at life in Texas as a result of the natural gas boom, and offer traces of what this life might hold for Ohio and its citizens.
RELATED: • Texas energy exhibition generates enthusiasm
By Doug Livingston
AUBREY, TEXAS
Calvin Tillman plays a message on his cellphone from Stark County resident Renee Bogue. She's concerned about possible drilling under the Legends Golf Course in Massillon, where the mayor and council in that Ohio city are proposing legislation to lease city-owned mineral rights for gas drilling.
"Who will monitor the air quality?" Bogue asks.
After the message, Tillman looks up from his kitchen table in Aubrey, Texas, and answers. No one. "Nobody's just gonna go out there and do it. The industry's certainly not. The city's probably not. And your state's probably not, unless there's a complaint," Tillman says.
A former Texas mayor, he's received similar phone calls from concerned citizens across the nation.
He is no geologist, petroleum engineer or environmentalist. But he travels the world advocating oil and gas accountability. Last fall, the former mayor was in the Canton area and met Bogue, a teacher who retired after 35 years with Perry Local Schools.
The story he tells is that of Dish, where he was mayor. It's a town of 200 people, more than 30 gas and oil wells, extensive natural-gas pipelines, five natural-gas compressor stations, seven gas-and-oil operators, and the first air-quality study in response to natural-gas production in the Barnett Shale.
The air-quality test indicated hazardous levels of chemicals such as benzene, which the report states have been "known to have both carcinogenic and neurotoxin capabilities."
A map of the Barnett Shale region from the Texas Commission on Environmental Quality, which regulates the state's air quality, shows little orange dots representing gas wells. The dots around Dish resemble a dumped paint bucket.
Tillman drops a stack of collated documents onto his kitchen table in Aubrey and pulls three air-quality tests from the pile.
"It's gonna be in Ohio," Tillman cautions. "How much benzene do you want your kids exposed to?"
The U.S. Environmental Protection Agency links leukemia and blood disorders to benzene exposure, which was discovered in varying amounts in each air-quality-test conducted on the Barnett Shale region.
But TCEQ officials stress that benzene occurs naturally and would be found in nearly any air test. They caution that increased traffic in metropolitan areas such as Fort Worth, the fourth largest in the U.S., produce more benzene and ozone gases than natural-gas drilling.
"There are a lot of wells in Wise and Denton counties that are emitting chemicals like benzene," said David Brymer, director of TCEQ's air-quality division, said. "But in other counties, like Tarrant County, you have a lot of cars that also emit benzene. … So, you actually see higher concentrations of benzene in Tarrant County."
Air monitors placed between concentrated gas drilling near rural Dish and densely populated Fort Worth pick up more benzene and other emissions when the wind pushes those chemicals from the city, Brymer said.
Last year, TCEQ again did an air-quality survey across the Barnett Shale.
"We haven't seen any shocking results from that yet, but we also haven't got all the results back," Brymer said.
An air-quality test also was conducted last year by Fort Worth. The study "did not reveal any significant health risks beyond [city] setback distances" of 600 feet, which can be reduced to 300 feet after landowner waivers.
The $1 million study did find benzene in low levels and recommended "precautions to reduce emissions from the well pads and compressor stations should be made. This is particularly important for tanks and line-compressor engines."
Dish has five compressor sites that push natural gas through pipelines. The line of stations, operated by Crosstex, Chesapeake, Atmos, Energy Transfer and Enbridge are located off a dead-end street of two-story homes built in the last 10 to 15 years.
The residents there are as confounded as the conflicting reports.
"You don't know what to believe because you hear both sides," said Kim Harris, whose brick home sits on the cul-de-sac at the end of the street.
She said no one in her family has experienced any adverse effects from living so close to the well sites.
A compressor site sits directly behind Johnny Reames' small horse pasture. He said it's an eyesore, and he worries the site, which was installed three or four months after Reames moved in, will affect his property value.
Though Reames has "never experienced any health problems," he said "there were problems with smells every now and then, but in the last five or six months they've cleaned it up."
Tillman didn't wait until companies cleaned up in Dish. Like other critics, he left in 2011 after his children began suffering nosebleeds.
He lives in Aubrey now, about 25 miles northwest of Dish, just off the Barnett Shale. He said his children have been healthy since he moved.
The commission's 27 air monitors measure volatile organic compounds and ozone concentrations. In the past two years, five automated air monitors have been added to the Barnett Shale region with an additional five expected in the next year.
But Tillman said the studies and accepted benzene levels are open to interpretation.
"One [report] says 'no, you shouldn't be exposed to that.' And another one says, 'nah, it's not gonna hurt you," Tillman said. "So, who do you believe?"
The NewsOutlet.org is a collaboration among the Youngstown State University journalism program, Kent State University, the University of Akron and professional media, including WYSU-FM Radio, The Vindicator, the Beacon Journal and Rubber City Radio of Akron.