Lantz takes charge as city prosecutor
Tweet
Published: Fri, April 6, 2012 @ 12:09 a.m.
Many support Youngstown mayor's decision to terminate Macejko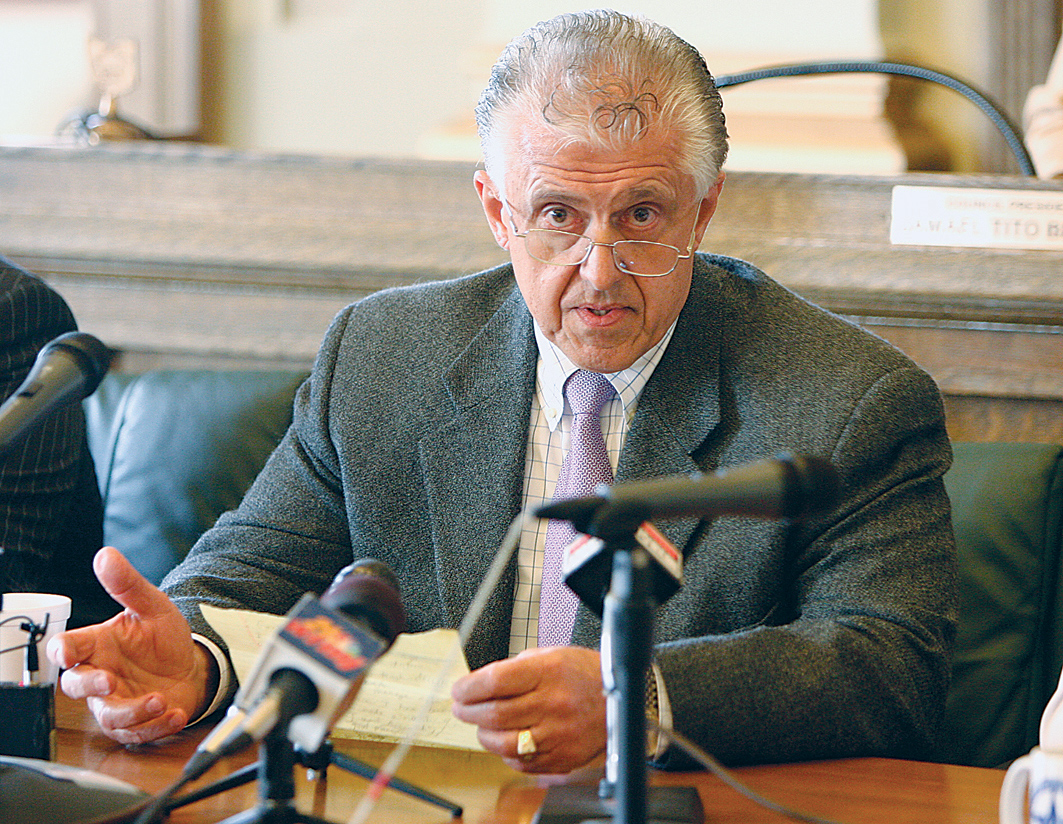 Photo
Mayor Charles P. Sammarone announces the dismissal of City Prosecutor Jay Macejko. The mayor said at a news conference Thursday in city hall he wasn't satisfied with the accountability and management in the prosecutor's office under Macejko's leadership.
YOUNGSTOWN
The city's new prosecuting attorney starts Monday.
Mayor Charles Sammarone appointed Dana G. Lantz, who is now first assistant city law director and housing court prosecutor, to replace Jay Macejko as the city prosecutor.
Sammarone fired Macejko on Thursday. Macejko could not be reached to comment after the mayor's decision.
Some city council members and some influential community leaders have endorsed the mayor's decision to terminate Macejko.
"I think he had to," said Councilwoman Janet Tarpley, D-6th. "I don't think he wanted to" fire Macejko, she said, adding she considered Macejko a friend and was disappointed with the manner of his departure.
Councilwoman Annie Gillam, D-1st, also agreed with the mayor's decision. "The mayor will not put up with it. Department heads won't put up with it," she said of the mayor's complaints about the prosecutor's office. "I'm very disappointed."
Gillam said Macejko had been "very helpful" in acting against troublesome businesses and activities in the city and in elimination of "blighted housing."
"I respect the decision. I think it's probably in the best interests of the community and the prosecutor's office," said the Rev. Kenneth Simon, pastor of New Bethel Baptist Church on the city's South Side.
The mayor made his decision after an investigation by a three-member team consisting of Law Director Anthony Farris, Human Relations Commission Director Jonathan Huff and Police Lt. Brian Butler of the police department's internal-affairs division.
Lantz, who has a bachelor's degree in criminology from the University of South Florida and a law degree from the University of Akron, will be paid $68,375 annually in her new position.
As a condition of her employment, she must live in Mahoning County or an adjoining Ohio county, and she will have a 90-day probationary period in her new position.
The city prosecutor is appointed by and serves at the pleasure of the mayor.
Lantz joined the city as an assistant law director in 1998, became as assistant city prosecutor in 2001 and returned to the law department last September.
"My goals are to prosecute the cases as they arise out of police investigations, but we also want to pro-actively address the quality-of-life issues in the city," Lantz said.
These issues include unscrupulous businesses, housing fraud, drug dealing, blight and code enforcement, she said, adding that she will continue to be housing court prosecutor.
ROOTS OF INVESTIGATION
The investigation that led to Macejko's discharge stemmed from a federal religious discrimination lawsuit filed against the city by Basil Ally, a Muslim assistant city prosecutor of Middle Eastern descent.
The city settled the case last fall without a trial, paying Ally a $110,000 lump sum and giving him a promotion and a $4,000 annual pay increase.
Among the pieces of evidence in the case was an April 7, 2009, text message on the cellphone of Bret Hartup, an assistant city prosecutor, which made derogatory references to President Barack Obama.
The message appeared in court documents among a series of text messages exchanged between Macejko and Hartup.
The message read: "I just received my Obama stimulus package. It was 3 pieces of chicken, a pack of kool-aid and a dime bag. Did u get yours?"
The Obama message was a major issue in the March 6 Democratic primary, in which Macejko challenged Mahoning County Prosecutor Paul J. Gains. Macejko lost by 561 votes.
Macejko said during the campaign he was not a racist, didn't write or send that text, and didn't see it until Feb. 13 of this year. He suggested it might be spam.
"We can't have those kinds of racial slurs and disrespect for even our president to continue to permeate our community," the Rev. Mr. Simon said. "It's a shame that it happens, but when it happens, there has to be some discipline."
"Based on the fact that our residents are almost 50 percent minority, we have all kinds of people in this community, and our prosecutor has to represent those people because he's holding up the scales of justice," Tarpley added. "If our prosecutor cannot do that, he just can't work for this community."
"Those kinds of things cannot go on, especially when you're a prosecutor, and especially when you're dealing with blacks; you're dealing with whites every day in court," said Thomas Conley, president of the Greater Warren-Youngstown Urban League.
"It's unfortunate that this had to occur, but I think the mayor did the right thing," he added.
MAYOR'S RATIONALE
Sammarone said, "The managing skills are not where I wanted them" in the city prosecutor's office, nor was the accountability, adding that he emphasizes the importance of accountability and good management in all city departments.
The mayor said he would send Macejko a letter formally informing him of his termination from city employment, but he did not use the words discharged or fired with Macejko's release.
Farris said Macejko did not resign and that no written report was prepared by the investigating committee.
Sammarone said investigating committee members read all the court documents in the federal lawsuit, including those that were recently unsealed, and met with the mayor to discuss them.
"The records show that actions displayed in the prosecutor's office do not meet my standards on accountability and professional management," Sammarone said. "Because of this, I've decided to change the leadership of the city prosecutor's office," he said. "Starting Monday, there'll be a new city prosecutor."
The mayor would not say if he thought anyone was dishonest in comments made concerning the lawsuit and documents within it.
Macejko was not in his office during the business day Wednesday or Thursday. Farris confirmed that Macejko removed his personal belongings from his city office at 7 p.m. Wednesday.
"He's done a fine job on the Mill Creek Park board," Judge Mark Belinky said of Macejko. "I don't have any reason to remove him."
Judge Belinky first appointed Macejko to the five-member Mill Creek MetroParks Board of Commissioners, effective Jan. 1, 2009, and re-appointed him to a second three-year term, effective Jan. 1. Park board members serve without compensation.
The park's department heads speak highly of Macejko's performance as a board member, the judge said.
Although he remains on the park board, Macejko resigned in an email at 12:27 p.m. Wednesday from the Ohio Criminal Sentencing Commission to which he had been appointed by former Gov. Ted Strickland.
"The new mayor informed me that he will be replacing me as city prosecutor. Seeing as how I sat on the commission by virtue of that position, I don't think it appropriate that I continue to serve," Macejko wrote in his email to the commission.
David Diroll, a Youngstown-native and commission executive director, said had Macejko not resigned, Gov. John Kasich would have had to replace him anyway because Macejko's service on the commission was contingent on his being city prosecutor.
Macejko's term on the sentencing commission would have run through Aug. 21, 2014.
The 30-member commission analyzes sentencing patterns and statutes and newly proposed sentencing legislation and its physical and financial impact on the state correctional system.
"Jay has always been a good, active member of the commission, and I hope things work out for him," Diroll said.