Mayor Charles Sammarone has fired City Prosecutor Jay Macejko
Mayor Fires City Prosecutor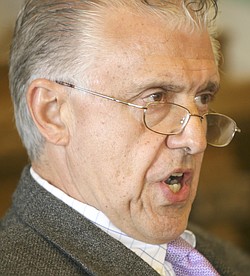 Video
City Council members and influential community leaders endorsed Mayor Charles P. Sammarone's decision to fire Jay Macejko as city prosecutor. City Councilwoman Janet Tarpley, D-6th, said she is "100 percent" in support of the mayor's decision to terminate Macejko. "I think he had to. I don't think he wanted to" fire Macejko, Tarpley said, adding that she considered Macejko a friend and was disappointed with the manner of his departure. "I respect the decision. I think it's probably in the best interests of the community and the prosecutor's office," said the Rev. Kenneth Simon, pastor of New Bethel Baptist Church on the city's South Side.
YOUNGSTOWN — Mayor Charles Sammarone has fired City Prosecutor Jay Macejko.
No replacement has been named yet.
"The actions displayed in the prosecutor's office do not meet my standards," Sammarone said. "Starting Monday, there will be a new city prosecutor."
The mayor, however, said the replacement for Macejko has not been selected.
"He will not be employed any more by the city," Sammarone said of Macejko.
"The managing skills are not where I want them (in the prosecutor's office)."
The mayor announced the action this morning following an investigation by a three-member team consisting of City Law Director Anthony Farris, Human Relations Commission Director Jonathan Huff and Police Lt. Brian Butler.
The investigation stemmed from a federal religious discrimination lawsuit filed against the city by Bassil Ally, a Muslim assistant city prosecutor of Middle Eastern descent.
The city settled the case last fall without a trial, paying Ally a $110,000 lump sum and giving him a promotion and a $4,000 annual pay raise.
Among the many pieces of evidence in the case was an April 7, 2009, text message on the cell phone of Bret Hartup, an assistant city prosecutor, which made derogatory references to President Barack Obama.
Macejko insisted he didn't send that text and didn't see it until Feb. 13 of this year, and he suggested it might be spam.
The Obama message was a major issue in the March 6 Democratic primary, in which Macejko challenged County Prosecutor Paul J. Gains. Macejko lost by 561 votes.
Sammarone declined to answer questions as to whether there was any dishonesty with regard to any comments made about the Ally case.
Ferris said that Macejko did not resign, and the mayor noted that he will soon send Macejko a letter ending his employment relationship with the city.
Sammarone also said he has emphasized to all city employees the need for accountability and good management in all departments.