Published: Thu, April 5, 2012 @ 12:01 a.m.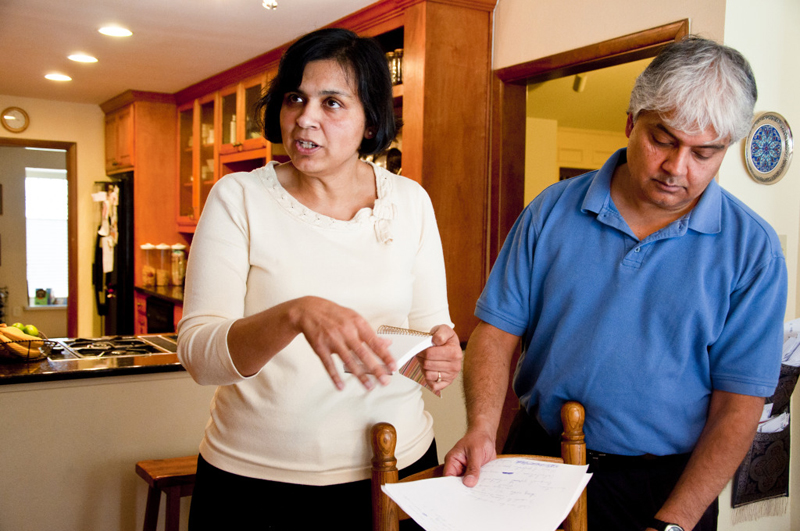 Photo
Ranjana Bhandari, left, and Kaushik De have lived off Division Street in Arlington, Texas, for 19 years. It was a nice place, they said. Now they fear for their family's health because of the numerous gas wells.
The Fracking Frontier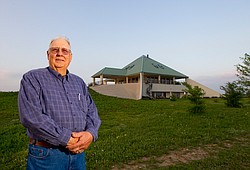 Gallery
A collection of photos by student journalists from Youngstown who comprise TheNewsOutlet.org, and Vindy Shale reporter, Karl Henkel, as they look at life in Texas as a result of the natural gas boom, and offer traces of what this life might hold for Ohio and its citizens.
RELATED: Tale of 2 families illustrates the pros and cons of drilling
FROM PENN. TO OHIO TO TEXAS, THE FRACKING FRONTIER
The News Outlet and The Vindicator recently visited Fort Worth, Texas, to see how residents, public officials and energy companies lived through the Barnett Shale gas boom and to get a glimpse of what may come in the Marcellus and Utica shale plays.
By CHRIS COTELESSE
The NewsOutlet.org
ARLINGTON, TEXAS
The process of horizontal fracking is new to Ohio, but on Division Street in Arlington, Texas, it's divided a community for years.
A doughnut shop, a number of car dealerships and a retirement home make the street look like any other found in the average American city. But squeezed between businesses are seven natural-gas wells that have drawn mixed reactions from residents.
Sound-barrier fencing that rises more than 30 feet into the air surrounds the wells. The soundproof batting on the fences is a dingy tan color, and, at some sites, pipes jut into shallow ponds filled with blue-green water that smells like an over-chlorinated swimming pool.
"They're ugly. They just look horrible," Ranjana Bhandari said.
She and her husband, Kaushik De, have lived in their neighborhood off Division Street for 19 years. They now spend much of their free time researching and organizing against fracking.
Right next door and across the street from them in their manicured, upper-middle-class neighborhood, their neighbors have accepted the wells and hope to profit from them.
The couple's biggest concern is for the health of their 12-year-old son. They believe the claims that wells have contaminated water and polluted air.
"I deal with radioactive materials," said De, a particle physicist with the University of Texas at Arlington. "I'm dumbfounded when people treat radioactivity so casually."
The family is one of the remaining holdouts in a battle to rid the area of these wells. Dozens of their neighbors already have signed lease agreements with Chesapeake Energy LLC., the nation's second-largest energy-exploration company, and the company currently dominating gas exploration in Northeast Ohio.
In the summer of 2008, representatives from Chesapeake hosted a Texas-style barbecue at the local high school. They cooked ribs and handed out checks for those willing to lease minerals beneath their houses.
Sharon and Richard Langlotz signed up immediately at the first offer of $7,000 an acre plus royalties. They received $1,750 for their one-quarter-acre parcel and have received only one royalty check for $200 in the two years the well has been operating.
Richard said he wishes he would have held out for more money, but he and his wife are glad for the economic boost the drilling has brought.
"It's inevitable," Sharon said. "You have to have production, and you have to have U.S. production."
Sharon, who works as an accountant in the gas industry, said companies are mostly responsible and committed to safety.
Still, they've heard stories of backyards sinking and water being set on fire from natural gas in the water supply. They both care about their land, which sits on the bank of a tree-lined canal they sometimes canoe.
Steve Dixon attended that same barbecue.
"People were just rushing to sign. Just to sign a paper, get the check and go home. All they could see was dollar signs," he said.
He was worried about the noise of the drilling rigs and the aesthetic impact on the community but could hold out only for so long.
"At a point, it became apparent that either we sign and got something, or we didn't sign and they were going to do it anyway," Dixon said.
The well that Bhandari and De fought to prevent now sits at the edge of their property. She wipes a tear thinking about the possibility of moving out of the only house her son has ever known.
"We don't want to move, but we can't risk what it could do to our son," she said.
She and her husband have convinced themselves that they'll never get rid of the well, but they will exhaust every avenue.
They're outnumbered in the fight. Bhandari and De had more support in the beginning, but De said the gas companies prefer to "pick off" residents individually to prevent organization.
Bhandari and De don't fault their neighbors for leasing their minerals, but they said the circumstances have made it feel less like the warm, quiet community they fell in love with almost two decades ago.
The NewsOutlet.org is a collaboration among the Youngstown State University journalism program, Kent State University, the University of Akron and professional media including WYSU-FM Radio and The Vindicator, the Beacon Journal and Rubber City Radio of Akron.