Published: Thu, April 5, 2012 @ 12:00 a.m.
The Fracking Frontier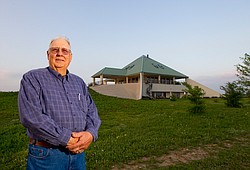 Gallery
A collection of photos by student journalists from Youngstown who comprise TheNewsOutlet.org, and Vindy Shale reporter, Karl Henkel, as they look at life in Texas as a result of the natural gas boom, and offer traces of what this life might hold for Ohio and its citizens.
RELATED: For Texas family, a fracking mess
By Caitlin Cook
TheNewsOutlet.org
DECATUR, Texas
When Raymond and Kay Polone moved to Decatur 20 years ago, they never thought so many wells would move in, too.
The green yards and rolling hills of Cliff Street are ringed by condensate tanks and oil-well rigs that operate round the clock. Four gas wells surround what used to be a quiet neighborhood.
The Polone family, like many others, do not own mineral rights for wells near their homes but are subject to all that goes on with drilling — the trucks hauling water, thuds from machines that are poking the earth looking for gas, and the constant worry that something could go wrong with the drilling operation.
Kay Polone said she and her husband feel somewhat trapped. They say they can't move because they know they can't sell their home for what it's worth and they know they can't fight the wells, either.
"Maybe if we were younger and got on the city zoning board or whatever, we might have a little more say," said Kay, 73.
She worries about the wells' close proximity to local schools. She fears grass fires and wonders what would happen if lightning struck the rigs.
And she also has more general fears about earthquakes or other natural disasters.
"I mean, if you pull [gas] out, something has to happen," she said.
Just three houses away live J.E. and Betty Carson, who attend church at Decatur First United Methodist Church with the Polones.
They welcome the drilling and think the tanks are actually protecting their privacy.
The Carsons have lived on Cliff Street for 30 years. They don't mind the tanks behind their backyard because they think it will deter anyone from building on the vacant land that runs behind all of the houses on the north side of the street.
For them, the tanks represent prosperity that they have enjoyed personally — and that has also impacted the entire state.
"There are a lot of people, farmers in particular, that it's helped," Betty said. "It's kind of nice to see them able to buy new cars and do things they haven't been able to."
Although the couple does not collect any royalties from the oil operations closest to their home, they do earn royalties from rights they own from a family farm they sold across town.
Those rights bring them regular monthly checks that have allowed them to take trips to England and enjoy financial freedom that they wouldn't have on their pensions as retired public school employees — he was a middle school principal, she was a schoolteacher.
They and their daughter, Caroline, are all equal partners in the royalty payments. In 2011, they collected about $39,000 each. They worry that they won't get as much this year because the price of natural gas has fallen.
"So it's not been that good this year; it varies," Betty said.
The NewsOutlet.org is a collaboration among the Youngstown State University journalism program, Kent State University, the University of Akron and professional media including WYSU-FM Radio and The Vindicator, the Beacon Journal and Rubber City Radio of Akron.