Published: Tue, April 3, 2012 @ 12:01 a.m.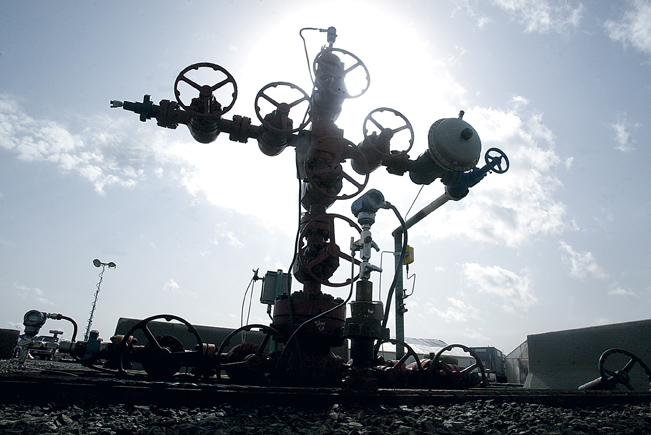 Photo
Oklahoma City-based Chesapeake Energy Corp.'s Shaw well in Carroll County's Center Township was one of nine Utica Shale wells to produce some oil or natural gas in 2011. Five of those wells produced resources commercially, though all produced for fewer than six months.
By Karl Henkel
YOUNGSTOWN
Nine Utica Shale wells in eastern Ohio produced more than 46,000 barrels of oil and about 2.6 billion cubic feet of gas during 2011, according to an inaugural report released Monday by the Ohio Department of Natural Resources.
Based on current commodity prices, those natural-resource reserves are worth at least $11 million.
Ohio requires energy companies to report production totals annually.
Those numbers were met with mixed reviews, partly because of limited sample size, but also because all nine wells, operated by Oklahoma City-based Chesapeake Energy Corp., have produced oil and gas for fewer than six months.
The five commercially producing wells, on average, produced about 61.5 barrels of oil daily — compared with the average production of about 2 barrels daily — and about 3,375 MCF of natural gas daily.
MCF is the measurement of gas production. One MCF equals 1,000 cubic feet of gas.
Four other Utica Shale wells are in the completion phase, which comes before production begins.
The 46,000 barrels of oil are enough to make gas to fill the tanks of 123,846 Lordstown-built Chevrolet Cruzes. The 2.6 million MCF of natural gas is enough to heat about 37,000 homes annually.
Jerry James, president of Artex Oil Co. in Marietta, said he was "encouraged" by the numbers, "but to say that this is economically viable is premature at this point."
"It looks like to me we've got some more work to do to get these things up and running," he said, noting the $7 million to $9 million cost to build each well.
Others agreed it is too soon to pass judgment on the shale because of limited information.
"While these initial returns provide a small sneak preview of what's to come, it's important to recognize this is still in its infancy," said Dan Alfaro, communications director with Energy In Depth Ohio. "A greater barometer of the potential Utica Shale development has here in Ohio would be the incredible amount of investment we have seen in the state from various producers, midstream and upstream companies."
Alfaro cited one example, in which Chesapeake will invest $900 million in an oil-and-gas related plant in Columbiana and Harrison counties.
The results of some wells, including the most productive, in Harrison County's Archer Township, known as the Buell well, have some excited.
It produced 13,472 barrels of oil and more than 1.5 million MCF of gas — about 58 percent of all produced Utica Shale gas — during a 198-day period. The well averaged 68 barrels of oil and about 7,700 MCF of gas per day.
Figures are reported by annual production and number of days of production. Wet gases are combined with dry gases. Averages are calculated by dividing production figures by days of production.
The horizontal well, stimulated by the hydraulic fracturing process — better known as fracking — produced 300 times more gas daily than the average vertically fracked well, according to ODNR.
"The initial reports indicate a very significant potential for oil and gas extraction in Ohio," said Carlo LoParo, ODNR communications officer.
The well's total gas production represented 2 percent of all gas production among 49,000 wells in the state, LoParo said.
The second highest-producing Utica well, in Carroll County's Augusta Township, produced 12,334 barrels of oil and 322,435 MCF of gas during a 206-day period.
The well averaged 60 barrels of oil and 1,565 MCF of gas per day.
"The data reported, while promising, is still very limited and only a small part of the information needed to gauge the potential of the entire formation," said Keith Fuller, Chesapeake director of corporate development. "We will continue to gather information and move forward with our plans to increase our rig count in Ohio to 20 rigs by the end of the year."
One Mahoning County well, in Milton Township, produced 758 barrels of oil during a 79-day period.
That oil was recovered during the completion of the well; no oil was produced commercially last year.
Two Carroll County wells, which have been completed but are not yet online, also showed promising oil results.
One well produced 654 barrels of oil in five days, an average of 131 barrels per day. Another produced 818 barrels in 11 days, an average of 74 barrels per day.
"They aren't choking the wells back," said Jeffrey Dick, Youngstown State University geology department chairman, referring to the process of regulating well-head production. "They are running at full production. Until you get more production days, you don't know what that means."
Geologists such as Dick say there is not enough production data from Utica Shale wells now to detail the resources underneath the ground and where those resources are concentrated.
"I think they are really good numbers, but without having any real time frame to look at and from a very limited geographic area, you aren't looking at much of a distribution," Dick said. "You're looking at very limited area."
ODNR said in a recent report said "without actual production histories ... it is not possible to properly create a probable reserve estimate."