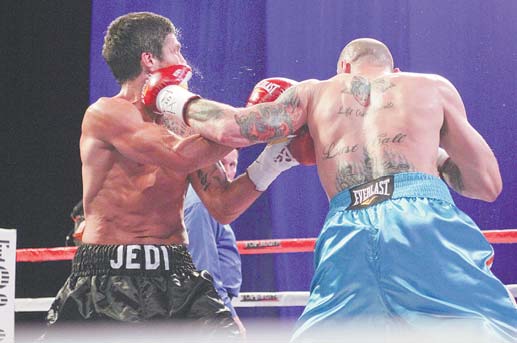 ---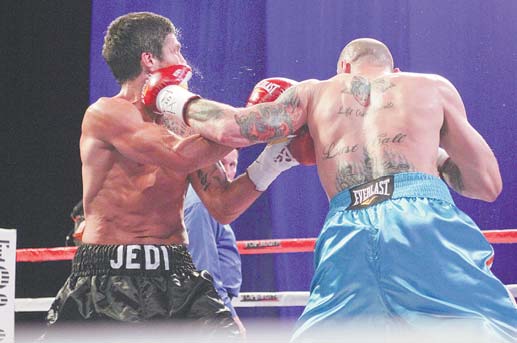 Photo
Youngstown's Kelly "The Ghost" Pavlik lands a left hook on the jaw of Aaron "Jedi" Jaco in the second round of their super middleweight bout Saturday at the Alamodome in San Antonio, Texas. The shot knocked Jaco to the canvas and earned Pavlik a win by TKO.
After dismantling Aaron 'Jedi' Jaco in comeback bout, Kelly Pavlik eyes June 8 fight on ESPN2 in Las Vegas
By Joe Scalzo
On Sunday afternoon, as he stood in the San Antonio airport waiting for his flight home to Youngstown, Kelly Pavlik was asked when he last felt this good on the morning after a fight.
"Oh, it's been a little while," said Pavlik, who earned a second round TKO of Aaron Jaco in a super middleweight bout Saturday night at the Illusions Theater. "But, just overall, I haven't felt that good in a ring in awhile."
He'll be back in the ring soon.
Barring the unexpected, Pavlik (38-2, 33 KOs) will continue his comeback on June 8 to headline an ESPN2 card at Las Vegas' Hard Rock Hotel and Casino. It comes one night before the Manny Pacquiao-Timothy Bradley bout on HBO pay-per-view.
Pavlik does not yet have an opponent but said Top Rank wants him to fight Scott "Cujo" Sigmon, who originally signed to fight Pavlik on April 15 before Pavlik decided to fight earlier, a move that infuriated Sigmon.
"It's still a little too early [for an opponent] but they want me to go beat up the guy who was talking and running his mouth ... what's his name, Cujo," said Pavlik, who was coming off a 111/2-month layoff. "I think they'll pick someone a little more [challenging] than him, then I'll fight a September fight."
Before Pavlik gets an opponent, his camp will need to decide on his weight. Saturday's bout was fought at 170 pounds but there has been talk of possibly going back to the 160-pound middleweight limit. If so, Pavlik would likely fight at a "catch weight" around 164 pounds. Otherwise, Pavlik would stick to the 168-pound super middleweight limit, where he could ultimately fight IBF champion Lucian Bute or former IBF middleweight champion Arthur Abraham in September.
Pavlik said he will spend the next two or three weeks in Youngstown — he turns 30 on April 4 — before returning to Oxnard, Calif., to train with Robert Garcia. He said he'll take this week off, then work out at Keith Burnside's downtown gym and the adjacent Ironman Warehouse before training camp begins.
When asked his birthday plans, he chuckled and said, "I'm enjoying the last couple days of my 20s. I know a lot of people do big things on their 30th but I think mine will be pretty dull. There ain't much to celebrate."
There was on Saturday night.
Pavlik scored knockdowns in each round — the second one ended the bout — to overwhelm the 35-year-old Jaco, who had fought just one bout (a first-round KO victory) in the previous five years.
"I know that kid by far wasn't the greatest boxer in the world but he came in fit," said Pavlik, who last scored a second-round knockout in 2005. "My dad and a lot of the people at Top Rank said it's been awhile since I looked like that, just the overall bounce in my step, my hand speed, the left hook.
"Everything was there. The whole package. I thought I was sharp, my timing was good, I was real calm and relaxed. Overall, I felt really good."
The winning blow came suddenly. Forty-five seconds into the second round, Jaco threw a left jab that Pavlik blocked. Pavlik then followed with a left hook that went around Jaco's right arm and connected flush with his right cheek, sending Jaco to the canvas butt-first.
"I threw that hook out there and the next thing I heard was 'Whack!' like someone hit a tree," Pavlik said.
Jaco quickly regained his feet for a standing eight count. Referee Jon Schorle then asked Jaco "How you doing?" and Jaco said "I'm done." Then Schorle — perhaps to make sure Jaco was OK — said "That was a good shot. Where you from, California?"
When Jaco said "Florida," Schorle walked away satisfied.
Pavlik admitted he would have liked more work, but said Jaco made the right decision.
"The big thing in the sport of boxing, especially recently, is when you're hurt, you can't screw around," Pavlik said.
Afterward, Jaco told a reporter from the Sarasota Herald Tribune that the big blow came in the first round, when he was hit in the back of the head, producing a "buzzing feeling."
"Nothing surprised me," Jaco told the paper. "Nothing except that power. He really, really hits hard, man."
While Jaco didn't regret taking the fight — "I survived. I'm alive," he said — he said he'd probably retire.
"I fought a guy in the amateurs once that hit this hard," Jaco said. "I never thought I'd see that again. But tonight I did.
"This guy showed why's he a world champion."
More like this from vindy.com