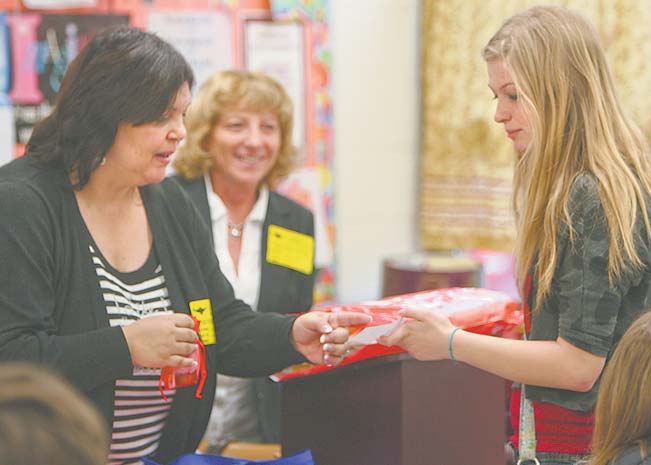 Photo
Orly Menasherov, a middle school teacher in Akka, Israel, gives a gift to Samantha Barker, an eighth-grader at W.S. Guy Middle School in Liberty, for winning a game of naming Israeli flowers. Looking on is Ednar Goldsmith, an Israeli school principal.
Liberty
For years, Orly Menash- erov's Israeli students have asked why American students bother learning about the Holocaust.
"They ask, 'Why are they interested? They're not Jewish,'" said Menasherov, who teaches at a middle school in the city of Akka, Israel, near the Mediterranean Sea.
"We are all human beings; a teenager is a teenager all over the world," she tells them.
Since 1995, the International Book Sharing Project has sought to teach this lesson, connecting students in Israel to students in America through books.
It is now a part of the curriculum in seven schools in the Mahoning and Shenango valleys, and that number continues to grow each year.
Gina Carbone, an eighth-grade teacher from Liberty's W.S. Guy Middle School, has integrated her classroom with one overseas for seven years, three of them with Menasherov's students.
Through the program, the two teachers pick two books about the Holocaust for each classroom to read. They plan questions pertaining to the book for their students, who would in turn discuss their responses with their Israeli or American counterpart via email.
Last Thursday, Menasherov, along with Ednar Goldsmith, an Israeli school principal, visited the Liberty middle school, meeting the students who have been corresponding with her own throughout the school year and teaching them Israeli words and phrases.
"It's very important to me that their parents know about our cooperation," she said. "My students take [the experience of getting to know an American student] with their whole life. It's a great thing."
The lessons Menasherov installs into her students is no different from what Carbone installs in hers.
And testimony from a few of the eighth-graders supports that.
Amy Mikulich, 13, said she discovered her Israeli counterpart has one sister, like herself, and one dog, also like herself. And they are both fans of Beyonc .
This year the students are reading a pair of books by children's literature author Uri Orlev — "Run, Boy, Run" in Israel and "The Island on Bird Street" in Liberty.
Both were translated from Hebrew into English, leaving eighth-grade student Hope Popowich, 13, amazed at how well Israeli students know English.
"I was amazed at how she explained the book, the details in the book," she said.
And because both books are tales of Holocaust survival in the Warsaw, Poland, ghetto, the books sparked discussion among the Liberty students.
"It was really hard and depressing to read it and how much [the Jews] went through for nothing," 13-year-old Courtney Weimer said.
But the students also learned that lessons from the book can be translated to their school hallways, particularly when it comes to bullying.
Mikulich explained that if you try alone to stop a bully, they may not listen. But if students stand together against the bully, "Majority rules," she explained.
And it's the broad lessons from the Holocaust that Goldsmith, who was here to visit a Warren school that will be joining the book-sharing project, hopes people learn.
"The Holocaust is not something that belongs to the Jews," she said. "We were victims, but now we are responsible to bring hope."