RISKS AND RICHES IN THE FRACKING ERA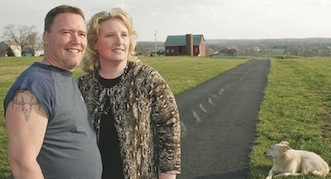 ---
Hydraulic fracking is sweeping through our region, leaving in its path new jobs, new prospects, new hope — and much concern it is expanding too fast.
Watch for THE NEXT INSTALLMENT OF the series THIS WEDNESDAY.
By jeanne starmack
LAWRENCE COUNTY, PA.
Rich and Shirley Sallmen built their house three years ago on a treeless hill on 24 acres surrounded by peaceful, rolling farmland that makes up much of Little Beaver Township.
On Wampum-Mount Air Road where the Sallmens live, there are other new, large homes alongside smaller ones that have clearly been there for many decades.
If you take the winding, hilly road for about two more miles, you'll see Walker Road on your right — a public road but not much bigger than "a cow path, really," as Shirley describes.
Not far up Walker is the first development of its kind in Lawrence County — a natural gas well created by hydraulic fracturing. Drilled in August by Shell Western Exploration and Production on land owned by Harry Patterson, the well is the beginning of what's to come for Lawrence and Mercer counties as gas companies get ready to develop them for hydraulic fracturing, or fracking, in the Marcellus Shale, a 5,000- to 8,000-foot-deep rock formation that lies under much of Pennsylvania and parts of New York, West Virginia, Ohio and Maryland.
Fracking is used both in vertical and horizontal drilling. The drilling is followed by the pumping of millions of gallons of fluid at high pressure into shale rock. The fluid cracks the rock apart and allows drillers to recover the gas.
Until recent advances in the fracking technique, Marcellus gas was not easy to access. Vertical fracking has been in use for more than 50 years. Horizontal fracking had been done before in the Barnett Shale in Texas, according to a website called geology.com. But in 2003, a gas company called Range Resources drilled a Marcellus well in Washington County, Pa., south of Pittsburgh, and experimented there with fracking. Since then, about 5,000 Marcellus Shale wells have been drilled in the state, from the southwest and through an arc to the northeast.
The Marcellus is, in geological terms, a super giant gas field. Gas companies are eagerly gobbling land to get to it, served up in large and small portions through leases with property owners.
At farms with hundreds of acres in the countryside and at homes of people who live on small parcels, landmen working for gas companies have appeared, offering lease-signing bonuses and royalty shares in gas production.
By simply owning property, people are making money. Some have become millionaires, and others are making several thousand dollars off just a few acres.
In Lawrence County, about 4,000 leases have been signed. State Department of Environmental Protection information shows permits issued through March for 11 horizontal hydraulic fracturing wells, some Marcellus and some Utica, a shale formation below the Marcellus. The permits are for seven sites throughout the county. Drilling has begun again at the Patterson site. Patterson did not respond to a request for an interview.
In Mercer County, leasing has started in earnest in recent months, according to the county recorder. There has been no development yet and no DEP permits issued.
Great changes have been predicted for the local economies, and the jobs promise from a new, booming industry is seductive. That prediction and promise came true for Washington County, which Range has heavily developed, says Larry Maggi, chairman of the county's board of commissioners.
"We had more millionaires per capita last year than any other county in the nation," Maggi said.
He said there were so many truck-driving jobs being created that a new school was built to train drivers. Restaurants and retailers have been busy — and hiring.
The growth has attracted new industries. "National industries are coming here because it's close to cheap energy," he said.
As fracking has grown, so too have the questions about how safe it is for the environment and public health.
The fluid used in the fracking process contains sand, water and chemicals, some of which can be toxic. It's those chemicals that concern environmentalists and activists.
The wells are cased in thick sheaths of cement and steel, says Dave Kern, a Marcellus Shale Coalition member who works for a company that makes fracking fluid. Kern said the casing prevents the fluid and natural gas from leaking into an underground water supply.
Well-casing violations have been documented by the DEP, however, for companies such as:
Range Resources, the target now of complaints about water and air pollution near gas well sites.
Rex Energy, which developed an area in Butler County where residents now complain about ruined well water.
Chesapeake Energy, which the DEP said contaminated private water supplies in Bradford County.
Range had 15 well-casing violations out of 189 violations since 2006; Rex had one, in 2010, out of 14 violations since 2009; and Chesapeake had 38 out of 409 since 2008.
None of those companies is developing Marcellus wells in Lawrence or Mercer counties. Of the two companies that are, Shell had 44 violations since 2011, including one violation for polluting a private water well in April in Tioga County. The DEP ordered Shell to find out how natural gas got into the water well and to fix it. A first attempt at remediation has not worked, the DEP said, and Shell is still trying to fix the problem.
A spokesman for Shell in Warrendale, Pa., could not be reached for comment.
The other company developing locally, Hilcorp, has no record of violations.
There also have been numerous violations regarding surface water that include discharges of contaminants into waterways and threats of possible discharges.
Chesapeake was fined $190,000 by the DEP for a well blowout in Bradford County. That blowout spewed 10,000 gallons of fracking fluid over farmland and into a creek last April, say Associated Press reports. The DEP said there was "little or no harm to the stream."
Nonetheless, Maryland Attorney General Douglas Gansler is pursuing a lawsuit against Chesapeake because he believes the blowout threatened the Chesapeake Bay watershed.
Range Resources was fined $141,175 for a spill into a tributary of Brush Run Creek in Washington County in October 2009. Range spokesman Matt Pitzarella said the spill of treated flowback, or fracking fluid that returns to the surface after drilling, happened because of a manufacturer's defect in a pipeline and that only "2 pounds" of aquatic life died in the spill.
And in Butler County, residents near the Rex Energy wells watched and wondered in February as workers used hay bales and sandbags on hillsides and in roadside ditches to keep a gray, murky substance from getting into Crab Run Creek. The substance was bentonite used in drilling clay, the DEP said, adding that it does not believe the bentonite harmed fish. A pipeline company, Keystone Midstream Services, is responsible, the DEP said.
Residents in Washington and Butler counties complain that the DEP has not adequately addressed their complaints. A Washington County resident who lives near a Range Resources development that includes an impoundment pit for flowback is asking the state's commonwealth court to order the agency to investigate her complaints of water and air pollution, sick and stillborn animals and her own health problems. The DEP would not comment on the litigation, but said it responds promptly to all complaints.
The U.S. Environmental Protection Agency got involved in testing well water in the northeastern town of Dimock, Pa., where residents complained three years ago that their water is ruined. Cabot Oil and Gas Corp., which developed the Dimock wells, was ordered to remediate conditions at its well sites that led to the contamination, the DEP said. EPA reported several weeks ago that drinking water is safe so far in 11 of 61 wells it is testing.
The EPA is also reviewing whether federal regulations have been followed in Washington County because there is so much gas and oil- well development there.
"These inspections were done as part of our multi- media enforcement program, which develops comprehensive approaches to address complex and emerging environmental problems," the EPA told The Vindicator in a prepared statement. "While natural gas operators employ various safeguards to minimize the risks inherent to the industry, legitimate concerns have emerged regarding potential environmental impacts," the statement concluded.
The EPA also said it is reviewing correspondence from people concerning 10 families in Butler County near the Rex wells.
What can Lawrence and Mercer counties expect as Marcellus fracking arrives?
The message from those who see the bright side: hope for the best for the local economy, making easy money off leases and a landscape that won't be so bad once drilling ends and the derricks leave.
From those who say they're living on the dark side, there's a warning: Prepare for the worst, because there are serious environmental risks. Look out for yourself as best you can — don't assume state regulators and legislators will.
THE SALLMENS
Rich and Shirley, who works for The Vindicator, signed a lease with a company called East Resources for their 24 acres in 2009. They didn't jump on the first offer though, Rich said.
At their dining room table in their spacious house, built not long after they got married, they recalled their careful deliberations before they signed.
Rich, who has owned the property for 10 years, first heard from a landman in 2006.
"He wanted us to sign a contract for mineral rights for $100 an acre," Rich said. He and Shirley decided to hold off.
"There was nothing for awhile," said Rich, but then another landman came around with an offer of $250 an acre.
"I said, 'no,' we're holding on," he said.
"You kept hearing about things that were going to happen," Shirley said. "Bradford County in north central Pennsylvania was getting $3,000 to $10,000 an acre. In Washington and Green counties, they were getting $2,500 to $2,800 an acre," she said.
Then in 2009, a representative from East left a card in the mailbox. The Sallmens came to an agreement with the company in June for a $1,500-an-acre signing bonus.
Within 90 days, they got their check. They are also set to make 15 percent in royalties. Once a well is built close enough to their property, they will begin to get those royalties, Shirley said. Their lease is now owned by Shell, which acquired East Resources.
Drillers lease in units, or contiguous acres of property. The units typically comprise 640 acres. The Sallmens are not in the unit for the Patterson well and will not get royalties from it.
Landowners make even more money if a company locates a well on their property, Shirley said.
The Sallmens would be more than willing, they said, to have a well on their land.
"I'd knock this house over," Rich joked.
When drilling began on the Patterson site in August, there was some inconvenience, Shirley said.
"Flagmen would stop you at the end of (the road) because there was no room for a car and the trucks," she said. "We would stand here and watch the trucks because they were carrying enormous equipment back in there. I couldn't tell you how many trucks went back there."
They tore up the road, but afterward, the road was fixed, she said.
She said that when the company flared its new well to test gas production, the huge flame, roaring 20 feet into the air, was visible for miles and burned constantly for weeks. They said they didn't notice any air pollution from the flaring.
Rich said he has not heard any reports from anyone in the area about well-water problems, and he is not worried about that.
"They test your water before they start drilling and again after they drill, and if anything is wrong, they have to fix it," he said.
The Sallmens said that in their neighborhood, people are enthused the drilling has begun.
Lawrence County is "a pretty depressed area," said Rich. "It's the promise of the free money."
Not everyone shares that enthusiasm.
Steve Beck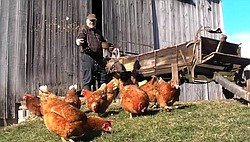 Video
Steve Beck is the third generation of his family to operate a small farm in Pulaski, Pa. He expresses his concerns about fracking.
THE FRACKING TRUTH ALLIANCE
In a barn near New Wilmington that Westminster College converted into a field station for its environmental-science students, about 10 people were gathered around a table on a February evening.
They've been meeting there at 6:30 p.m. every Tuesday since before Thanksgiving. Their group, said Carrie Hahn, a recent transplant from Pittsburgh, is about 60 members strong. But, says member Steve Beck, an organic farmer with 30 acres near New Bedford, about 10 committed people come every week. Their goal is to educate people and warn them of the risks associated with fracking.
"Our goal is to find the truth because we only hear part of the story," Beck said.
They've heard how the drilling changes communities with jobs, boosted economies and made landowners millionaires overnight.
They've heard horror stories from people who believe drilling destroyed their well water, polluted the air and made them sick.
On this Tuesday evening, they are planning a panel discussion for the public that will feature Marcellus Shale industry representatives and experts on groundwater, legislation and public health.
A Pennsylvania House bill that regulates fracking but also takes away the rights of local municipalities to keep it out of their communities is on their minds, because it's about to come for a vote in the House. If it passes, it will go to the governor's desk.
The group hoped the House would not pass the bill. It did. The governor signed it into law Feb. 14.
It hoped to have a good turnout for its panel discussion. It did. The Feb. 15 event nearly filled New Wilmington High School's auditorium.
Group members talked about their worries: Fracking will affect the state's agriculture as dairy farmers sell their herds. Why work when they're millionaires?
Property values will plummet as gas wells, which drillers can locate anywhere in a drilling unit, move into neighborhoods.
People who get rich off leases will buy their way out of the mess, leaving their less-fortunate neighbors to deal with it.
"They want 60,000 wells in the state — you're looking at a well every square mile," Hahn said.
"I'm frustrated by the apathy of the people," Beck said. "The ones who sit in their houses and watch television, thinking everything's going to be OK."
In other counties where fracking is widespread, some say they don't take such complacency for granted.
WASHINGTON COUNTY
Range Resources now has 250 wells on 40 well sites in Washington County. It developed the second Marcellus well site in the state in 2005 on Ron Gulla's 141-acre farm in Hickory.
Gulla said when he signed a lease in 2002, he was expecting conventional vertical drilling, not horizontal drilling.
At the time, Gulla had plans for his property.
"I was just trying to get the farm up and running," he said. "I had cleared 80 acres. I wanted an organic farm and wanted to raise beef. I had an orchard started — apples and pears, and I wanted to put in a 5-acre peach orchard. I hunted and fished."
But as four wells were drilled on his property, that lifestyle changed, he said.
One day in 2006, a friend who was fishing at his 3-acre pond alerted him that all the vegetation in it was dying.
"My pond turned black," he said.
The DEP tested the pond water and reported that there was nothing wrong with it. Gulla wanted the agency to test the mud on the bottom, but it said it would not.
"[Gulla] alleged contamination of his pond, but we could not find any evidence. There was no evidence of any pollution based upon water data, so we did not sample the sediments, which would have been difficult and expensive," said David Eberle, manager of the oil and gas program in the DEP's Pittsburgh office. "If drill or frack fluids had entered the pond, we should have seen evidence in the water analysis," Eberle continued.
Gulla said, however, that he saw black water running from two well sites into the pond.
He said a stream that caught pond overflow had a black, velvety substance on its bottom, and he showed that to Range and the DEP. He said they had no answers.
Gulla had other complaints that Range trashed his property, from muddy runoff onto his road to garbage left by workers.
Gulla said he sold his farm to Range and was supposed to buy another farm Range had found for him, but he backed out of the deal when he learned Range had a lease on that property. He now lives with his mother as he decides his next move. He wants to be able to hunt and fish again outside his back door — he doesn't want to live in a town.
"I was gonna build a new home and have my mom come live with me," he said as he contemplated the unrealized plans he'd had for his property.
Gulla said many other people in the county also have been affected.
He described the countryside of Hickory, Pa., as a "big web" of gas wells "everywhere you look."
Another Washington County property owner, Beth Voyles of Amwell Township, has filed legal action with the state commonwealth court to require the DEP to investigate her complaints about air quality and water contamination. She lives in a valley below a Range impoundment that holds flowback water.
Voyles' court complaint says she has developed rashes, blisters, light-headedness, nosebleeds and lethargy. Medical tests show elevated levels of arsenic, benzene and toluene in her body, the document says. Benzene and toluene are chemicals that can be used in fracking fluids, the DEP's website indicates.
The document says Voyles' farm animals and pets have also suddenly died or had stillborn offspring.
It says that Voyles' neighbors also suffered ailments similar to hers.
Pitzarella said, however, that there is no scientific evidence to back up claims made by Gulla and Voyles about environmental damage and health problems caused by Marcellus drilling. He said their stories are anecdotes, and "fly in the face of scientific studies."
He denied that Range ever found Gulla another farm, saying Gulla decided not to sell his farm to Range, which wanted it for storage, after a large gas well came online there during a peak time for gas prices and promised higher royalties. He also denied that Gulla showed Range representatives a black, velvety substance on the bottom of the overflow stream.
BUTLER COUNTY
It was the last week of January 2011, and in a neighborhood called the Woodlands in rural Connoquenessing Township, Butler County, Janet McIntyre wasn't feeling well. She and her husband had been "violently ill" the whole week.
She never paid attention much before then, she said, to the well development going on for two years in her neighborhood by Rex Energy.
There are seven well sites there. "It's impossible not to see one," said McIntyre's neighbor, Kim McEvoy.
One night that week, McIntyre asked her husband to get her a drink of water. "I wanted a sip of cold water."
Her husband turned on the kitchen faucet. Nothing came out but purple foam, she said.
"He said, 'Janet, I think it's our water that's making us sick.'"
The next morning, the couple went to Rex Energy's Butler office to report what had happened.
Rex sent bottled water and tested the couple's well, she said, comparing it with a pre-drill water test that had been performed. The DEP also tested the well.
McIntyre said the Rex water test showed her water was comparable to its pre-drill state.
"The DEP results showed massive amounts of iron, and manganese and toluene," McIntyre said, adding that she wonders why the two test results were so different.
Toluene is a chemical that has been used in fracking fluid. The DEP told The Vindicator that the chemical was present in trace amounts in one water test from McIntyre's well, and was not a health threat.
The DEP performed another test at her well a month later, McIntyre said. The agency then reported, last April, that her water was safe to drink. She found out later that the second time, the DEP did not test for toluene, she said.
DEP responded that it did five "full battery" tests and found toluene only in one.
McIntyre and her husband still would not drink their water but took showers in it. They got rashes, she said. But, because the test results said the water was fine, they continued to use it for bathing.
That changed on July 31, when she turned on her water and again encountered purple foam. DEP tests again showed the water was safe to drink. The couple now take showers at relatives' homes.
McIntyre wants her water tested again, but the DEP has told her there's nothing more it can do, she said.
The DEP responded that it has tested her water five times and concluded it is safe to drink. Her water was high in manganese and iron, the agency said, and disturbances to the well such as the removal of the pump could have caused discoloration.
McEvoy has her house for sale and plans to move her 3-year-old daughter as far away from drilling as possible. She said her water turned black "and smelled metallic" about a year ago. "Then, about May, my hair started falling out," she said. She said tests showed high levels of arsenic in her water. She could not bathe her daughter in it. "When we started using a water [trailer], my hair was no longer falling out," she said.
McEvoy said arsenic levels have since gone down and are at a safe level in her water. Her problem now is not enough water.
"I can only get a few gallons here and there out of my well," she said.
She said she's thought about drilling a new well, which would cost $5,000, or having a cistern installed, which would cost $15,000. She doesn't know if she wants to put the money into the house that she believes has lost half its value.
Rex Energy had been supplying water to about 10 families in the Woodlands. It stopped doing so Feb. 29. Rex contends that its wells could not have affected McIntyre's water because her well is above them and her ground water likely moves north to south. It also said there are a number of old, conventional wells in the area that could be affecting water supplies.
It was only after Rex's drilling started though, said McEvoy and McIntyre, that they no longer had plentiful, clean water.
Even though the DEP says the well water is safe, families will not drink it.
McIntyre said she uses hers only to flush the toilet.
For now, she and her neighbors are relying on donated water. A rally in Butler raised 300 gallons for them, and churches also are helping.
McIntyre said she has a lawyer, but is not filing a lawsuit at this point. She said her lawyer asked her what is most important to her now.
"I told him, 'I just want water,'" she said.
More like this from vindy.com