New drilling law deepens discord
By jeanne starmack
Steve Beck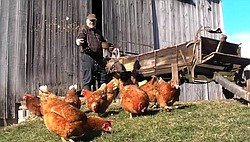 Video
Steve Beck is the third generation of his family to operate a small farm in Pulaski, Pa. He expresses his concerns about fracking.
New Wilmington, PA
When gas companies began developing Pennsylvania with wells that use horizontal drilling and hydraulic fracturing in shale, the state Legislature found it had to play catch-up.
Oil and gas laws did not include regulations over the new technology and its by-product of wastewater that can include toxic chemicals, so legislators got to work.
On Feb. 14, Gov. Tom Corbett signed House Bill 1950, which became Act 13. It regulates "unconventional drilling" and establishes an impact fee, which counties affected by drilling can choose to impose.
Those dollars would go back into communities for infrastructure and other improvements.
What the bill doesn't do, say its critics, is allow communities to decide whether they want the drilling at all. It allows gas companies to override local zoning laws to put a well in any, even a residential, zoning district. Drillers do have to follow state laws regarding setbacks: wells must be 500 feet from a building and 300 feet from a spring, stream or wetland one acre or larger.
The law also puts limits on any health-care professionals who would have to treat people affected by chemicals in fracking fluid. In exchange for information from fracking-fluid companies that want to keep their blend of chemicals a secret from competitors, those companies can ask doctors to sign nondisclosure agreements. In an emergency, a verbal agreement will do. A doctor could still be required to put it in writing later.
Doug Shields, a former Pittsburgh city councilman who was instrumental in getting Marcellus Shale well development banned in the city, said those sections of the law have the chilling effects of stripping a community of its right to define its character and a health-care professional of the right to expose a public-health threat.
New Wilmington's large Amish community is concerned about how the drilling will affect its way of life, said Steve Beck, a member of a group called the Fracking Truth Alliance. Beck, an organic farmer, knows many in the Amish community.
Beck said the acreage used for one well pad, which is 5 to 7 acres, would have a big impact on Amish landowners. "An Amish farm is maybe 80 acres," he said.
"Every 2 miles, they're allowed to have a well pad," he added. "It's gonna tear up the landscape terribly."
At Neal Miller's Harness & Tack Shop on Pa. Route 18 one recent afternoon, Amish landowner David A. Byler said feelings in his community are mixed.
"You talk to some, they're all for it. Some not at all," he said.
Harvey Shetler, also at the shop, said he believes most Amish have turned down opportunities to lease.
Byler, who owns 55 acres near New Wilmington, said he turned down an offer of $3,000 an acre.
"If they put a well on my farm it'd take up half of it," Byler said, adding that many Amish are afraid of what will happen to the community when the gas companies come.
"They're talking the traffic, the trucks," he said. "We have a lot of horses who are scared of trucks. We're not looking forward to that traffic."
The right of a community to define its character has been a cherished one in this country, Shields said. "Now Act 13 is saying, 'you don't count,'" he said. "Your local communities don't count."
Shields said he believes the Legislature allowed the override of local zoning in part because Pittsburgh banned drillers, then other Allegheny County communities followed that lead.
The Pennsylvania Supreme Court also ruled in 2009 that Oakmont, Pa., did not have to allow a company to drill a shallow well in the yard of a local builder's mansion. Those two events "shook everybody up," he said.
Pa. State Sen. Elder Vogel Jr., R-47th, of New Sewickley, said legislators had to compromise because Corbett wanted total pre-emption of local rights.
"Now they have some rights," he said. "The fact that we do have some regulations to a degree is a plus, and at the end of the day, you can only pass what the governor will sign," said Vogel, who voted for the legislation.
But Vogel could not explain the rationale for the law's language about nondisclosure requirements for doctors.
"I'm not sure why that was in the bill," he said, adding that he can understand why it worries people.
"In a month and a half, the bill changed daily," he added, as the Legislature got ready to bring it to the floor for a vote. He said the Legislature does have the option of amending the law.
Drew Crompton, chief of staff for Pa. Senate President Joe Scarnati, R-25th, of Brockway, said concern over that part of the law is blown out of proportion.
He said the language is exactly the same as in Colorado's new law that requires disclosure of fracking fluid chemicals.
He said the language allows companies to have the right to proprietary information regarding their fracking chemical mix, much like Coca-Cola has the right to keep its recipe secret from competitors.
He said that late last year, environmental groups indicated they wanted to work on disclosure language in the legislation so that it was more like the Colorado law.
"This law was universally accepted as the gold standard," said Crompton. "We tried to make a similar bill ,and this is verbatim taken from the Colorado law. It was universally accepted, and no one questioned this language. Now I raise skepticism about people causing this great alarm."
The language in the Colorado rule stems from attempts to require companies to reveal what chemicals workers poisoned at drilling sites may have been exposed to, said Mike Freeman, a staff attorney for Earth Justice in Colorado. Freeman represented environmental groups as the new rule was being written.
He said that the language may make it a little more difficult for a doctor to make a broader public issue about a health threat, but said the doctor could talk generally about an exposure to fracking fluid without disclosing what blend of chemicals is in it.