HAPPY 90TH BIRTHDAY | Lucy Pizzuto Cucchiaro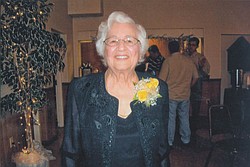 Photo
City of residence: Ridgewood, N.J.
Date of birth: March 22, 1922, in Youngstown.
Parents: Nick and Josephine Pizzuto.
Siblings: Ange (Angelo) Cercone, Louis (Dorothy) Pizzuto, Anthony (Mary Ann) Pizzuto and Mike (Pat) Pizzuto.
Spouse: Joseph Cucchiaro, deceased.
Children: Josephine (Trevor) Stitt, with whom she makes her home in Ridgewood, and Joey (Lisa) Cucchiaro of Ellicott City, Md.
Grandchildren: Nicholas Stitt, Jessica Stitt and Shannon and Lexi Cucchiaro.
Education: Graduated from Woodrow Wilson High School and Youngstown College.
Employment: With her husband, owned a liquor store and travel agency in Olean, N.Y.
Additional information: Widowed for more than 10 years, Mrs. Cucchiaro enjoys traveling alone. She recently has traveled to Australia, China, and many times to Italy. She is planning a 30-day trip to India in 2013 and visits to China and Italy again before returning to New Jersey.
Celebration: Her family and friends gave a champagne toast at her birthday party at St. Mark Fellowship Hall on Logan Way in Liberty. The event was attended by all her family except grandson Nicholas Stitt, in France; and her brother Mike and his wife, Pat, in Florida. A great surprise for Mrs. Cucchiaro was the attendance of a childhood friend, Philomena Evangelist, with whom she grew up but hadn't seen in more than 50 years.