Fans try to cash in on San Francisco 49ers' stopover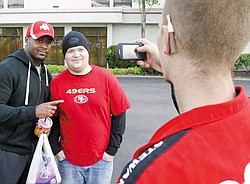 Photo
Donte Whitner of the San Francisco 49ers poses with fan Andrew Berg of Bessemer, Pa., while Alex Reece of Boardman snaps a photo outside the Holiday Inn in Boardman. The team has been in the area since Monday.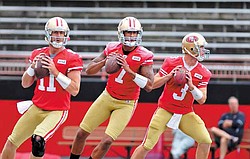 Photo
Quarterbacks Alex Smith #11, Colin Kaepernick #7 and Scott Tolzien #3 drop back to pass during a passing drill Thursday at Stambaugh Stadium.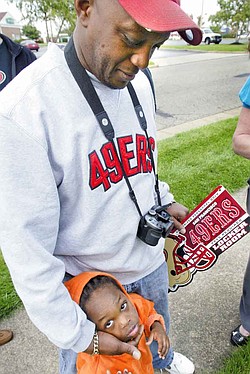 Photo
Tonie Jackson and his son, Ryan, wait outside the Holiday Inn to get a glimpse of the 49ers.
By Christine Keeling
Boardman
Several fans huddled outside a local hotel, hoping to get San Francisco 49ers autographs.
Some residents tried to get members of the team to sign memorabilia as they entered and exited the Holiday Inn in Boardman. Others tried local restaurants.
The NFL team has been in the area since Monday and will leave today for its Sunday matchup against the Philadelphia Eagles.
"I never got Patrick Willis," said Greg Hudak.
The Girard resident said he stood outside the hotel for seven hours Monday, 12 hours Tuesday and was on his ninth hour Thursday trying to get autographs. He was successful with 10 players.
One "true Niner-fan," who spent seven hours each of the four days waiting, said dealers from Pittsburgh, Cleveland and Detroit were hampering their efforts.
"They swarm the players, and then when it's our turn, they don't want to sign anymore," said Alex Reece, 22, of Boardman.
Danielle Jinnetti of Struthers didn't want to be "that crazy fan" standing outside a Holiday Inn.
"But here I am," she said, as she held a football with two signatures on it in her hands. "I'm doing it for my boyfriend."
Tight end Vernon Davis told the crowd he would sign later, but defensive tackle Ray McDonald and safety Donte Whitner stopped to visit the crowd.
Whitner said he knew from growing up in Cleveland that people in the city don't usually get to see NFL players.
"If I wanted an autograph, I wouldn't want someone to turn a cold shoulder to me," Whitner said. "Fans make the game and pay our salaries."
Whitner said he got to visit his hometown for a couple of days during his stay.
Brittany Heck, hostess at the Olive Garden in Boardman, said business at the restaurant picked up after people learned the team was dining there and at Longhorn Steakhouse.
"We were packed last night," she said. "We had a lot of customers bring helmets and memorabilia."