Renovation of Pollock House set to resume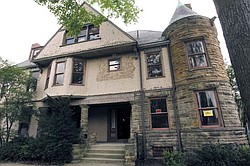 Photo
Renovation of the historic Porter and Mary Pollock House on Wick Avenue is resuming, and work is expected to be done in May. Youngstown State University awarded the $2.2 million contract to DSV Builders of Niles, to serve as the general contractor for the project.
By Denise Dick
Youngstown
Construction to renovate the historic Porter and Mary Pollock House is resuming with completion expected in May.
Gene Grilli, Youngstown State University vice president for finance and administration, told university trustees this month that bids for the work came in on budget.
DSV Builders of Niles is the general contractor with a $2.2 million contract.
Earlier this year, project plans had to be scaled back after initial bids came in way over budget.
The original concept for the university-owned mansion was historical restoration, but after bids came in too high, that was changed to more of an adaptive reuse, officials have said.
When completed, the house will be the residence of university President Cynthia E. Anderson and future presidents.
"The first floor will be the main entertaining/gathering space of the mansion and will also include home office space for the president," according to an update given to trustees' finance and facilities committee. "The second level of the mansion will be the president's residence and consist of a kitchen, great room, master suite, in-law suite and two sleeping rooms."
The upper level won't be renovated as part of the project.
A new slate roof, windows, siding repair, painting and landscaping are part of the planned exterior improvements.
The house was built in 1893 by Charles H. Owsley. It was owned by businessman Paul Wick, who gave it to his daughter, Mary, and her husband, Porter Pollock, who both lived in the house until their deaths.
Family members donated it to the university in 1950, and it served as classroom and office space until the 1980s.
That's when a private developer built a 64-room addition on the mansion and opened it as a full- service hotel under the name Wick-Pollock Inn.
The hotel closed in 1998, and the building has been vacant since.
University officials have considered several uses for the building over the past couple of years, ultimately deciding to restore it to its original use as a residence and to alter the policy of providing a housing allowance for the president.