49ers ready for Eagles on both sides of the ball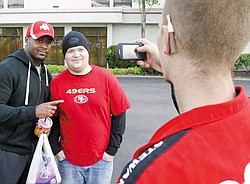 Photo
Donte Whitner of the San Francisco 49ers poses with fan Andrew Berg of Bessemer, Pa., while Alex Reece of Boardman snaps a photo outside the Holiday Inn in Boardman. The team has been in the area since Monday.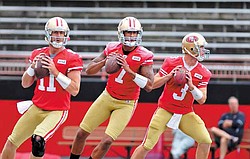 Photo
Quarterbacks Alex Smith #11, Colin Kaepernick #7 and Scott Tolzien #3 drop back to pass during a passing drill Thursday at Stambaugh Stadium.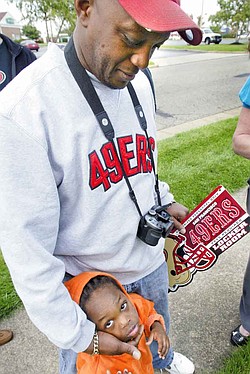 Photo
Tonie Jackson and his son, Ryan, wait outside the Holiday Inn to get a glimpse of the 49ers.
Youngstown
Youngstown State's Stambaugh Stadium is often referred to as one of the best Division I FCS stadiums in the country. But, even on a normal football Saturday, the nearly 20,000 fans couldn't intimidate an NFL team like the San Francisco 49ers.
They're more accustomed to 69,144 screaming die-hards, the expected crowd at Philadelphia's Lincoln Financial Field when the Eagles host the 49ers on Sunday.
YSU has not only helped San Francisco with preparations, this week, but also in dealing with the extracurriculars that are bound to come in the City of Brotherly Love.
"We practiced with noise yesterday," said 49ers offensive coordinator Greg Roman. "Youngstown State has been phenomenal with their facilities."
Roman says the added effect of a live crowd has really helped mend problems, especially along the offensive line.
The 49ers were flagged 12 times in Sunday's 13-8 win over the Bengals, including an "embarrasing" false start penalty that was called on the entire OL inside the Cincinnati red zone.
"Overall communication was really a problem," Roman said. "The tackles and the tight ends, they're the ones that are really affected by the crowd noise."
They have worked extensively on a silent snap count that involves more slight gestures than verbal cues.
Defensive coordinator Vic Fangio talked at length about stopping the Eagles' offensive threats that have averaged 26 points and 408 yards in three games.
"The thing that jumps out at you is the speed of their skill people. It's the fastest offense we'll see from a speed standpoint." Fangio said. "[Receivers Jeremy] Maclin and [DeSean] Jackson are about as fast as a tandem you'll ever have to play against. This team is a big-play team."
He called running back LeSean McCoy, the "new Brian Westbrook," referring to the former All-Pro Eagles running back who is now a free agent. McCoy, a former Pitt Panther, is second in the NFL with 345 rushing yards.
"He never gives up on a play," said linebacker NaVorro Bowman. "He's always looking for daylight, finding holes and squeezing through them. We're going to have to keep running just like he does."
Add in quarterback Michael Vick, and the Eagles have their own self-titled "Dream Team." But Bowman, the second-year man out of Penn State says the 49ers have stars of their own.
"We feel like we have a dream team also," Bowman said."We have a chance to really show them that we have a group of playmakers on our side."
San Francisco is winless against Philadelphia in its past five matchups. Roman and Fangio are both in their first seasons with the 49ers. Each came along with head coach Jim Harbaugh when he was hired from Stanford, so it's not up to them to make excuses for the past. Speed of their own may be the answer to the recent shortcomings.
"Our speed is a little better than its been in the past," Fangio said. "We have some new secondary guys that haven't been here in the past and we have good speed at linebacker with Patrick [Willis] and NaVorro."
For the offense, the best remedy might just be to stay on the field as long as possible.