Campbell leads Boardman quest for a league title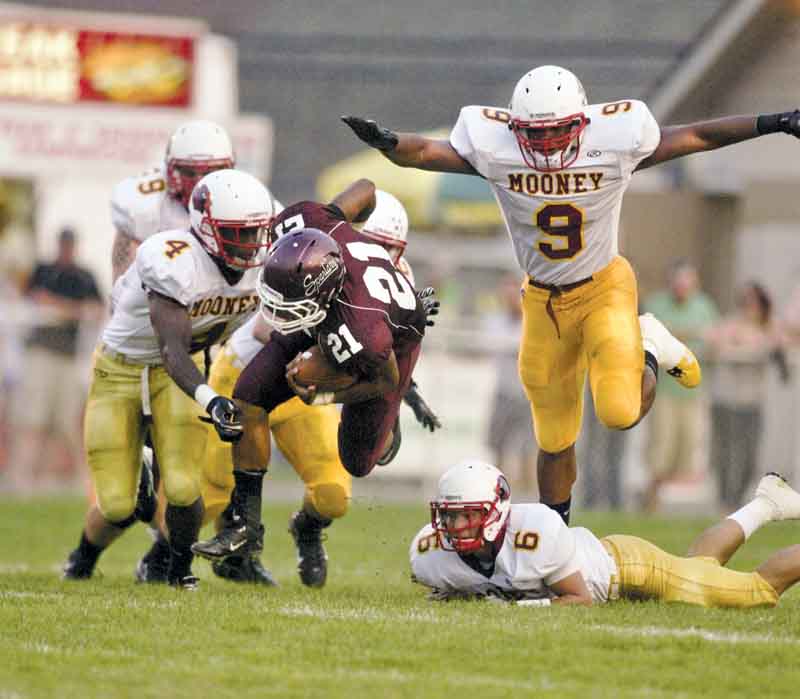 ---
By JOHN BASSETTI
bassetti@vindy.com
BOARDMAN
Just a few weeks ago, Boardman running back Devin Campbell had a mind-boggling, jaw-dropping, eye-popping performance against Uniontown Lake.
Just a few months ago, Campbell had a lawn-cutting, weed-whacking summer to make money to pay for his car and insurance.
Either way, he was mowing down something in his path.
Against Lake on Sept. 16, the 6-0, 195 running back had 203 yards on 13 carries and he caught two passes for 18 yards as the Spartans won, 35-14, to even their record at 2-2.
On Sept. 23, Campbell ran for three touchdowns and scored another on a reception as Boardman mashed Perry, 40-2, for its third straight win.
Campbell, who has 718 yards rushing and 234 receiving so far, also plays cornerback on defense.
But, in his own words, there's no comparison.
"I consider myself better on offense," said Campbell. Then he added: "If Devin Campbell on offense went up against Devin Campbell on defense, he'd beat himself every time."
Not bad.
After losing to Benedictine and Mooney, Boardman got in gear against Hoban, Lake and Perry.
"Benedictine was a wake-up call for us," said Campbell. "We came out strong, then gave up big plays on special teams that cost us the game. Against Mooney we also came out strong and played 31⁄2 great quarters, then they had two late drives that ended in scores."
From 0-2 to 3-2.
What do the last three games say about the Spartans?
"Maybe we realized that we weren't as good as we thought we were," Campbell said. "Now that we're starting to get our confidence from knowing that we can do the things that we're taught to do, we just have to listen to our coaches."
The turnovers chart on the wall outside of coach Mark D'Eramo's office at the entrance to the Spartans locker room, in part, tells the tale of wins and losses through the first four games: 0 and minus-1 in the Spartans' losses and plus-2 and plus-3 when the Spartans won their first two games.
Campbell simplified it: "The more turnovers you get, you usually win the game."
Originally from Youngstown, Devin played one year for the Little Disciples pee-wee team, then moved to Boardman in the fourth grade and played for the Little Spartans from his 5th-grade year through age 12. He went to Glenwood Middle, then to Boardman Center for 8th grade. On the high school's freshman team, Campbell played running back and cornerback, then he started as a slot receiver as a sophomore. He played RB and some CB and kick returner as a junior and he's doing the same this season.
His receiving yards from QB Ryan Pollifrone's passes have been in the spread formation and not out of the backfield.
Campbell hasn't lost any fumbles and he has one interception.
"I play corner and don't get many opportunities because most teams usually try to run against us."
Campbell was sixth at state indoors in the 60-meters and competed at national meets, but a torn hamstring shelved him for the outdoor season last spring.
Baseball, however, might be his sport of choice next spring.
As a running back, D'Eramo said that Campbell has another gear.
"Last year, my agility and vision weren't that great, although my speed was," Campbell said. "But this year I have all three: speed, vision, agility. If I see where I want to go, I can stop on a dime and go."
Campbell's memorable moments include a comeback win against Fitch in overtime as a sophomore and a kick return for a touchdown against Massillon Jackson as a junior.
"I wasn't supposed to get the kick, but they ended up kicking to me and I ran away from everybody and ended up scoring," he said.
"Against Fitch, we were down two scores, then scored twice in two minutes and took it into overtime and beat them."
Devin said he'd like to go to playoffs one more time.
"I had a lot of fun my sophomore year and I want to do that again".
The Spartans were beaten by St. Ignatius that season.
Campbell may follow one of two paths in the future.
"I'd like get into physical therapist, but I've also considered being a cop. I can use the abilities I have to help out. I'm good with people. I'm good at solving things and figuring things out between people."