Springfield volleyball gets best of ITCL rival Mineral Ridge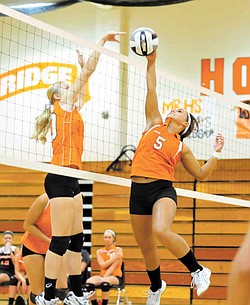 Photo
Mineral Ridge's Lea Whitmer (5) tries to make a play after Springfield's Morgan Buchenic, sends the volleyball onto the Mineral Ridge side during Tuesday's match at Mineral Ridge High. The Tigers won in three games.
By Tom Williams
MINERAL RIDGE
Springfield High senior volleyball player Jessica Evan admits that avenging last year's sweep by defending champion Mineral Ridge provided motivation for their second match of the season.
"We wanted to kick them," the Tigers' three-year setter said with a laugh. "They've always been good. Our grade level has always had tough competition with them. Since seventh and eighth grade, we've always had trouble with them."
Tuesday, the Rams were very competitive to start their Inter Tri-County League Tier One showdown with the Tigers, losing the first two games by scores of 26-24 and 25-22.
But the Tigers (11-3, 8-1) dominated the third game, with seniors Sarah Sauerwein and Brooke Schrieber each serving six points in a 25-12 win for the sweep.
Springfield's league loss was to East Palestine. The others were against Division I Boardman and Canfield. The Rams, who went unbeaten in the regular season last year, are 11-5 with four league losses.
"It pushes you more to play these kind of teams," said Schrieber who finished with 16 kills and two aces. "You know you want to win because you are playing the best."
Evan agreed.
"For the most part, it's what we've expected," said Evan of her senior season. "We like to play the hard teams so that we can get better.
Springfield coach Bill Knight said the Tigers are tied with United with one league loss each. East Palestine is right behind with two league defeats.
"It should be an interesting end to the regular season," the Tigers' 24-year coach said. "This is a good rivalry for us."
Late in the first game, the Rams had a 22-18 lead before the Tigers surged. Evan deflected the ball lightly over the net for the Tigers' 23rd point and made a block for the 24th. Schrieber's slam ended the game in a two-point win.
"I don't think it was just one person, I think that we came together and realized that we had to pick it up," said Schrieber, who added that her scoring streak in the third game was not typical.
"Serving is the scariest part for me," Schrieber said. "There's so much pressure, you're standing alone and it's you who has to get it over the net. I'd rather play in the front row."
Evan finished with 11 points and 18 assists while Sauerwein scored 10 points and made 16 digs. Olivia Williamson had five blocks.
For the Rams (11-5), Katie Fife made six blocks and 10 kills while Abby Riffee made 12 digs. Lea Whitmer contributed 16 assists and seven points while McKenzie Garland scored three aces.
Rams coach Jennifer Staunton has four seniors back from last year's squad, but health has been a problem. Katie Fife missed most of the season with an illness while Chastity Digman had knee surgery this summer after a basketball injury.
"I thought we would do a little better," Staunton said. "Right now, we're working toward tournament time."