Man's disappearance baffles family, police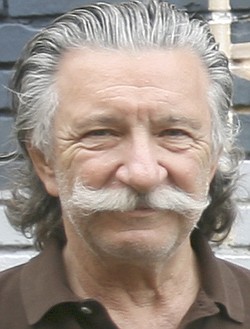 The Vindicator ( Youngstown)

Photo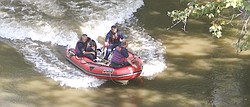 Photo
Youngstown firefighters search the Mahoning River east, almost to the Center Street bridge, looking for clues Tuesday in the disappearance of restaurant owner James Donofrio of Boardman.
YPD chief considers case of missing restaurateur a 'whodunit'
YOUNGSTOWN
James Donofrio left for his Youngstown business Sunday and hasn't been seen since, leaving police departments in two communities wondering where the 64-year-old is — and in what condition.
"We're just assuming the worst-case scenario: suicide or murder," Youngstown Police Chief Rod Foley said Tuesday.
Donofrio, known as Jim, drove from his Boardman residence at 9 p.m. Sunday to close his Belmont Avenue bar-restaurant, the Avalon Gardens. Employees say he never arrived.
From midnight to 1:30 a.m. Monday, Donofrio called a half dozen people, sometimes leaving messages.
His wife, Rosanne, woke up at 5:30 a.m. Monday and realized her husband never came home, and two hours later, city police found his SUV — containing his wallet, phone and briefcase — abandoned on the railroad tracks under the Market Street bridge downtown. The vehicle is a white, four-door Land Rover.
The search continued Tuesday, and the Donofrio family and police are offering a reward for information. Youngstown fire and police searched the Mahoning River, and cadaver dogs were brought in from Geauga County.
Youngstown police also used dogs to try to pick up a track between 11 a.m. and noon Monday without success, Foley said.
"It's very odd for a man in the suburbs to leave a car down here. He must have had some knowledge of the area. We're treating it as a homicide," Foley said.
"There's very little evidence" right now, and detectives are analyzing the car for clues, Foley said.
"It's a whodunit," he said.
Donofrio's last phone call was made at 1:24 a.m. Monday to a longtime friend. The message said: "This is James Donofrio returning your call," according to records. Police said the man who received the message thought it was strange because he had been friends with Donofrio since high school.
The friend "said none of it sounded like him. Voice-wise, he's not saying it's not him, but it's not the way [Donofrio] talks and it came from nowhere. Why did he call in the middle of the night?" Rosanne said of her husband.
Foley said a missing-person report was taken at 7:30 a.m. Monday when Youngstown police also filed a report about Donofrio's towed car.
"I wish more was done [Monday], but I don't know if we had if we would have solved this riddle by now," Foley said.
Foley said there was some confusion in communicating with the Donofrio family.
Rosanne said she was told to wait 24 hours before filing a missing-person report and to contact Boardman police because that is where the couple resides. Boardman police took a missing-person report about 9:30 p.m. Monday at Donofrio's township residence, and Boardman Police Chief Jack Nichols said his department is assisting Youngstown.
Foley said internal affairs is going to review dispatch audio to check that individuals in the police department acted properly.
Rosanne said family and friends have been searching for her husband since Monday morning.
On Tuesday, James Donofrio's brother, Ron, led a boat and kayak search of the Mahoning River, before safety officials did their own.
"Four complete strangers, out of the kindness of their heart, they helped us," said Nancy Donofrio, Ron's wife, of those who accompanied Ron on kayaks.
"This is not Jim's normal behavior by any means. People don't just disappear," Nancy said.
Rosanne Donofrio said her husband did have some health problems; last year, he fainted and hit his head, which caused bleeding in his brain and then he had a stent procedure.
The couple purchased the Avalon Gardens at the end of January, and it was their first foray into the restaurant business.
"A lot of issues that were supposed to be handled before the sale weren't," she said. "... Sometimes you take the stress so long, and then you melt down. He isn't one to melt down. ... My concern is on the side of maybe he just collapsed somewhere."
Rosanne said her husband's disappearance is baffling.
"I don't think he has an enemy in the world that would do anything to him. If someone were looking for something, they didn't take anything," she said.
Rosanne said her husband was in good spirits this weekend, as he and several Youngstown State University students were featured in The Vindicator for a mural on the building adjacent to the restaurant.
"The article probably made him the happiest he's been in the six months we've owned the restaurant," she said.
At the restaurant Tuesday, patrons were taking "Missing Person" fliers with Donofrio's face and the Youngstown police number printed on them.
"He was trying to bring this place back. He put money into it. I really don't know what to say," said Bob Tarantino, who has frequented the establishment for 40 years. "I was just with him a week ago, and it didn't seem like he had any problems. He was a gentleman. When I heard about this, I was very surprised," he said.
Roseanne said her husband was wearing jeans and dark T-shirt when he disappeared.
"None of it makes sense," she said.
Anyone with information is asked to call Youngstown police at 330-747-7911 or anonymously at 330-746-CLUE.