Campbell Mayor VanSuch to face Jackson in Nov.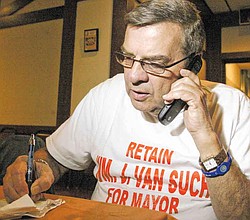 Photo
Campbell Mayor Bill VanSuch checks out the election night results. A nonpartisan primary on Tuesday pitted Lew Jackson and Nick Opencar against VanSuch.
By Jeanne Starmack
Campbell
A nonpartisan primary election Tuesday eliminated one out of three candidates for mayor.
Top vote-getters were incumbent Bill VanSuch and present 4th-Ward councilman Lew Jackson. Nick Opencar, who had been active in politics in previous years, will not advance to the November general election.
Out of 6,489 city voters, VanSuch got 550 votes at the polls and 154 votes by absentee ballots. Jackson got 531 votes at the polls and 95 by absentee ballots. Opencar got 358 at the polls and 73 by absentee ballots.
A precinct breakdown was not made available.
The Mahoning County Board of Elections said the voting went well with no problems reported.
"I just want to thank everyone for believing in me, and I'll continue to do the best I can," VanSuch told The Vindicator shortly after learning the election results.
VanSuch, 70, became mayor in January, moving over to the administrative side from his post as council president after Mayor George Krinos resigned. VanSuch was council president from 1990 to 2000 and again from 2004 until January. He retired from the city as director of administration in 2003.
Jackson, 67, who was a city administrator under previous mayors Jack Dill and Krinos, became 4th Ward councilman after Juanita Rich, who also was council president pro-tem, moved into the council president seat permanently when VanSuch became mayor. He also was a 4th Ward councilman from 1999 to 2004. He is retired from Cold Metal Products.
Jackson said after the election that there are issues he'd like to work on "between now and November," adding that he believes his success will depend "on how things go with council."
Opencar, 72, a banking industry retiree who was the city's treasurer from 1966 to 1972, also was a council vice president and president.
"I thank the people who supported me," he said.