NFL team visits children's hospital, Boys & Girls Club

Photo
Mickey Howard, 6, a patient at Akron Children's Hospital Mahoning Valley, waits to have his football autographed by Jim Harbaugh, head coach of the 49ers. Harbaugh and several players visited the hospital Monday.

Photo
San Francisco 49ers players, from left, Delanie Walker, Vernon Davis and Justin Peelle visit patient Teasia Tarver, 15, of Youngstown at the Akron Children's Hospital Mahoning Valley in Boardman.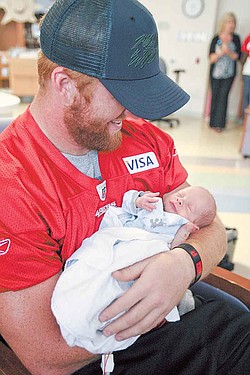 Photo
The 49ers' Bruce Miller holds 3-week-old Michael McCall, who was born 32 weeks premature.
By Christine Keeling
Boardman
One NFL team went from rockin' out after a win Sunday to rocking infants in a local special-care nursery.
More than 40 people waited with anticipation Monday at Akron Children's Hospital Mahoning Valley for the arrival of the San Francisco 49ers.
To bring its Respect Campaign to the Valley, the defense went to the Boys & Girls Club in Youngstown and the offense visited the Boardman hospital.
Being a Minnesota Vikings fan didn't stop one boy from being excited to meet the California team, fresh off of its 13-8 victory over the Cincinnati Bengals.
"When he found out about this, his face lit up," said Stacey Whitehouse of Liberty. "It's the only thing he's talked about since last week."
Her son, Nicholas, 8, suffers from sickle cell anemia and hasn't been able to play football for three years.
He and his sister, Skyler, proudly showed off their autographed posters and hats after they were done running from player to player.
During the visit, members of the team were separated into small groups to visit the nursery, pediatric inpatient floor and radiology department.
Five-pound Michael McCall slept in the giant arms of fullback Bruce Miller in the nursery.
"It's great for everybody to spend time with kids, parents and the community even if we're not from here," said Miller, as he rocked the 3-week-old baby and spoke to his mother, Jessica.
Practicing parenting not football was on the mind of running back Ian Johnson as he cradled 10-day-old Alice Moore. His wife is 22 weeks pregnant with his daughter.
"This reminds you of what's out in the world," he said. "It makes what we do more than just a game."
Derrick Lind, 16, of Struthers threw his arms in the air and giggled with delight after the players left his hospital room. Meanwhile, Teasia Tarver, 15, of Youngstown said she was pleasantly surprised over how "hot" the players were.
Some players helped children make crafts, color and decorate cookies, while others created sundaes with ice cream donated by Handel's.
"We are drawing the long end of the straw on this one," said Coach Jim Harbaugh. "We get to meet great people, and it's fun to be around kids."
Wide receiver Ted Ginn Jr. said he was surprised how many big 49ers fans there are in Youngstown. The Cleveland native and former Ohio State star said he plans to get a home-cooked meal while he is in the area.
Denise DeBartolo York, who owns the 49ers along with her husband, John, said the team prides itself on excellence both on the field and off.
Though owned locally, the team is headquartered in California.
In between two East Coast road games, the 49ers made the rare decision to stay in the area. The team will practice at Youngstown State University to prepare for its Sunday game against the Philadelphia Eagles.