Austintown teacher gets 200 books for male readers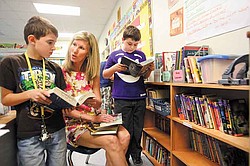 Photo
Language-arts teacher Shelly Culp helps fifth-graders Conner Murphy, left, and Matt Bohr select books from some of the new books she purchased with a grant. The Frank Ohl Intermediate teacher applied for and received a $2,912 grant from the Martha Holden Jennings Foundation.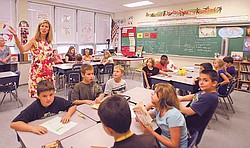 Photo
Shelly Culp tries to get her fifth-grade class to read more. She purchased 200 books with a $2,912 grant she received from the Martha Holden Jennings Foundation.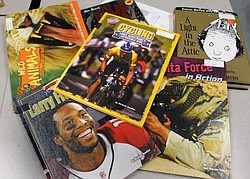 Photo
Frank Ohl Intermediate School teacher Shelly Culp uses containers and quick descriptions of books as an eye-catching way to keep her students interested in reading. She just added 200 more books to her classroom shelf after receiving $2.912 grant from the Martha Holden Jennings Foundation.
By Christine Keeling
Austintown
A teacher IS USING A grant to line classroom shelves with books boys will enjoy.
Frank Ohl Intermediate School fifth-grade teacher Shelly Culp was awarded a $2,912 grant from the Martha Holden Jennings Foundation. The language-arts teacher used the money to purchase 200 books to get boys more interested in reading.
"I challenge my students to read 30 books a year," said Culp. "Getting that volume of reading under them helps build confidence."
The new books include graphic novels, crime solvers and nonfiction, with titles such as "Becoming a Soldier" and "Ripley's Believe it or Not." Some books were purchased locally so the money would stay in the community.
Culp said she was trying to level the playing field, because so many books are geared toward girls.
Every day, her three classes spend the first 10 minutes of class time reading. Students can pick any book from more than 1,000 books in the classroom. When students finish a story, they can present a "commercial" about the book for their classmates.
"Studies have shown that students perform better in a classroom with a lot of books," said Culp. "They should read for 90 minutes each day to see an improvement."
She said parents need to understand that it is not always important for students to read books at their grade level, but rather should focus on having children read a lot of different books. Boys tend to like magazines and funny things, she said.
One of Culp's students, Tucker Huffman, said he didn't have a favorite book; instead he liked a sequence of stories. He was reading "Among the Betrayed," which is the third book in the Shadow Children series by Margaret Peterson Haddix.
Culp said she is beginning to see students waiting for others to finish a book, so they can read them, and making reading lists for themselves.
"When they are 80, they won't be able to run around the block anymore, but they will be able to read," said Culp.
Students Kaela Saller and Hailee Bister showed off the books they pulled from the shelves. The students said they spend a lot of time reading.