Canfield boys soccer upends unbeaten Fitch

Photo
Austintown Fitch senior Mike Shaffer, white uniform, battles for possession against Canfield senior Tony ElHayek during the first half of Thursday's boys soccer game in Austintown. The Cardinals won the AAC contest, 2-1.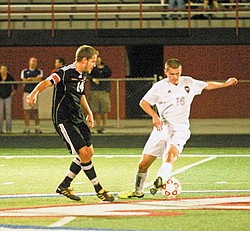 Photo
Austintown Fitch junior Kyle Kosco, 18, controls the ball against Canfield's Mike Thomas, in the first half of Thursday's AAC boys soccer game in Austintown.
By Doug Chapin
AUSTINTOWN
The Canfield High boys soccer team ended one undefeated season Thursday night and "began" another.
The Cardinals (4-4-1, 3-3-0 All-American Conference) scored two first-half goals and held on for a 2-1 victory over previously unbeaten Fitch (6-1-2, 3-1-2).
Canfield started the season with two losses — including a 2-1 decision at home against Fitch — and a tie, won three in a row, then dropped their last two.
"We've been a little bit up and down," Canfield coach Phil Simone said. "In crunch situations we've been kind of folding a little bit. I knew they just needed that one game and they would be right back where they should be.
"We thought we would be better at this point of the season, we only lost three starters from last year. We just weren't clicking. Tuesday was our halfway point of the season and we told the boys to forget about the first half, we are 0-0-0 going into the second half. So we are 1-0-0 to start the second half, and knocking off an undefeated team is a good feeling."
Freshman forward Frank Phillips scored the first goal with 8:16 on the first-half clock on a through ball from senior forward Tom Yankush. Senior Tony ElHayek then converted from 15 yards out with 1:32 left after an unsuccessful clear by Fitch.
Senior goal keeper Mike Wittman was credited with six saves.
Fitch scored its lone goal at the 25:40 mark of the second half as junior Shane Linton headed home a corner kick by senior Mike Shaffer. The Falcons pressed for the equalizing goal, getting several good opportunities the rest of the way, but the Cardinals held on for the win.
"I think they had our number a little bit more this game than last," Fitch coach Tim Walsh said. "We've had a couple key injuries and it didn't help that our keeper went out late in the first half and missed most of the second half."
The Falcons started the season with six straight victories, but have had two ties and Thursday's loss since then.
"We're much further ahead than we thought we'd be at this point of the season," Walsh said. "Playing teams twice, that's one of the tougher things you've got to do. You can beat someone once, but twice, that's 160 minutes of soccer.
"We got to ninth in the state for a couple of weeks and that put a target on our backs. We were like the [Miami] Heat, everyone is going to want to play their best game against you and Canfield definitely did tonight."
Simone said he hopes Thursday's win helps the Cardinals the rest of the way.
"The boys got a little bit of confidence tonight. We knew we could play, but we haven't had the confidence all season," he said. "We changed a couple things from last game to this game. We put together a really good first half and were able to go up by two goals. That confidence factor right now, I think, is big."