Valley 'warriors' survive adventure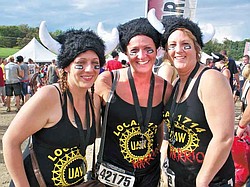 Photo
Wendy Fry-Mcmurray of Boardman, Kasey King of Austintown and Tammy Metzgar-Daggy of Salem wear warrior hats Sept. 10 at the Warrior Dash Ohio II in Carrollton, Ohio. More than 10,000 people completed 12 obstacles during the 3.1-mile course.
By Christine Keeling
A promised "hellish" adventure didn't deter local community members from joining more than 10,000 people for 3.1-mile obstacle course.
Greg Frederick of Poland said he is still arguing with his friend, Jim Rich, over who gets credit for coming up with the idea to compete in Warrior Dash Ohio II at Area 330, a motorcross park in Carrollton.
They entered the Sept. 10 event, which was hosted by Chicago's Red Frog Events after a first dash, earlier this year, in Logan, Ohio, sold out too quickly for them to enter.
"I didn't know what to expect," said Frederick. "You'd run over hill and see a bunch of tires, then jump in and out of a Dumpster, then over more tires and then another Dumpster."
The dash featured 12 obstacles including the Great Warrior Wall, a wooden barrier, Muddy Mayhem, a mud pit with barbed wire, and Rubber Ricochet, a jungle of hanging tires. Racers were released in groups of 800 every half hour.
"I think whoever comes up with the obstacles has a mental problem," said Frederick. He finished the race in just under an hour.
"It was crazy," said Tammy Metzgar-Daggy of Salem.
The United Auto Worker from local 1714 attended the race with co-workers Kasey King of Austintown and Wendy Fry-Mcmurray of Boardman.
The mud on the course, Metzgar-Daggy said, made running tough, but people were helping each other get through each obstacle.
"You go a little way there's a shoe sticking in the mud," she said. "Then a little further there would be its match."
If a participant made it through the course with their shoes intact they cold tie them together and donate them to charity.
"There were a thousand shoes in a pile," said Metzgar-Daggy. The group completed the course in 1 Ω hours.
Turkey legs, beer and bands greeted contestants at the finish line, as did the last obstacle — a waist high mud puddle with barbed wired over head.
"I didn't want to get into it, but I had to finish," said Brenda Acker of Willoughby. "When your done, you're like yeah. I did this!"
Afterward, she cleaned off by sliding down a muddy hill into a lake with her 15-year-old son, Hunter Watson, and boyfriend Sean Corrigan of Austintown.
"To maintain sanity you have to do something stupid once in awhile," said Frederick. "This is just a fun event!"
The next Warrior Dash is scheduled June 2 and 3, 2012, at Kaeppner Wood in Logan, Ohio. It touts the Texas Tornado, the Junkyard Jump and the Tunnels of Terror as some of its obstacles. Registration and information is available at www.warriordash.com.
Frederick said he plans to join the many others who dressed in costume by wearing something eye-catching at next year's run. Metzgar-Daggy, Fry-Mcmurray and King plan on dashing as runaway brides.