City council to honor 3 who saved man during attack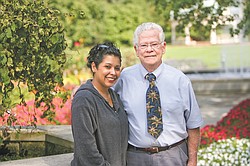 Photo
Thomas Dailey, 67, a Canfield High School teacher, poses with Becky Shelton, one of three McDonald's employees who helped prevent more of an attack on Dailey by a 20-year-old man last year at the fast-food restaurant on Youngstown's West Side. Shelton and the other workers will be honored at tonight's Youngstown City Council meeting.
By Christine Keeling
Youngstown
What started out as a "lovely" day for Thomas Dailey quickly turned into a life-changing experience.
The 67-year-old Canfield High School teacher was viciously attacked Oct. 9, 2010, outside a Youngstown fast-food restaurant's drive-through window.
Three people credited with saving his life will be recognized today during city council's meeting at 5:30 p.m. on the sixth floor of City Hall.
"This is a unique story," said Councilman Mike Ray, D-4th. "We like to recognize people who do things out of the ordinary."
Dailey was driving to a Youngstown State University football game that Saturday. He decided to grab something to eat at the West Side McDonald's restaurant on Mahoning Avenue.
A car, driven by Samuel Crayton, 20, inched away from the drive-through window. Dailey, who was behind, idled his car forward.
"He slammed on his brakes," Dailey said. "I hit him."
Dailey said he jumped out of his car to see if any damage had been done. Crayton was cursing. When Dailey went to speak, relieved that neither car had a dent, Crayton's fist slammed into his face.
"I didn't even know what happened," Dailey said.
That's when McDonald's employees Becky Shelton, Erica Freet and Meleina Valev jumped into action.
"I ran outside and jumped in front of the car," said Shelton, 39, of Youngstown. "'You're gonna have to run me over,' I said to [Crayton]."
Freet was trying to climb out the drive-through window to help and then grabbed the keys from the ignition. They didn't want Crayton to leave before police arrived.
"It looked like a murder scene," Shelton said. "There was blood everywhere."
Dailey suffered a broken nose and severed artery and lost two pints of blood. Police recovered a pair of brass knuckles from the passenger's seat of the attacker's car.
"What's wrong with you? You hit an old man!" Dailey remembers one employee yelling.
"I'm not old," Dailey responded from under a towel.
Shelton said the West Side is her community and that she was angered by the attack.
"True enough, we could have been selfish about ourselves, but that wasn't our mission," she said. "We felt like that could have been our dad."
She said no one ever knows what kind of impact people they meet might have in another's life.
Without their actions, Dailey said he knows he would be in a grave today.
Dailey lost an additional four pints of blood a week after the attack, underwent more than two hours of surgery to stop internal bleeding and missed two months of work. He said he now suffers from post-traumatic stress disorder.
The experience, he said, made him realize that people need to get involved when they see a crime.
Dailey received a letter, with the typewritten name of Crayton's mother, expressing remorse for her son's action but no explanation as to why he did it.
Crayton said to police, "We all do stupid stuff sometimes."
Crayton pleaded guilty to felonious assault and was sentenced to four years in prison in January. A petition for his early release is pending in Mahoning County Common Pleas Court.