Single mother starts bakery in her home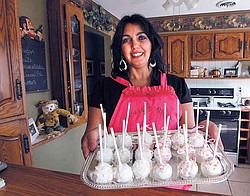 Photo
Deanna Fusillo shows off the Sweet D Bites, the signature cake/truffle item and the name of her online bakery. She delivers baked goods both locally and nationwide.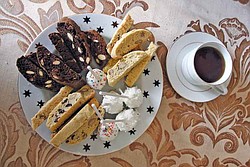 Photo
A cup of coffee is pictured with an assortment of Sweet D Bites' biscottis. Fusillo started the online bakery after growing tired of the daily work grind and out of hopes of spending more time with her children.
BOARDMAN
Deanna Fusillo was feeling swallowed up by the corporate world, longing for more flexibility and control.
She found that, and her shift to entrepreneurship proved even sweeter than she could have imagined.
It began with a simple request – her then 10-year-old son, Alex, wanted more time to snuggle on the couch and drink hot cocoa with his mom.
A single mother, Fusillo was working long hours in management with Verizon Wireless but left last year to focus on family. She took odd jobs and started dabbling in baking, which she enjoyed. Unfulfilled by the other jobs, she decided to strike out on her own.
Sweet D Bites is the name of Fusillo's Internet bakery. She runs it from home, which allows more time to attend her kids' baseball games and activities. She also has the flexibility to work at 2 a.m. if she wants to.
"I feel like a stay-at-home mom," she said. "But I'm also running my own business."
The company specializes in Sweet D Bites, a cake/truffle combination that's dipped in chocolate and comes on a stick. Flavors include Champagne Wishes, Almond Paradise, Buckeye Blitz, Java Jolt and Birthday Bash. The most popular flavor, Chocolate Overload, has a double chocolate fudge center and mini chocolate chips.
Sweet D Bites are also featured at Gordy's Specialty Market in Boardman for $2 apiece. They're available online by the dozen.
The bites make a unique gift for friends or family, Fusillo said, adding they have "that wow factor" people look for when planning events such as showers, weddings and birthday parties.
Her sons, Petey Hernandez, 13, and Alex Hernandez, 12, are the company's official taste testers, a role she says they don't mind a bit.
Fusillo said social networking sites including Facebook and Twitter have helped market her business. Her company was also recognized earlier this year by startupnation.com as one of 200 Leading Moms In Business. The contest, sponsored by Discover, narrows down a list of applicants that numbers in the thousands.
Gordana "Gordy" Jelic-Lettieri, owner of Gordy's, said Fusillo's products complement the European atmosphere in her shop, which features unique imports, takeaway cuisine and a deli.
She said Sweet D Bites are "the perfect little treat" because they're a small but tasty dessert. "It's a great product and you're not overindulging," she said. "They definitely sell very quickly."
Fusillo said each bite is made from scratch and has about 150 calories. She plans to offer sugar-free and gluten-free options and is working on seasonal flavors including caramel apple and pumpkin spice.
She also sells cupcakes, chocolate-covered Oreos and pretzels, gourmet cookies and cupcakes. Her "Casa de Fusillo" line includes Biscotti, Torroncini and Biscotini.
Some of her confections can also be found at Anzevino's Italian store in Boardman Plaza and The Daily Grind in Girard. As the business expands, Fusillo said she can foresee the need for a larger kitchen. She's in talks with other local retailers and hopes to make her brand a recognizable name.
Fusillo said she's not yet matched her former salary but is comfortable with the bakery's growth, for which she credits God. "I'm in awe at how it just keeps unfolding," she said.
For more information, visit www.sweetdbites.com.