Jackson-Milton schools deemed excellent-with-distinction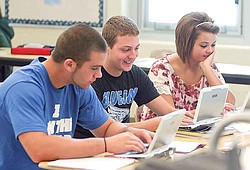 Photo
Jackson-Milton students, from left, John Gherardi, Jon Lewis and Breanna Legg, do physics class work on school-provided laptop computers.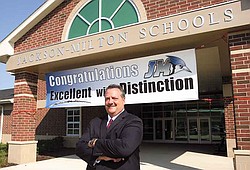 Photo
Kirk Baker, superintendent of the Jackson-Milton Local School District, stands outside the district's middle and high school building in North Jackson. The district is the only one in Mahoning County to earn a ranking of excellent with distinction by the state.
With more than 600 school districts in Ohio, only 86 districts statewide received the highest grade — excellent with distinction. Here are Jackson-Milton's last five grades:
2010-11: Excellent with distinction
2009-10: Effective
2008-09: Effective
2007-08: Effective
2006-07: Effective
By Christine Keeling
North Jackson
Jackson-Milton start- ed the new school year excellent with distinction, and credits communication and the community for its success.
"Everyone is excited," said Superintendent Kirk Baker. "This is something we've been working on."
The district, he said, has emphasized professional development for its teachers so they can be aware when a student might not be grasping a concept.
Data were examined by the Mahoning County Educational Service Center to identify target areas where students weren't doing as well. A $211,199 federal grant allowed the district to hire more tutors and expand its e-reader program.
But, Baker said, "You don't get to excellent with distinction without the help from the community."
The district jumped from its effective rating, last year, by two spots, and is the only Mahoning County school district to hold the state's highest rank.
In the last four years, residents have supported three renewal levies and parents are participating in more activities, said Baker.
A $16 million facility for high and middle school students opened its doors September for a third year. It features state-of-the-art equipment, science and computer labs and laptop carts.
The elementary building had $1 million in improvements, which included a new heating and cooling system and roof. It also has its own computer lab.
"The campus has brought a great learning atmosphere and pride to the community," said Baker.
He said with telephones and computers in each room, teachers do a fantastic job communicating with parents.
David Vega, principal of the high and middle school, said communication among all staff members keeps everyone aware of what's going on. He said if he has a question, he walks to the class to speak to the teacher. Baker said he frequents the hallways, too.
Vega said the staff is always looking to reinvent itself and be better — not complacent.
The rating "is a great thing for district and made the year start on a positive note," he said. Vega has been principal at the school for four years and taught for 14.
Derrick Kittle, band and choir teacher at the middle and high school, said professional development during waiver days has given him more tools to effectively teach.
"It makes us think on how we present material to students," said Kittle. "We can do things, so students find answers for themselves."
Technology and applications available in the district offer him unique ways to engage students.
The building of a new public library adjacent to the schools will give students another opportunity to access information. Baker said the district plans to sell the property for $1 and anticipates a spring ground breaking.
Although the state is changing the way it evaluates a district's academic achievement and growth, Baker said he doesn't plan to make any changes.
"We will continue to work on what got us here," he said.
The district will receive $17 per student for achieving the new rating. Approximately 900 students attend the district's kindergarten-through-sixth and seventh-through-12th grade buildings.