Hundreds celebrate pipe-organ rededication
Stambaugh Organ Rededication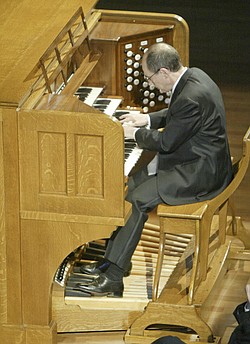 Gallery
A restored 1926 pipe organ was rededicated today in Youngstown, Oh.
Stambaugh Organ Rededication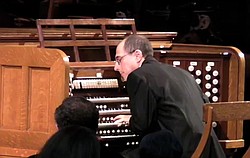 Video
After an extensive restoration a 1926 pipe organ was rededicated in Youngstown, Oh.
By Elise Franco
efranco@vindy.com
Youngstown
David Higgs played new life into Stambaugh Auditorium's historic pipe organ during Sunday's rededication concert with the Youngstown Symphony Orchestra.
Higgs' performance Sunday afternoon marked the official return of the pipe organ, which underwent a two-year,
$1.5 million restoration after it was damaged by leaky pipes in the 1940s.
Higgs, of the Eastman School of Music in Rochester, N.Y., said the repaired organ with its 3,847 pipes has returned to its former greatness.
"This hall and this organ are absolutely first-class for anywhere in the world," he said.
William A. Conti, president and trustee of the YSO, said said the concert was an all-around historical event because it also marked the 85th anniversary of the YSO and of the auditorium.
"For the first time in 40 years, the organ is available for a full concert," he said. "I think those attending have a lot of enthusiasm and appreciation for that."
Phil Cannatti, executive director of Stambaugh, said the hundreds of people who attended the show were excited to be a part of that moment.
"Symphonies and organ concerts only appeal to a certain number of people," he said. "We have an enthusiastic crowd of people who showed up because they really want to be here."
Richard Witzeman, of Poland, and his daughter Alison, 12, were among those thrilled to see and hear the YSO play the organ.
Witzeman said he's been attending symphony concerts for years and came Sunday specifically to hear the organ.
"This is as good as it gets, right here," he said.
Witzeman said he brought his daughter, who plans to play clarinet in her school's marching band, because she's interested in instruments and wanted her to experience the music at a professional level.
"She was all fired up about it," he said.
Patricia Sekola, of Austintown, attended the concert with her daughter, and said her aunt was an organist for 52 years, so it's something she's grown up with.
"It's so traditional and classic," she said. "I expected to be uplifted and thrilled ... I'm so happy to be a part of it."
Conti said he hopes the concert will mark the beginning of a musical renaissance in Youngstown.
"Our community has the chance to really embrace what other cities would love to have," he said. "This organ restoration is what [philanthropist and auditorium founder] Henry Stambaugh dreamed."