Lack of cash, grocery stores creates 'food desert' in Valley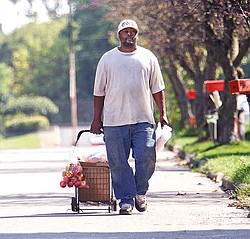 Photo
Darren Moore of Cohasset Drive walks home with his shopping cart full of fresh food and drinks from Jordan's Market on Market Street on Youngstown's South Side. The city is rated as the third worst urban "food desert'' in the U.S.
By Alyssa Lenhoff and Timothy Francisco
The NewsOutlet.org
Philip Leyman spent many years working as a bagger at a Giant Eagle supermarket – an irony for a man whose cerebral palsy and seizures now require him to use a wheelchair and force him to rely on a bus or taxi for his own groceries.
Leyman and one of his neighbors, David Senediak, use a public bus to take them to Walmart in Boardman. The men, who live in the Goodwill Apartments near the Market Street-Midlothian Boulevard intersection, are among thousands of Youngstown residents who live in what is called a "food desert" — an urban area with limited access to fresh food.
A 2010 federal study listed the Youngstown metropolitan area as the nation's third worst area for the number of people suffering food hardships because they don't have enough money to feed themselves.
That may change with Bottom Dollar Food building three grocery stores, 621 W. Princeton Ave. near the Idora neighborhood; 890 E. Midlothian Blvd.; as well as 3377 Mahoning Ave. in the Mahoning Plaza. This discount grocery store chain, run by Food Lion and a subsidiary of Delhaize Group, has stores in New Jersey, Maryland, Virginia, North Carolina and Pennsylvania.
Though it's a good step, those three grocery stores will not feed the entire city and may not change Youngstown's federal ranking. The federal report, compiled by the Food Research and Action Center in 2010, says that 24 percent of the metro Youngstown population suffers because, in addition to the problem of scarce stores, many residents simply don't have money to buy enough food to feed their families.
The report shows that only Memphis, Tenn., and Bakersfield, Calif., had more "food hardship" during 2008-09, the period of time studied.
Data from the Youngstown Neighborhood Development Corp. shows that most of Youngstown's nearly 70,000 residents live more than a half -mile from a grocery store and that 18 percent of these people do not have access to a vehicle to drive them to stores.
City officials and organizers with the YNDC have launched several initiatives aimed at getting fresh food into Youngstown's neighborhoods. In addition to luring supermarkets, they are working to set up urban gardens and farmers markets.
"There's a lot to do," said Ian Benniston, deputy director of the YNDC. "We have a very big problem in the city of Youngstown."
Benniston said there are only five full-service grocery stores in the city or just over the border, and many city residents do not drive and live more than a short walk from them.
Leyman and Senediak epitomize that challenge. Neither drive, and Leyman's wife, who also suffers from a disability, can drive, but they don't have a car.
Leyman said he likes the apartment he shares with his wife and son. But he liked it even more when the Phar-Mor store was open at the corner of Midlothian and Market Street. That store, which sold everything from potatoes to dust pans, closed in 2002 and is now the Newport branch of the Public Library of Mahoning County.
At least once a week, Leyman, his wife and son take a bus to the Giant Eagle in Liberty. His wife and son take a taxi home because of the difficulty of managing the grocery bags on the bus.
Leyman has to take the bus because of his wheelchair. He said the total trip costs about $20 and cuts into their grocery budget – a budget that Leyman said is already tight.
"Eating right is so important for all of us," Leyman said. "But it's not easy, and it gets hard to get to the store and expensive to get there."
Smaller stores, like Jordan's Market in Youngstown, help fill in the shopping gaps.
Abdalla Shakhatreh has run Jordan's since 1985. He is one of few merchants still operating on Market Street. Others have long since fled to the suburbs.
He is well aware of how important his grocery store is to the people who live in the neighborhoods that surround the lower portion of Market Street near downtown.
"They don't have anywhere else to go," Shakhatreh said.
Most of his customers walk or take the bus to the market, where they can pay utility bills, buy prepared food from the deli or get groceries, including some fresh fruit and vegetables. The market provides a hub of needed services. He said crime has never been a problem with his store.
Many so-called "corner markets" have signs on their buildings saying they offer food or groceries, but do not have fresh produce.
Shakhatreh has trouble understanding why other grocery retailers have not been able to stay open in city neighborhoods.
"These are good customers," he said. "But I know them because I grew up here, and my kids know their kids."
The NewsOutlet, which pairs student journalists with professionals, is a collaboration between Youngstown State University, Kent State University, the University of Akron and The Vindicator, The Akron Beacon Journal and Rubber City Radio.