For reappraisals, it's all in the details
Tweet
Published: Sat, September 17, 2011 @ 12:07 a.m.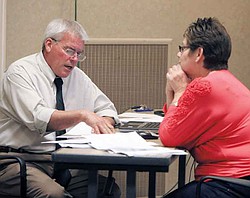 Photo
Eloisa Luminiello of Austintown consults with Ken Jones, an appraiser with Integrity Appraisal Services Inc. of Niles, concerning the tentative valuation of her property at Mahoning County's reappraisal information center at Oakhill Renaissance Place, Youngstown. The consultations continue through Oct. 7.
YOUNGSTOWN
Face-to-face consultations between Mahoning County homeowners and appraisers concerning tentative new property values were thorough and sometimes lengthy.
Depending on the extent and complexity of the inquiry, the free consultations with one of two appraisers on duty in the Oakhill Renaissance Place auditorium Friday, ranged from 10 minutes to one hour each.
Among those who met with an appraiser Friday were Atty. Alden B. Chevlen, who inquired about his 2004-vintage villa on Nashua Drive in Austintown, and Jeffrey M. Hedrich, who inquired about his 1943-vintage home on Mill Creek Drive in the historic Newport Glen neighborhood of Boardman.
Chevlen's condominium unit was listed as having a current worth of $192,900 and a tentative new value of $176,090. "I wasn't happy about my value dropping," Chevlen said after his consultation.
Chevlen met with Ken Jones, an appraiser with Integrity Appraisal Services Inc. of Niles, which performed the countywide property reappraisal, and he called Jones' attention to what Chevlen said were some errors in the property description.
Chevlen, who bought his freestanding condo for $155,000 in a 2008 sheriff's sale, said the size of his unit is actually 2,160 square feet. The auditor's records describe it as being only 1,832 square feet.
Chevlen said he wanted the square footage to be corrected, "so the value goes back up to where it was," and that Jones agreed to correct the square footage.
"I wanted to keep the value of my property high because it is a new unit. It's a nice development, and I wanted to have equity in the house in the event I decide to move out," Chevlen said.
Hedrich, who is founder and president of the Prodigal Co., a marketing, advertising and public relations firm, said he told an appraiser his house is actually 21/2 stories, rather than the two stories shown by the county auditor.
In his 20-minute consultation, he also told the appraiser his house has a new roof and a finished basement.
Hedrich said he thought his house was undervalued in the reappraisal.
"If I go to sell in 10 years, I don't want this coming back to haunt me," he said of the decline in his appraised value.
Hedrich said he lives in "a very distinctive neighborhood," whose homes were built "with extraordinary craftsmanship" and materials that may not be reflected in a mass appraisal.
"I got a sense that the process is going to be fair," he said of the county auditor's revaluation effort.
A total of 114 people received in-person consultations this week at the reappraisal information center at Oakhill, which was open from 8 a.m. to 4:30 p.m., Monday, Wednesday and Friday.
A total of 484 calls were made to the county auditor's reappraisal inquiry telephone line, 330-740-7909, and usage of the reappraisal section of the county's website — www.mahoningcountyoh.gov — was four times the normal inquiry volume.
The consultations allow real-estate owners to inquire of an appraiser as to how the tentative new values were derived for their properties in the county's once-every-six-years comprehensive reappraisal.
The consultations also allow owners to ask the appraisers to correct errors in the property description, which could affect the value.