Rally seeks to protect 500 jobs at Youngstown USPS facility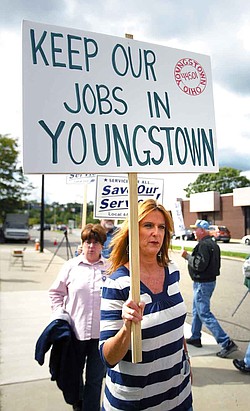 Photo
Patty Herlinger of Boardman walks among 75 others in front of the U.S. Post Office in downtown Youngstown. That processing and distribution plant employs 500 people and is on a U.S. Postal Service list of possible closures. The rally to draw attention to the possible closing was Friday.
By Karl Henkel
YOUNGSTOWN
The U.S. Postal Service employs more Americans — about 500,000 — than any other company in the United States not named Wal-Mart.
Thursday's news that 35,000 jobs could be cut in the next year — if the postal service isn't completely insolvent by then — sent a ripple effect through post offices nationwide. It was felt in Youngstown, where the city's processing and distributing plants employ 500.
Both facilities made the postal service's list of possible closures, which could be finalized as early as next spring. Those 500 contribute $500,000 in city income taxes, which, if lost, could increase economic havoc in the job-challenged Mahoning Valley.
"Youngstown cannot afford to lose 300 to 500 jobs," said state Rep. Robert F. Hagan of Youngstown, D-60th, one of several local dignitaries at a downtown rally Friday morning that attracted about 75 participants. "That's not going to make this a great place to live."
But it could be reality.
A postal service representative said in July that Youngstown's mail duties could be combined with similar facilities in Akron or Cleveland. Pittsburgh could also be a destination.
The Akron facilities also were listed as a possible closure.
Friday's rally was organized to promote the postal service, which still delivers more than 167 billion pieces of mail annually.
That's a 20 percent decline from the record year of 2006, when USPS delivered 213 billion pieces.
Mail volume is expected to decrease to 150 billion pieces by 2020, according to a 2010 report prepared by The Boston Consulting Group, Inc.
Declining mail volume is one reason the postal service is on pace to rack up a $9.2 billion deficit in 2011, a year after it posted an $8 billion deficit.
It isn't the only reason.
Congress, which oversees the postal service's public-private hybrid business model, in 2006 passed The Postal Accountability Enhancement Act. It requires the postal service to fund retiree health-care benefits 75 years in advance.
Every year the postal service starts with a deficit of $5.5 billion to cover future retiree health-care benefits for employees who may not be alive, in addition to $7 billion for current benefits.
"No other company is required to do that," said Barbara Duffy, a nine-year employee at the Youngstown postal service.
The $5.5 billion payment is due by the end of September, but the postal service acknowledged last week it may not have the funds to pay it.
If that happens, USPS essentially would default on its financial obligations, a fact Postmaster General Patrick Donahoe warned against earlier this month.
It could also mean the end to some overlooked services USPS provides, such as address changes. Last year, the post office reported a "historically high" 45 million address changes. Companies such as FedEx and UPS use address changes from USPS for shipping needs.
Congress is now trying to aid USPS with a bill in the House that would change the methodology of calculating retiree health-care benefits.
"They need to get off their congressional butts quickly," said Dominic Corso of American Postal Workers Union Local 443 in Youngstown.
Detractors, however, say the postal service is a broken system that's behind the times.
It's borrowed $12 billion from the U.S. Treasury and earlier this year it bargained with the postal workers' union for 3.5 percent pay increases during the next 41/2 years.
While revenue — or tax — increases can be levied by the federal government, the postal service has no such luxury.
USPS receives no taxpayer money for operating expenses. Instead, it relies on the sale of stamps, which cost 44 cents.
The postal service has floated many ideas to attempt to make up the deficit, including increasing the price for stamps, ending Saturday delivery, reducing employee costs including job cuts, and closing post offices, the latter of which has already hit the Youngstown area.
The postal service closed Youngstown's South and East Side retail offices earlier this year.
Cornersburg and the West Side location are the other remaining facilities in the city.
Youngstown's North branch — and the Calcutta office in East Liverpool — made the postal service's list of potential retail-office closures in July.