Brookfield edges Campbell in OT
Brookfield vs. Campbell Memorial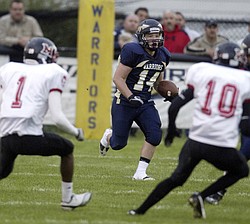 Gallery
Team

| Record | Div. | Conf. |
| --- | --- | --- |
| 3/7 | Div. V | All-American Conference Blue Tier |
Team

| Record | Div. | Conf. |
| --- | --- | --- |
| 5/5 | Div. VI | All-American Conference Blue Tier |
Up On The Roof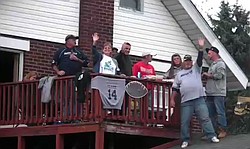 Video
A group of Brookfield football fans has taken tailgating to a new height.
By Doug Chapin
BROOKFIELD
The quarterback-running back handoff exchange is something football teams do countless times without mishap, both in games and in practice.
Two botched handoffs — one by each team — in the final two minutes of regulation provided plenty of excitement down the stretch Friday night as host Brookfield defeated Campbell Memorial, 26-20, in overtime. Both teams were 3-0 headed into the game.
"We knew going in we would have to face and overcome adversity and I think our kids did do that," Brookfield coach Randy Clark said. "Our kids worked through it, our kids had a great week of practice and tonight we hung in there."
Both teams had relatively easy victories on the way to their Week 4 showdown. Friday's game had so many ups and downs and momentum shifts that it seemed like an entire season's worth of adversity was packed into 48 minutes plus.
For the record, Brookfield junior Ryan Mosora, who was 23-for-164 yards rushing on the night, ran 20 yards on the Warriors' only offensive play in overtime to provide the winning margin. Campbell had the ball first in overtime, but four running plays by senior back Ja'les Hughes did not net a first down.
Hughes gained 151 yards on the night on 26 carries. He ran 69 yards for a touchdown on the first play from scrimmage in the second half and the 2-point conversion run by sophomore Motrel Hughes off a fake kick knotted the game at 14-14.
And now to those fumbled handoffs. The first was by Brookfield and stopped a drive that started at the Warriors' 21 and had reached the Campbell 11 with just under two minutes remaining. The Red Devils led 20-14 at the time and when Charles Smith recovered the ball for Campbell, all the visitors had to do was run out the clock.
Hughes gained 11 yards on two carries for a first down at the 37 with the clock moving inside the minute mark. When the handoff was fumbled on the next play, Brookfield's Joe Clark swooped in, picked up the ball and raced 31 yards for the tying touchdown with 51 seconds left on the clock. The PAT kick was unsuccessful and the game eventually went to overtime.
The contest was scrappy as expected, with 17 penalties marched off and another half-dozen or so declined. The defenses dominated at times with 13 punts, including nine three-and-out possessions.
There were also plenty of big plays. Besides Hughes' 69-yard scoring run, Campbell had an 86-yard punt return for a touchdown by Gabriel Smith and a 37-yard scoring pass from Brandon Reyes to Anthony Rushdon which gave the Devils their 20-14 lead with 5:27 remaining in the game.
Brookfield had its share of big plays also. Junior quarterback Jeremy Quinlan ran 14 yards for a touchdown in the first quarter after he had 45-yard run and a 24-yard pass to Joe Clark during a 95-yard scoring drive which put the Warriors ahead 7-0.
Quinlan, though, suffered a collarbone injury and was replaced by senior Brandon Mosora to start the second quarter. Mosora ran for 48 yards and passed for 40 in his substitute role.
"All last fall, all offseason, Mosora, who's a senior, he kept telling me he wanted one more chance to be our starting quarterback," Clark said. "I told him he had to work and he had to be head and shoulders better than him [Quinlan] if he wanted to start. We gave them equal reps all the way through and tonight it paid off."