Leflore adapts and adopts East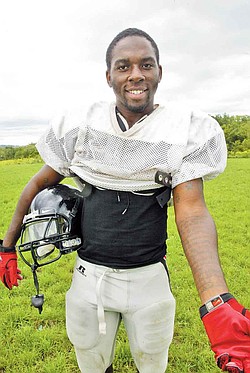 Photo
George Leflore, East High School football player shows what he's about when he isn't running the ball. A big smiling the Ten Commandments tattooed on his left forearm.
Team

| Record | Div. | Conf. |
| --- | --- | --- |
| 1/9 | Div. II | All-American Conference Red Tier |
By John Bassetti
YOUNGSTOWN
The Ten Commandments tattooed on the inside of his left forearm aren't the first sign of what George Leflore is about.
It's his smile.
But give the East High School running back a ball and the pleasant personality takes on a different tone.
Not only could the 6-foot, 210-pound Leflore turn on the charm, but, judging by his 134 yards on 26 carries (and one touchdown) in the season opener at Liberty, he has the potential to drill a defense.
Such clashing qualities aren't foreign to George, who is accustomed to alteration.
The latest example of change is the switch of schools for the South Sider who attended Chaney his first three years before enrolling at East for 2011-12.
The change was necessitated by a restructuring, but it didn't sit well with George.
"When I thought East and Chaney were coming together, I was mad because East was our rival," Leflore said. "I didn't want to go to East, I wanted to go to another school. I was looking at Girard, Youngstown Christian or Struthers. But I made the right choice and I like it. We're all a family."
His reason for disliking East?
"We never beat East in varsity football and basketball when I was at Chaney."
East football coach Brian Shaner, who teaches social studies to sophomores, said the transition has gone well.
"Bringing Chaney and East together has been smooth, mainly because of the players' commitment to it," he said.
The same applies to the general student population.
"It's been 100 percent cooperative on both sides," said Shaner, who went through a consolidation when Rayen and Woodrow Wilson closed five years ago.
"I want to say it was on a smaller scale then because we didn't get many of the Wilson kids. This is the entire city coming together. It's a much bigger situation. Our kids know each other and enjoy playing football with one another. I'm just glad they're together playing on one team. Like one team for the whole city."
The Panthers are currently in Division II, Region 5.
Shaner had 53 players — his most ever at East — dress for week 1.
"People thought we would have 85-90 [kids] and be a huge football team, but that's not a realistic fact of consolidation."
"We preached from day one that everyone has to earn their position. It doesn't matter where they came from, Chaney or East, everyone's given a fair shot to becoming that starter."
The increased numbers have translated into increased competition.
"The No. 1's better be pretty good because No. 2 isn't far behind," Shaner said. "Depth was one thing the city schools lacked. Now, someone else will step up and try to take that position."
The win over Liberty was huge.
"It was a big victory because 70 percent of these guys have never been 1-0," Shaner said. "I couldn't tell you the last time Chaney won its first game. Against Liberty, every player carried out the game plan the way we had it mapped out for them. It was nice to see the kids have success."
In 2010, Chaney went 1-9, only beating Youngstown Christian in week 4.
This season, after beating Liberty, 26-15, the Panthers' offense has been weak in losses to Harding (9-2) and Hubbard (7-6).
Apparently, Leflore, who also plays outside linebacker, has dealt with adaptation well.
In four years of high school, he's had four football coaches: his freshman coach at Chaney, then varsity coaches John Protopapa and Jim Vivo before Shaner.
As a running back in the I-formation, Leflore is lined up behind fullback D.D. Fleetion, upback Stephen Shackelford and quarterback Rayshawn Johnson.
Leflore, Shackelford and Albert Byrd are other current East players who made the 2010 All-City squad as juniors at Chaney.