Jim Tsilimos is back doing what he loves as Lisbon coach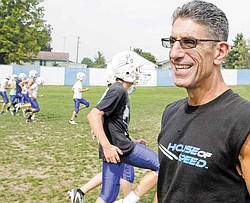 Photo
Lisbon football coach Jim Tsilimos watches his Blue Devils practice Wednesday. Tsilimos loved his time off the field as a football parent, but is happy to be back coaching at Lisbon, which has been his home since 1990.
Team

| Record | Div. | Conf. |
| --- | --- | --- |
| 4/4 | Div. VI | Eastern Ohio Athletic Conference |
By Tom Williams
LISBON
Four years ago, Jim Tsilimos tried being Lisbon High's football coach and college football parent.
It wasn't a match made in heaven, prompting Tsilimos to resign before the 2008 season.
"It was hard because I had been doing it most of my adult life," said Tsilimos, who has been teaching for 32 years. "But I knew I had to be fair to the coaching profession.
"I wanted to watch my son play college football," Tsilimos said. "I knew if I was running out to Chicago every weekend that I couldn't be the best coach for the Lisbon Blue Devils. As much as I love coaching and have respect for the game, I knew I had to step back."
Steve "Tater" Tsilimos played three more seasons for the University of Chicago before earning his degree and becoming a broker in Chicago.
During those seasons, Tater's dad, one of the Valley's three active coaches to win a state crown, helped out at Beaver Local for two seasons, then coached Lisbon's junior high team last fall.
Tsilimos admits he loved his time as strictly a football parent.
"It was great seeing the other parents, tailgating, calling each other during the week to find out who was going to bring what for tailgating," Tsilimos said. "It was fun."
His other adult children — Justin and Katie — live in Chicago, creating memorable trips for himself and wife, Carol.
Tsilimos knew that once Tater's playing days ended, he'd return to high school coaching somewhere.
When the Lisbon coaching job opened up last winter, Tsilimos applied. He's happy to back coaching at his home since 1990. Tsilimos teaches social studies and leads the school's career-based intervention program.
"I enjoy the kids, I love my teaching job, my colleagues and the administration," Tsilimos said.
His return has energized a town and a program that needed a jolt. The Blue Devils have won seven games in the past five seasons.
Senior Drew Sweeney said the news of Tsilimos' return had him excited.
"I'm tired of losing, I want to win and I knew he'd bring that mentality to the program," said Sweeney who is normally a wide receiver but took over as quarterback last week after sophomore Eric Walker had an appendectomy on Labor Day weekend.
Senior running back-linebacker Zac Barnes appreciates Tsilimos' style for smash-mouth football.
"He likes us to hit," Barnes said. "He's into the game, keeping everyone's heads up. Everyone is more focused.
"We were all excited for a winning coach to come back, it was like Christmas," Barnes said.
Although Lisbon has the same record (1-2) as last year after three weeks, there has been a big a difference on the scoreboard. Lisbon games are competitive once again.
The Blue Devils opened with losses to Leetonia (12-10) and Southern (30-27) by a combined five points. In 2010, they lost to those teams by a combined 47 points.
Last Friday, Lisbon rebounded with a 28-18 win over Wellsville.
Rugged and tough is how Sweeney describes the approach under Tsilimos.
"This year is different because we go out there and smack them in the mouth," Sweeney said. "We're not gonna lay down like we did last year. Leetonia was a decent team last year but there was no reason we should have lost to them by 20 points."
Tsilimos credits his staff.
"We knew it wouldn't be easy, we had to change a culture," said Tsilimos who has 43 players compared to the 70 that were on his state championship team. "We knew there would be some long, dark days ahead of us and there might be some more."