Canfield extends unbeaten streak
Poland vs Canfield Volleyball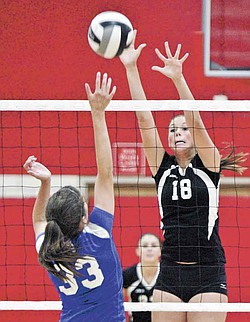 Gallery
Poland vs Canfield Volleyball
By Tom Williams
CANFIELD
In more than a dozen years as Canfield High's volleyball coach, Ronie Haurin doesn't remember a 9-0 start.
She will now.
"This is the best start I've had," said Haurin on Thursday after the Cardinals defeated Poland by scores of 25-20, 25-13 and 25-21. "It's a very talented group and they've got high hopes."
Senior setter Ellie Rafoth made 36 assists.
"That's huge, she just directs the team out there," Haurin said. "We have a balanced attack and our defense has been great."
Senior Abbie Malsch and junior Sabrina Mangapora each made 15 kills while senior Hannah Milstead had six kills and four blocks for the Cards (9-0, 2-0 All-American Conference Red Tier).
Malsch and senior Sarah McGraw each made six digs, junior Nicole Luklan made six kills and senior Holly Rolla made five blocks.
"This has been super fun," said McGraw, one of the Cards' seven seniors. "I've been [anticipating] this season because I knew what we had coming back, I couldn't wait to do this."
McGraw, Malsch, Rafoth and Milstead spent the offseason playing Junior Olympic volleyball together.
"We played from November until May," said Malsch, including big tournaments in Pittsburgh, Columbus and Baltimore.
McGraw says the quartet has spent a lot of time together.
"It's a lot of traveling," McGraw said.
Haurin said she's not surprised the Cards are off to a strong start.
"The kids played a tough winter schedule and we had a great summer camp," Haurin said.
Milstead said expectations were high.
"We kind of had an idea that we would do well, but I don't think any of us thought it would go this well," Milstead said. "We're ecstatic."
Malsch said winning breeds a hunger for more.
"The fact that we're doing so well [means] we have energy and we just want to keep going," Malsch said. "We want a winning record, we want to be undefeated.
"That kind of positive energy really makes practices fun and it makes the team spirit on the court a lot more fun."
McGraw credited Haurin for keeping the team focused.
"She makes sure we stick together, she really enforces teamwork," McGraw said.
Rafoth, whose freshman twin sisters Ellie and Janie are on the team, called the start "amazing. It's a lot of fun playing with everyone.
"There are a lot of solid players working hard. That's the best part about it," Rafoth said. "Even practices are a blast."
For the Bulldogs (2-2, 0-1), Mackenzie Milligan had nine kills and five blocks while Aleah Hughes scored 10 points with two aces and made seven digs and five kills. Raeanna Hertz made 15 kills and Kayla Smith had 19 assists and four digs.
"Canfield came out and played hard," said Poland's first-year coach Caitlin O'Patchen, who was pleased that her players kept two of the games close. "We have a young team, we start two freshmen and we only have one senior."