Ohio State, Miami get ready for Saturday's 'Ineligi-bowl'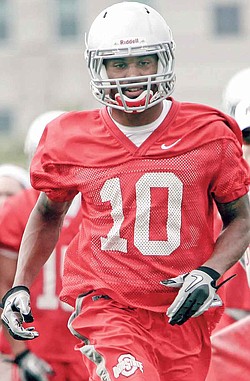 AP

Photo
Ohio State's Corey Brown runs a drill during a practice in Columbus. Brown, running back Jordan Hall and defensive back Travis Howard were suspended for violating NCAA rules by taking $200 at a Cleveland charity event earlier this year.
Associated Press
CORAL GABLES, Fla.
When they met to decide the national championship nearly a decade ago, Miami and Ohio State were ranked No. 1 and No. 2.
If a poll measured weight of NCAA scandals, the same numbers might apply today.
Free tattoos on one side, free food on the other, that's how it all started. Memorabilia sales in Columbus, cover charges in Coral Gables. Things that seemed relatively unimportant at the time to those involved now hang like a dark cloud over the Buckeyes and Hurricanes.
On Saturday night, the teams will hit each other.
Sometime soon, the NCAA will likely hit them both.
Welcome to what may as well be called the Ineligi-bowl.
"It does kind of take away from it," Miami quarterback Jacory Harris said. "That's all you see, the suspensions here, the suspensions there and it kind of takes away from the actual game and the players and the fans and basically the history of this game."
All the buzz over Saturday's game in Miami is about players who are ineligible now, and the penalties likely forthcoming from the NCAA. In this era of scandal — eight major football programs have gotten into hot water in the last 18 months or so — Ohio State and Miami may be getting the most attention.
Yet both sides insist they don't want it to dampen this game.
"Our young guys, they've been through this time and time again," Ohio State interim coach Luke Fickell said Tuesday. "There's always going to be distractions here in Columbus, Ohio, just like in Miami of Florida. Whether it's off the field stuff, it's stuff in this locker room, whether it's stuff in their personal life, it's handling those things that is what really ends up defining your team."
Harris is one of five Miami players returning from one-game suspensions this weekend after they were found to have taken extra benefits from former booster Nevin Shapiro, a convicted and now imprisoned Ponzi scheme architect. Harris said last week that he made mistakes, but offered no specifics other than saying the rules were broken three years ago.
Three other Miami players will remain sidelined until next month for more serious violations, also involving Shapiro, all during their recruiting periods.
Ohio State will have four players sitting out the game because of NCAA-ordered suspensions, including three who started a year ago and a key backup.
The Hurricanes say they're not thinking about anything but the Buckeyes. The Buckeyes say they're not thinking about anything but the Hurricanes.
So each is finding shelter from scandal in each other.
"We've both had some missteps here that we're trying to overcome, but that's not going to erase that tradition," Miami coach Al Golden said.