Youngstown State University: Deficit increases by $4.5M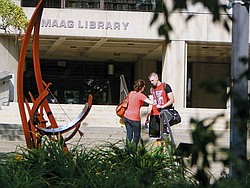 Photo
YSU graduate student Jeremy Lester of Austintown talks with senior Arielle Mincher of New Middletown next to the steel sundial sculpture. YSU will lose $4.5 million in general fund revenue due to a 4.3 percent decrease in enrollment – equivalent to 654 students – from the same time last year. The university originally budgeted for a 1 percent increase in enrollment.


Photo
Justin Orr of North Lima enjoys the last few days of summer while waiting for his girlfriend outside Williamson Hall at Youngstown State University.
Fall enrollment at Youngstown State University has dropped this semester for only the second time since 2000. The numbers for fall semesters:
2000: 11,787
2001: 12,250
2002: 12,698
2003: 12,858
2004: 13,101
2005: 12,812
2006: 13,183
2007: 13,497
2008: 13,712
2009: 14,682
2010: 15,194
2011: 14,540
Source: Youngstown State University and Vindicator files
By Denise Dick
YOUNGSTOWN
An enrollment drop at Youngstown State University means the loss of an additional $4.5 million from the university's general fund.
YSU reported that enrollment for fall semester dropped 4.3 percent, or 654 students, from the same time last year.
The number of students enrolled fell from 15,194 in fall 2010 to 14,540 this semester. In August, the university originally had estimated enrollment was down 2.5 percent, based on first-day head count.
Because YSU budgeted for a 1 percent increase in full-time-equivalent enrollment this year, the decline means a loss of about $4.5 million from what was budgeted for the general fund.
That's in addition to an already-projected $1.7 million deficit. YSU's general-fund budget is $159 million this fiscal year.
In a statement, YSU President Cynthia E. Anderson said that the university's budgetary challenges are significant.
"This unexpected drop in enrollment and the resulting loss in revenue makes the situation worse," she said. "We are now facing serious financial circumstances that will require difficult decisions and sacrifices, even beyond what we have been discussing to this point."
She said she wants to ensure students that their success will remain "the focal point of all we do and that we will continue to maintain and enhance our quality academic and student services on campus."
This marks only the second time since 2000 that enrollment has slipped. The number of students enrolled is 23 percent higher than in 2000.
The drop comes just a year after the university posted a record enrollment number.
The 15,194 students enrolled for the fall 2010 semester marked a 3.5-percent increase from fall 2009. It was the highest enrollment since 1990, when the number of students on campus was 15,454.
"It had been very good these last several years, and it's not good today," said Ron Cole, university spokesman.
Jack Fahey, vice president for student affairs, said the university is in the process of examining the reasons for the enrollment decline.
"While we have had much success with enrollment over the last decade, we are very disappointed with these numbers," he said.
Meanwhile YSU is in talks with two of its unions, trying to reach new contracts.
Last month, the university issued its last, best offer to the faculty union who rejected it. The union initially said its members would strike but reversed that decision, saying they wanted to continue negotiating.
A major sticking point in the negotiations is health care.
Under the just-expired contract, faculty members pay 1.5-percent of a monthly salary for the family health-care plan.
Under YSU's last, best offer, that faculty member would contribute 10 percent of the cost of the health-care premium in year one, and 12 percent and 15 percent in years two and three.
Cole said he hasn't heard that the loss of additional revenue because of decreased enrollment will affect the amount the university is prepared to spend as outlined in its last, best offer.
Representatives from the administration, faculty union and Association of Classified Employees are to meet this afternoon with health-care costs expected to be on the agenda.