Tigers alone at top after close showdown
Springfield South Range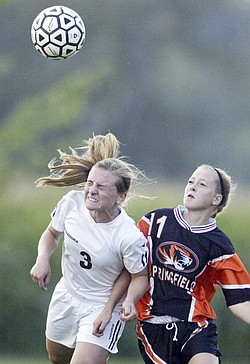 Gallery
Springfield South Range girls soccer Sept. 12, 2011
By Tom Williams
GREENFORD
If there's anyone who can appreciate multi-tasking and hard work, it's Springfield High senior soccer player Lexy Zubick.
Zubick, who twice has rehabbed from ACL surgery (once on each leg), assisted on both of the Tigers' goals in Monday's 2-1 victory over South Range. She's also the placekicker for the Springfield football team.
After the first-place showdown for the Inter Tri-County League Tier One, a dozen of the South Range players raced to Girard to participate in the marching band show at Arrowhead Stadium.
Zubick called the rehab from her most recent surgery "hard. I went like every day [for more than three months]," Zubick said.
These days, Zubick's after school routine begins with 15 minutes practicing her football kicks.
"It's a lot of fun," Zubick said.
Then it's off to soccer practice or games.
"We support her so much," senior stopper Jackie Tabaka said. "We're like her biggest fans [on Fridays]. It's cool — a girl playing football is pretty amazing."
Zubick played a big role in the Tigers' win against the league's defending champions. About 10 minutes into the contest, she fed Hailey Sullivan the ball deep in Raiders' territory and the junior forward dribbled around two defenders before sending the ball into the net.
Ten minutes later, Zubick launched a corner kick to her sister, Andrea, and the junior headed the ball into the goal for a 2-0 edge for the Tigers (5-2-0, 3-0-0 ITCL).
Asked if hitting her sister in the head was the plan, Zubick laughed.
"It worked [so] if you want to say it was, sounds good," Lexi Zubick said.
The Raiders (4-2-0, 2-1-0) scored early in the second half when Toni Stephenson in the box found a bouncing pass from Kendall Lindstrom and converted.
The defenses dominated the rest of the game. Springfield goalkeeper Jillian Tabaka stopped five shots and South Range's Kristin Robinson made four saves,
"It was a good game, it was fun to watch," South Range coach Bill Coler said. "[The Tigers] are good athletes. Beside the result, this was probably the best game we've played all season."
Springfield coach Bob Rohrman called the early lead "huge. We wanted to make sure we protected the lead. I think this game is going to go a long way in determining who wins [the league]."
Rohrman credited Tabakaa and Zubick who moved back on to defense in the second half for helping stifle the Raiders' attack.
"Against harder teams, I like to go back," Zubick said.
Jackie Tabaka said Zubick's welcome anytime.
"She is one of our stronger players so she helps us out a lot," Tabaka said." We played pretty well together — it's a good feeling because I believe they are our biggest rivals."