Browns try to regroup after snap blunder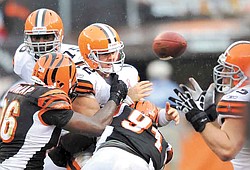 ASSOCIATED PRESS

Photo
Cleveland Browns quarterback Colt McCoy throws an incomplete pass while pressured by Cincinnati Bengals defensive end Carlos Dunlap, front left, and Robert Geathers in an NFL football game on Sunday, Sept. 11, 2011, in Cleveland. Reaching for the ball is Cleveland Browns center Alex Mack. (AP Photo/David Richard)
Associated Press
BEREA
As tough as it might be for them to accept, the Cleveland Browns were beaten by the Cincinnati Bengals — fair and square.
The quick snap was lethal and legal.
The Bengals did not violate the NFL's substitution rule when they caught the Browns' defense still huddling in the fourth quarter Sunday and quarterback Bruce Gradkowski alertly threw a 41-yard touchdown pass.
Gradkowski's toss to rookie A.J. Green with 4:31 left came after a legal snap with 14 seconds left on the play clock. Play reviews between the league and teams are kept confidential, but a source said the Browns had "ample time" to substitute before the ill-fated play, which will now be added to Cleveland's long list of heartbreaking plays.
Unlike most of the others, this one was preventable.
"It's a disappointing play," linebacker Scott Fujita said. "They caught the whole organization asleep on that one."
As the Browns' defense was waiting for a call to come in from the sideline, the Bengals hurried to the line and snapped the ball. Green, who had not caught a pass the entire game, hauled in Gradkowski's toss and easily outran cornerback Joe Haden for the TD to give Cincinnati a 20-17 lead.
On Sunday, Browns first-year coach Pat Shurmur wasn't sure if what the Bengals had done was permissible.
After reviewing videotape, Shurmur's tone changed.
"There are no excuses," he said. "If they no-huddle or quick huddle, we have to get out there and cover. If that doesn't happen properly, let's call a timeout. It got snapped so quickly, we couldn't really get it because you're initially trying to get everybody where they need to be.
"It's something we'll work on. We'll make sure it never happens again."
Because players were not running on and off the field, there was nothing unusual about what was happening before the snap, the source said. If the side officials had determined the Bengals had gotten an unfair advantage, they would have raised their arms and stopped the play before the snap.
The only thing the officials failed to notice was that Cleveland had 12 players in the huddle.
There's no doubt the Browns were confused.
"We just have to be quicker and have a greater sense of urgency," said Fujita.