Hundreds in Valley remember 9/11
9-11 Ceremony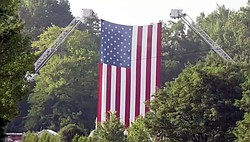 Video
Hundreds of residents along with fire and police officers gathered to observe Sept. 11, 2011 during a ceremony at Austintown 9/11 Memorial Park.
Local 9/11 Observances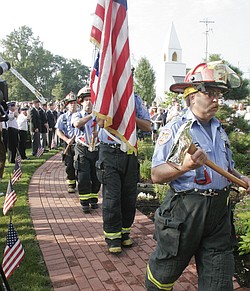 Gallery
Valley residents remembered the victims of September 11, 2011 during several local ceremonies
By Sean Barron
AUSTINTOWN
Lisa Kleinhandler was at work the morning of Sept. 11, 2001, in Long Branch, N.Y., when she saw a horrific scene unfolding in the distance: Commercial planes struck the World Trade Center towers, causing them to collapse.
"It was the most terrifying experience I could imagine," said Kleinhandler, who recalled a phone call from her sister mentioning that the North Tower had been hit at 8:46 a.m.
"We didn't know what was going to happen to our country and didn't know what was coming next."
Kleinhandler, who now lives in Canfield, shared her recollections during Sunday's Sept. 11 commemoration service at the 9/11 Memorial Park on South Raccoon Road.
Hundreds of local safety-force members from the Mahoning Valley and others attended the solemn hour-long ceremony, hosted by the Austintown Beautification Committee. It was designed to remember the events of that day and honor those who lost their lives in New York City, at the Pentagon and in a remote field near Shanksville, Pa.
During her presentation, Kleinhandler invoked the memory of Michael V. Kiefer, a New York City firefighter and member of Ladder Co. 32 who was one of 343 firefighters killed in the terrorist attacks.
Kleinhandler said she connected with Kiefer while visiting a 9/11 memorial near her office. She prayed for him and over time got to know and love his family, she explained.
Kleinhandler, who helped plant gardens at the memorial park, said that more people need to step up for one another daily, not just in times of tragedy, and realize they can make a difference. She also acknowledged that despite the passage of a decade, the events of 9/11 remain painfully fresh for many.
"I know that this 10-year anniversary will be very difficult for the mothers, fathers, husbands, wives, sisters, brothers, children and friends of our fallen heroes that never had a chance to say goodbye and tell them how much they were loved," she concluded with tears.
On 9/11, Ed Godwin was an Army military police officer stationed at Fort Stewart, Ga., who had just returned home from his midnight shift. A short time later, his day became anything but routine.
"I looked on TV and saw the first building had been hit," recalled Godwin, who served 22 years in the military. "Then I stood and watched the second building being hit before I got a call from a friend who said we're on alert, and I immediately said I had to go back to work."
The base was closed for a week, then Godwin and others were ordered to board a bus without having been told their destination. The next day, they found themselves in Washington, D.C., and stationed at a military base near Arlington National Cemetery, he continued.
Godwin's duties included being on guard on the Pentagon's roof. That job was unnerving, Godwin said, because nearby major airports had reopened, but he wasn't sure if any planes were part of another terrorist attack.
Godwin also was assigned to guard President George W. Bush during his Oct. 11, 2001, address to the nation, in part by ensuring no one took photographs of Bush or military officers without permission, he added.
Sunday's service was heartbreaking because it brought back memories of fallen friends, said Godwin, who came with his wife, Kristen, and sons Jared and Cameron, 10 and 12, respectively.
Both boys said they were proud of their father and his service to the country.
The gathering's guest speaker was Chief David "Chip" Comstock of the Western Reserve Joint Fire District, who read the names of and shared stories about several New York firefighters, as well as those with local ties, who were killed.
Comstock recalled his initial thoughts after the first plane struck, as well as his realization that it was intentional.
"Most thought that [American Airlines] Flight 11 was an accident," Comstock said. "When [United Airlines] Flight 175 hit the South Tower, people realized this was not an accident but an attack on the U.S."
The chief noted that more than 60 million children in the U.S. are under age 14 and too young to remember the events of 9/11. So it's critical they are educated about that day and encouraged to remember the nearly 3,000 people who died, he continued.
Additional remarks came from Fred Markum, an Austintown firefighter, as well as Ed Brannan, Sam Swogger and Pat Connelly, all members of the beautification committee.
The park's artifacts include earth removed from the crash site of United Flight 93 near Shanksville and three stones removed from the Pentagon.